Federal Times Blogs
November 5th, 2010 | Energy | Posted by Stephen Losey
closeAuthor: Stephen Losey Name: Stephen Losey
Email: slosey@atpco.com
Site:
About: See Authors Posts (684)
The Tri-City Herald in Washington state this morning reports about a sticky situation emerging at an Energy Department facility. A radioactive rabbit has been caught at the Hanford nuclear reservation in Richland, Wash., and state health workers are now combing nearby grounds for — yes — radioactive rabbit droppings.
The scary thing is, this isn't the first time this has happened. Hanford had another mutant bunny emergency last year, and flew helicopters above the grounds to locate the radioactive poop, according to the Seattle Post-Intelligencer.
And in much less cute news, the Seattle Times reported in 2009 that Hanford was trying to clean up radioactive wasps' nests. (You couldn't pay me enough to go toe-to-toe with angry, radioactive wasps.)
Hanford was the site the government used to produce plutonium for nuclear weapons during the Manhattan Project. It is now one of the most contaminated nuclear sites in the country, and Congress set aside about $2 billion from last year's stimulus bill to help clean up Hanford.
As the video below shows, exercise all caution when approaching deadly killer rabbits. They may seem cute, but looks can be deceiving…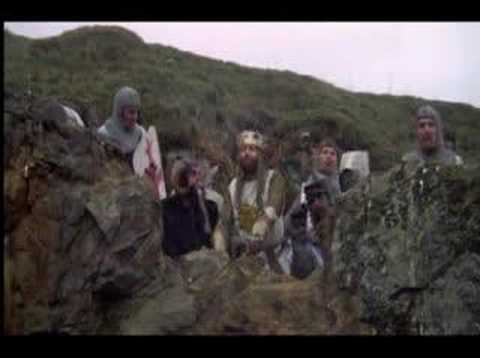 Tags: Friday Fun, Monty Python, radioactive rabbits, squee
April 2nd, 2010 | Congress | Posted by Stephen Losey
closeAuthor: Stephen Losey Name: Stephen Losey
Email: slosey@atpco.com
Site:
About: See Authors Posts (684)
Happy Friday! Here's a few amusing links to take you into the weekend.
The Onion breaks the "news" here that the federal government plans to save $300 billion a year by eliminating the wasteful and "100 percent redundant" Senate:
Established in 1789 as a means of overseeing the passage of bills into law, the once-promising senator program has reportedly failed to contribute to the governing of the nation in any significant way since 1964. … In fact, the program has gone unchecked for so long that many in Washington are now unable to recall what purpose U.S. senators were originally meant to serve.
And while we're on the subject of outdated legislative bodies, follow this link for a good laugh. Apparently Britain's House of Lords has a mouse infestation, and the Lords and Baronesses last month engaged in a dry-witted debate on the costs and benefits of hypoallergenic cats and Parliament's mouse helpline. FedLine usually doesn't cover legislative bodies other than the American Congress, but this exchange was too droll — and hilariously formal — to not pass on:
Tags: Friday Fun, Parliament, squee, The Onion, waste
February 18th, 2010 | Uncategorized | Posted by Stephen Losey
closeAuthor: Stephen Losey Name: Stephen Losey
Email: slosey@atpco.com
Site:
About: See Authors Posts (684)
The Smithsonian's National Zoo today announced the arrival of two prime candidates for the Daily Squee: A pair of clouded leopard cubs that were born on Valentine's day.
To hear the Zoo tell it, the birth of these little guys — or gals, it's hard to tell — is something of a minor miracle.
The breeding of clouded leopards has been a challenge, primarily due to male aggression, decreased mating activity between paired animals and high cub mortality. [...] Since the cubs born in the Thailand breeding program are only one or two generations removed from the wild, their genes are especially valuable.

Due to deforestation and hunting, clouded leopards are listed as "vulnerable to extinction." National Zoo scientist Dr. JoGayle Howard and colleagues have been working with clouded leopards at the Front Royal campus since 1978, with the goal of creating a genetically diverse population. In the past 30 years, more than 76 clouded leopards have been born here.
You can check out more pictures of the cubs on the National Zoo's Flickr page. But if you're looking for a real Friday timesuck, fire up the Zoo's clouded leopard Web cam.
Tags: Friday Fun, National Zoo, squee