Federal Times Blogs
October 16th, 2013 | OMB OPM | Posted by Sean Reilly
closeAuthor: Sean Reilly Name: Sean Reilly
Email: sreilly@atpco.com
Site:
About: See Authors Posts (428)
The 16-day partial government shutdown is officially over as President Obama has signed a stop-gap spending bill, Office of Management and Budget Director Sylvia Burwell said in a message released early Thursday morning.
"This evening, the President signed a continuing resolution that reopens the federal government and the Office of Management and Budget (OMB) issued guidance to all departments and agencies to resume operations in a prompt and orderly manner," Burwell said.  "In the days ahead, we will work closely with departments and agencies to make the transition back to full operating status as smooth as possible. This has been a particularly challenging time for Federal employees and I want to thank our nation's dedicated civil servants for their continued commitment to serving the American people."
Feds will receive back pay in their next paychecks, a Burwell spokesman said in a follow-up email. Agencies are "strongly encouraged" to use telework and other "workplace flexibilities to ensure a smooth transition back to work for employees," OPM said in a statement on its website.
The bill, approved today by the House and Senate, will fund the government through Jan. 15.
The legislation would also allow a 1 percent across-the-board pay increase for federal employees, according to a joint news release from Sens. Barbara Mikulski, D-Md., and Ben Cardin, D-Md. The release does not make clear whether added steps will be needed to ensure that the proposed raise takes effect. Here is a cut-and-paste version of the release:
 WASHINGTON – U.S. Senators Barbara A. Mikulski, Chairwoman of the Senate Appropriations Committee, and Ben Cardin (both D-Md.), a member of the Senate Finance Committee, today announced that the bipartisan legislation to end the Tea Party Republican shutdown and reopen the federal government allows a 1 percent pay increase for federal employees and ensures that federal employees furloughed through no fault of their own receive their full pay.
"I'm proud to have fought on the front lines for federal employee pay as hard as federal employees fight on the front lines each and every day for America," Senator Mikulski said. "The promise of a modest pay raise and back pay for furloughed government employees are good first steps in recognizing the value of federal workers. They have been the targets of unending attacks. They've been furloughed, laid off and locked out through no fault of their own. I believe federal employees should never be scapegoats in fights over deficit reduction."
"The government shutdown was a real punch in the gut to federal workers who were already reeling from multi-year pay freezes, sequestration cuts and furloughs, as well as threats to health and retirement benefits. These hardworking public servants did not cause our economic crisis, but they paid a heavy price. I'm proud we were able to fulfill our promise to make them whole again with back pay and finally break through the pay freeze with a modest adjustment for next year," said Senator Cardin. "As they return to doing their work on behalf of the American people, I will continue to fight to keep federal workers from being pawns in every budget battle that lies ahead."
As Chairwoman of the Senate Appropriations Committee, Senator Mikulski fought to ensure the final agreement to reopen the federal government would permit the President to implement his plan for a 1 percent pay raise in January, 2014. Senator Cardin introduced the Federal Employee Retroactive Pay Fairness Act, which was cosponsored by Senators Mikulski, Mark Warner (D-Va.) and Tim Kaine (D-Va.). The Cardin bill, which was included in the final agreement approved Wednesday, guaranteed that federal workers who were furloughed because of the lapse in federal funding or government shutdown would receive their full pay.
Federal employee pay has been frozen for three years with no cost-of-living adjustments, leaving families stressed and stretched. They have been subjected to rolling furloughs since March due to sequester and have also been required to pay 2.3 percent more from their salaries into their retirement plans.
Maryland is home to the headquarters of 20 major federal agencies, from the Social Security Administration to the Food and Drug Administration. More than 130,000 federal employees live and work in Maryland, serving the nation and serving the world.
The bipartisan legislation passed today funds the government through January 15, 2014 and extends our nation's debt limit through February 7, 2014. It also starts the budget conference that Democrats have been fighting to start for the past six months so Congress can come together on a long-term solution. The House and the Senate will name conferees and the agreement will call for the budget conference to finish by December 13th. The legislation now moves to the White House to be signed into law by President Obama.
Tags: shutdown, Sylvia Burwell
October 15th, 2013 | 2014 Budget | Posted by Sean Reilly
closeAuthor: Sean Reilly Name: Sean Reilly
Email: sreilly@atpco.com
Site:
About: See Authors Posts (428)
Good morning! Let's start the day with a cheery observation often attributed to the 18th-century English writer Samuel Johnson: "Nothing concentrates a man's mind more than the prospect of being hanged in the morning."
Figuratively speaking, the same seems to be true of Congress. The specter of impending economic calamity, combined with rising public disapproval, (particularly for Republicans), over the partial government shutdown, appears to have prodded senators to close in on yet another stop-gap budget deal that could have just as easily been reached a month ago.
As reported by Defense News, a sister publication of Federal Times, Senate leaders could unveil a tentative agreement as early as this morning that would reopen agencies at current spending levels until Jan. 15, while raising the nation's borrowing limit to last until February. On the budget front, the idea is to give lawmakers and the Obama administration three months to dicker over broader concerns, such as easing or canceling the next round of sequester-related cuts that will likely take effect in January. At this point, it's unclear whether the package will include a provision ensuring back pay for hundreds of thousands of furloughed federal workers.
A Senate vote on the agreement could come Thursday. That's also the day that the government will exhaust its borrowing authority, threatening a potentially ruinous debt default, according to the administration. And assuming the deal is approved by the Democratic-controlled Senate, it faces a rough ride in the GOP-run House, where some lawmakers have not given up on hopes of forcing the White House to delay implementation of the Affordable Care Act (aka Obamacare). The overarching question is whether House Speaker John  Boehner, R-Ohio, would be willing to pass the compromise package with Democratic votes if he can't bring enough members of his own party along. So far, Boehner's not saying.
A key off-stage player will be the stock market. If major market indices take a dive in the next day or two, that could ramp up pressure on lawmakers to give the agreement final approval sooner rather than later. (And even Tea Party loyalists have investment portfolios, after all.)
Any major developments we've missed, particularly in regard to agency news? Let us know with an email to shutdownstories@federaltimes.com.
Tags: Defense News, John Boehner, Samuel Johnson, shutdown
October 14th, 2013 | 2014 Budget | Posted by Sean Reilly
closeAuthor: Sean Reilly Name: Sean Reilly
Email: sreilly@atpco.com
Site:
About: See Authors Posts (428)
Hi everyone:
As of tomorrow morning, much of the federal government will have been closed for two full weeks.  If you're a federal employee, how has this affected you? Federal Times is working on an article about the shutdown's impact on the federal workforce; if you'd like to share your story, please email Staff Writer Sean Reilly at sreilly@federaltimes.com and let me know how to reach you. Thanks very much!
Sean
Tags: shutdown
October 12th, 2013 | 2014 Budget | Posted by Sean Reilly
closeAuthor: Sean Reilly Name: Sean Reilly
Email: sreilly@atpco.com
Site:
About: See Authors Posts (428)
Two Virginia lawmakers are seeking quick Senate action on legislation that would assure back pay to furloughed federal employees once the partial government shutdown ends. The bill, sponsored by Rep. Jim Moran, D-Va., passed the House last Saturday 407-0, but has stalled in the Senate, where Sen. John Cornyn, R-Texas, has voiced reservations about a fast-track vote.
In a Friday letter, Moran and Rep. Frank Wolf, R-Va., the bill's lead Republican co-sponsor, urged Senate Majority Leader Harry Reid, D-Nev., and Senate Minority Leader Mitch McConnell, R-Ky., to work with their "respective caucuses to overcome any objections to advance this important legislation."
Tags: Frank Wolf, Harry Reid, Jim Moran, John Cornyn, Mitch McConnell, shutdown
October 1st, 2013 | 2014 Budget Agriculture OPM | Posted by Sean Reilly
closeAuthor: Sean Reilly Name: Sean Reilly
Email: sreilly@atpco.com
Site:
About: See Authors Posts (428)
The closing of a vast swath of government operations is now under way as this Office of Management and Budget memo makes clear. The U.S. Agriculture Department, meanwhile, has wasted no time taking down its website. The Office of Personnel Management's site, however, is still live, with a page with guidance on everything you probably never wanted to know about employee furloughs.
Tags: shutdown
September 30th, 2013 | 2014 Budget Congress Information Technology | Posted by Nicole Johnson
closeAuthor: Nicole Johnson Name: Nicole Johnson
Email: njohnson@federaltimes.com
Site:
About: See Authors Posts (220)
At least one federal conference is being postponed this week because of a potential government shutdown.
The National Institute of Standards and Technology is postponing its Cloud Computing and Mobility Forum this week "because we could not guarantee NIST's facility would be open on the first day of the meeting, Oct. 1," according to an agency spokeswoman. "The meeting has not been rescheduled."
More than 500 people had registered for the conference, including about 130 federal employees. Many federal employees would be forced to stay home without pay if Congress doesn't strike a budget deal by midnight.
Just at DoD, some 400,000 employees — or about half of the civilian workforce — will be sent home on unpaid furloughs if a partial shutdown begins Tuesday, Comptroller Robert Hale said late last week. During a Sept. 27 news briefing, Hale said a shutdown would halt travel and training plans for activities not deemed excepted.
"As of today, no other conferences have been postponed," according to NIST. "Some scheduled conferences could be affected by a shutdown, depending on the duration of the shutdown and how much lead time each conference requires."
Tags: cloud computing, conference, government shutdown, NIST, shutdown
January 7th, 2013 | 2013 Budget | Posted by Stephen Losey
closeAuthor: Stephen Losey Name: Stephen Losey
Email: slosey@atpco.com
Site:
About: See Authors Posts (684)
Now that the tax portion of the fiscal cliff mess has been resolved — for now, at least — the next major dispute will likely be over raising the debt ceiling. Treasury Secretary Tim Geithner said last month that although the federal government reached its debt limit Dec. 31, he could finagle another two months or so by taking so-called "extraordinary measures." That implied the government could keep running as-is until the end of February.
It turns out those measures may not be all that extraordinary. The Bipartisan Policy Center, a think tank that studies budgetary matters, just put out an analysis of the government's finances that concluded it could run out of money as soon as Feb. 15. That would be just slightly more than a month-and-a-half — not the two months Geithner hoped for. To be sure, that's just a worst-case scenario — BPC said the government may be able to keep operating until March 1, depending on factors such as how much revenue the government brings in.
But the point is, time is tight. And if the debt ceiling mess isn't resolved soon, we could be looking at a partial government shutdown.
Oh, and the BPC report throws cold water on all the people hoping for a deus ex machina solution to the debt ceiling mess. There are "no silver bullets" to extend the date, it says. It cites two quotes from President Obama and his spokesman that the 14th Amendment doesn't allow him to unilaterally raise the debt ceiling, as much as Democrats like Nancy Pelosi might like him to.
And minting a magical $1 trillion platinum coin to give the government more borrowing room — as has been repeatedly proposed over the last year — would be "impractical, illegal, and/or inappropriate," the BPC said. Although, I'm not quite sure what their problem is. As The Simpsons showed us, nothing can go wrong with a trillion-dollar bill as long as you keep it out of the hands of Fidel Castro.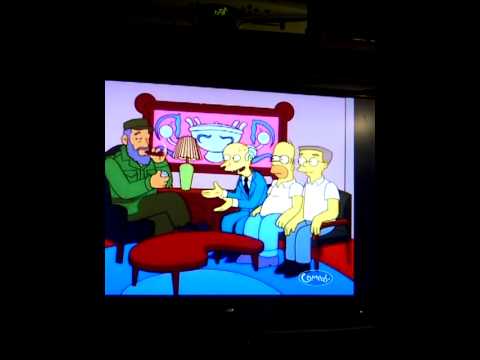 Tags: debt ceiling, shutdown, Simpsons
April 7th, 2011 | 2011 Budget OMB Uncategorized | Posted by Sean Reilly
closeAuthor: Sean Reilly Name: Sean Reilly
Email: sreilly@atpco.com
Site:
About: See Authors Posts (428)
More evidence–as if more were needed–that this government spending standoff is getting serious: the Office of Management and Budget has just posted a 16-page memo for shutdown planning on its web site. Lots of technical advice for agencies on topics like travel, IT operations and contracting.
The latest stopgap spending resolution expires at midnight Friday. If Congress appears unlikely to enact a new one Saturday, OMB will issue instructions the same day "for agencies to proceed with their shutdown implementation," Director Jack Lew wrote in the memo. On one burning question, OMB leaves it up to agencies to decide whether furloughed employees will have to turn in their BlackBerries.