March 28th, 2012 | 2013 Budget | Posted by Stephen Losey
closeAuthor: Stephen Losey Name: Stephen Losey
Email: slosey@atpco.com
Site:
About: See Authors Posts (679)
The Republican Study Committee yesterday proposed steep increases to the amount federal employees would contribute to their pension plans.
The committee's budget plan for next year — called "Cut, Cap and Balance: A Budget for Fiscal Year 2013″ — calls for federal employees to split the cost of their pensions with taxpayers. Federal Employees Retirement System employees now contribute 0.8 percent of each paycheck toward their pensions; the government covers the remaining 11.7 percent. This would mean FERS employees would pay 6.25 percent of each paycheck toward their pension. (Plus another 6.2 percent towards Social Security, of course, and their regular Thrift Savings Plan contributions if they choose to participate.)
Employees under the older Civil Service Retirement System would be unaffected, since they already pay the same 7 percent toward their pensions as the government.
The Republican Study Committee said this would save $110 billion over ten years.
The proposal also calls for switching to a so-called chained CPI method for inflation-based adjustments to federal pensions, which the GOP said would save $26 billion over a decade.
And it wants to turn the Federal Employees Health Benefit Program to a premium support system, which it expects would save $27.6 billion over ten years. Under this plan, the government would cover the first $5,000 of premiums for a self-only health plan, or the first $11,000 for a family plan, and federal employees would cover the rest. The GOP plan doesn't say whether or by how much those subsidies would increase in the future, but when the bipartisan Simpson-Bowles deficit committee considered a similar plan for FEHBP, it proposed increasing subsidies by the gross domestic product plus one percentage point. Critics of that plan said the growth would not keep up with inflation, eventually shifting the bulk of health care costs onto federal employees.
(Speaking of Simpson-Bowles, CNN reports that there may be some life in it yet … but probably not much. Seems that not even Clint Eastwood can save that plan.)
Last year's Republican Study Committee budget proposal would have frozen pay for five years and cut the workforce by 15 percent. But yesterday's plan does not include those provisions.
Tags: budget cuts, FERS, pension, Republican Party
September 8th, 2010 | Congress | Posted by Stephen Losey
closeAuthor: Stephen Losey Name: Stephen Losey
Email: slosey@atpco.com
Site:
About: See Authors Posts (679)
It's deja vu all over again. A Democratic president comes to Washington, runs up against rabid hostility from the GOP, and faces serious trouble in his first midterm elections. Sound familiar yet? It gets better. Some Republicans are openly advocating shutting down the government as part of a gambit to gut the health care reform bill passed earlier this year.
Joe Miller, Alaska's Republican candidate for Senate and tea party favorite, said in an interview that he wants to quash health care reform and other "socialist aspects of government," such as Social Security, Medicare and other entitlements. Fairbanks' Daily News-Miner said that "Miller went on to say that Congress should have the 'courage to shut down the government,' if necessary, to eliminate government programs."
RedState.com blogger Erick Erickson sounded like a kid on Christmas Eve when he tweeted Aug. 30 that he's "giddy" and "cannot wait" for the government shutdown. And former House Speaker Newt Gingrich — who engineered the last government shutdowns and is now trying to pretend that it didn't backfire and ensure Bill Clinton's re-election — has been pushing for a shutdown for months.
According to Time, the 1995 shutdowns (the second of which bled into 1996) cost the government $800 million in salaries repaid to furloughed employees when all was said and done. Which doesn't sound like a good deal for the nation budget-wise, when you get right down to it. But given conservatives' open hostility this year towards all things federal, it shouldn't be much of a surprise that a shutdown threat is rearing its head.
H/t Salon.com
April 9th, 2010 | Congress | Posted by Stephen Losey
closeAuthor: Stephen Losey Name: Stephen Losey
Email: slosey@atpco.com
Site:
About: See Authors Posts (679)
Former Speaker of the House Newt Gingrich yesterday encouraged the GOP to defund federal agencies or missions in order to hamstring Obama administration policies. Gingrich, speaking to the Southern Republican Leadership Conference, said:
Stage 1 of the end of Obamaism will be a new Republican Congress in January that simply refuses to fund any of the radical efforts. [...] Under our Constitution, the Congress doesn't have to pass the money. If EPA gets no budget, it can't enforce cap and trade. If HHS gets no budget…
As former Bush speechwriter and exiled conservative commentator David Frum said, "In other words: Follow a 1994-style Republican takeover with a 1995-style government shutdown. It worked the last time!"
Also speaking at the conference was former Alaska governor and vice presidential candidate Sarah Palin, who mocked the EPA as the "Economic Punishment Agency." Federal employees have already found themselves the target of a lot of criticism and anger this year, and the rhetoric coming out of the GOP's conference seems to indicate those headaches won't end anytime soon — and may begin to affect agencies' ability to get their jobs done.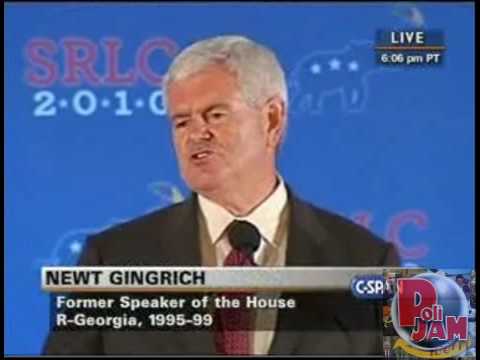 January 26th, 2010 | Commerce Politics | Posted by Tim Kauffman
closeAuthor: Tim Kauffman Name: Tim Kauffman
Email: tkauffman@atpco.com
Site:
About: See Authors Posts (104)
A Republican Party fundraising letter that looks an awful lot like the official 2010 Census form is drawing complaints from all sides.
The mailing from Republican National Committee Chairman Michael Steele is disguised as a survey and is labeled the "2010 Congressional District Census."  The survey even includes a "Census Tracking Code" and is brandished with the words "census document."
A GOP spokesman said the mailing was not intended to mislead voters, noting that it states in several places that it's from the Republican Party. But lawmakers from both parties are criticizing the letter, saying it could be confused with the actual Census, which all U.S. residents are required to complete by law.
A Census Bureau spokesman tells the Associated Press that the agency has received several complaints about the mailings and is reviewing how to respond.
Dennis Johnson, director of the Census Bureau's regional office in Kansas City, told a local newspaper that the timing of the letter was unfortunate to say the least, since the agency is just now beginning to mail out actual Census forms.
My biggest concern is that it might be confusing to some residents who get this and then get the real one in a couple of months.
Tags: Census Bureau, Republican Party