Federal Times Blogs
January 16th, 2012 | Politics | Posted by Stephen Losey
closeAuthor: Stephen Losey Name: Stephen Losey
Email: slosey@atpco.com
Site:
About: See Authors Posts (684)
Republican presidential candidate Newt Gingrich unveiled a whopper of a workforce management strategy on Saturday: Fire the liberals. At a Fox News forum hosted by Mike Huckabee, Gingrich said:
I think an intelligent conservative wants the right federal employees delivering the right services in a highly efficient way and then wants to get rid of those folks who are in fact wasteful, or those folks who are ideologically so far to the left [emphasis mine], or those people who want to frankly dictate to the rest of us.
TPM points out that what Gingrich appears to be proposing is an illegal prohibited personnel practice — one that, if he were to follow through on such a threat, would merit an Office of Special Counsel investigation. According to OSC's website:
[...] a federal employee who has authority over personnel decisions may not [emphasis original]:

(1) discriminate against an employee or applicant based on race, color, religion, sex, national origin, age, handicapping condition, marital status, or political affiliation [emphasis mine].
Gingrich made his comments after being asked by 20-year fed Kimberly Williams — who noted that her job isn't very popular right now — how he would cut the federal deficit without cutting federal jobs. (Williams also told Gingrich that neither she nor anyone she works with makes the alleged $120,000 average federal salary that gets thrown around a lot these days.)
Gingrich responded by lauding feds such as Border Patrol and Customs agents, intelligence officers, and State Department employees in dangerous places overseas, and then segued into a call to replace the Environmental Protection Agency with a more "cooperative" agency. He also pledged to conduct Lean Six Sigma studies to find places to make the government more efficient.
You can watch the exchange below, and find a transcript after the jump. Gingrich's segment begins at 33 minutes, and Williams' question about feds comes at the 42 minute mark.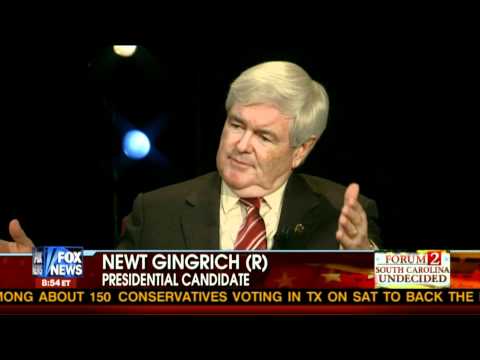 Tags: Newt Gingrich, Office of Special Counsel, presidential campaign
September 12th, 2011 | Homeland Security | Posted by Stephen Losey
closeAuthor: Stephen Losey Name: Stephen Losey
Email: slosey@atpco.com
Site:
About: See Authors Posts (684)
The Merit Systems Protection Board will not rethink its 2009 decision upholding a whistleblower's firing, even though the Office of Special Counsel said it poses "a substantial risk of chilling would-be whistleblowers."
Former Air Marshal Robert MacLean in 2003 told the press that the Federal Air Marshals Service was pulling marshals from cross-country flights (because it couldn't afford hotel rooms), at a time when the nation was on alert for hijackings. The Transportation Security Administration fired him in 2006, and MacLean says they retroactively designated the information he revealed as sensitive security information to justify his firing.
MSPB in 2009 upheld a court decision that backed TSA, but last month the Office of Special Counsel asked MSPB to reconsider. MacLean told Federal Times that MSPB called his attorney Sept. 6 and said it would not overturn its decision. MSPB confirmed to Federal Times it would not reopen the MacLean case, and said it sent his attorney a letter Aug. 31 that said its regulations don't allow it to reconsider its rulings.
Despite this setback — the latest in a string of them — MacLean said he's not giving up. He plans to file an appeal with the Federal Circuit Court of Appeals by Sept. 23.
UPDATE: MSPB points out that to be precise, it has decided not to review its July 2011 decision, which denied MacLean's petition to review its previous 2009 decision that upheld his firing. Which still effectively means MSPB isn't going to revisit the 2009 decision. MSPB also says it hasn't issued a formal response to the OSC's motion in this case.
Tags: MSPB, Office of Special Counsel, Robert MacLean, whistleblowers
April 28th, 2011 | Office of Special Counsel | Posted by Sean Reilly
closeAuthor: Sean Reilly Name: Sean Reilly
Email: sreilly@atpco.com
Site:
About: See Authors Posts (428)
Attention, feds: Those cubicle photos, work computer screensavers and other shots of President Obama may have to go now that he's formally seeking a second term.
Under the Hatch Act, federal employees are generally barred from displaying workplace pictures of partisan political candidates, the Office of Special Counsel says in an advisory opinion issued after Obama announced his re-election bid earlier this month.
There are just two exceptions.
The first involves the standard portrait photo and other official pictures of the President meeting heads of states or conducting other official business (no adding halos or horns, however, the OSC warns). And if the photo comes from the president's campaign or a partisan political group, it's still taboo even if it shows Obama carrying out his official duties.
The other exception involves personal photos, but the bar is high. Assuming that the photo shows you and Obama, was taken at a wedding or some other personal function and was on display before the election season, you can keep it up.  The same standards apply to other candidate photos,  incidentally.
January 25th, 2011 | White House | Posted by Stephen Losey
closeAuthor: Stephen Losey Name: Stephen Losey
Email: slosey@atpco.com
Site:
About: See Authors Posts (684)
The Office of Special Counsel last night released a report that found President Bush's Office of Political Affairs repeatedly violated the Hatch Act up to and during the 2006 elections. According to the Associated Press:
The report says the electoral success of the Republican Party and possible strategies for achieving it often were on the agenda at some of 75 political briefings at 20 federal agencies from 2001 to 2007.

The Office of Special Counsel concluded that such briefings should take place away from the federal workplace during nonbusiness hours and that attendance should be completely optional.

Those who gave the briefings said they were intended to boost morale among political appointees and provide an overview of the "political landscape."

However, witness testimony, e-mail messages and PowerPoint slides used at some of the briefings indicate that the meetings were more overtly political.
Tags: Hatch Act, Office of Special Counsel, President George W. Bush
October 19th, 2010 | Office of Special Counsel Uncategorized | Posted by Sean Reilly
closeAuthor: Sean Reilly Name: Sean Reilly
Email: sreilly@atpco.com
Site:
About: See Authors Posts (428)
Yes, political passions are at fever pitch this election season, but federal workers are risking their jobs if they cross in the line into activity banned by the Hatch Act, the Office of Special Counsel warns in a news release. The agency is responsible for enforcement of the act, which generally bars partisan politicking on government time.
As evidence, the agency cites two cases that it took to the Merit Systems Protection Board. Both involved workers who in 2008 sent fund-raising e-mails while at work on behalf of then-presidential candidate Barack Obama.
In one of those cases, involving an IRS agent, the board in August ordered a 120-day suspension. In the other, where a Bureau of Printing and Engraving contracting officer sent fund-raising pitches to three contract workers over whom she had "authority and influence," the board in June ordered her fired after a 38-year government career.
Tags: Bureau of Printing and Engraving, Hatch Act, IRS, Office of Special Counsel