Federal Times Blogs
April 5th, 2012 | General Services Administration | Posted by Stephen Losey
closeAuthor: Stephen Losey Name: Stephen Losey
Email: slosey@atpco.com
Site:
About: See Authors Posts (684)
UPDATED WITH GSA STATEMENT: This may be the last thing the beleaguered General Services Administration needed after its lavish conference-spending scandal. The House Oversight and Government Reform Committee just released a prize-winning music video from that conference in which an employee raps about all the cool stuff he's going to buy when he's the boss. Which really doesn't look good in retrospect, considering that infamous Las Vegas conference cost GSA $822,000 and brought down Administrator Martha Johnson and several other top officials.
The irony in the video runs a mile deep. After a languid ukelele intro laying out his dream of becoming commissioner of GSA's Public Building Service, the employee — identified as Hank Terlaje — launches into rap-reggae song, bragging about buying field offices supplies and awarding bonuses. And then comes the most cringe-worthy line, considering what happened next because of this conference: "Donate my vacation, love to the nation/I'll never be under OIG investigation."
After the song ends, the video switches to the award ceremony, where Terlaje is jokingly named "commissioner for a day" — replacing former commissioner Bob Peck, who was also fired on Monday for his role in staging the conference.
And then, deputy commissioner of the Public Building Service David Foley delivers the video's second-most cringe-worthy line when he tells Terlaje, "The hotel would like to talk to you about paying for the party that was held in the commissioner's suite last night." Which, again, doesn't look very good, considering the conference actually did blow tens of thousands of dollars on catered food (not to mention the $3,200 for a mind reader, $6,300 for a commemorative coin set, and $75,000 for a training exercise that involved building a bicycle).
Of course, there's nothing at all to suggest Terlaje had anything to do with that excessive spending. All he's guilty of is singing a song with an infectious chorus — and I'd say that even if he didn't give this publication a shout-out. (Although when Mr. Terlaje sang "Every time I close my eyes/I see my name on Federal Times," I doubt this is how he imagined it happening.)
UPDATE: GSA just sent the following statement in response to the video:
This video is another example of the complete lack of judgment exhibited during the 2010 Western Regions Conference. Our agency continues to be appalled by this indefensible behavior, and we are taking every step possible to ensure that nothing like this ever happens again.
The full song and the award ceremony is below.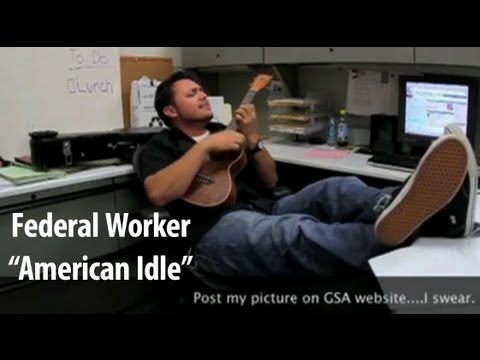 Tags: Martha Johnson, music, scandal
July 13th, 2010 | General Services Administration | Posted by Tom Spoth
closeAuthor: Tom Spoth Name: Tom Spoth
Email: spoth56@gmail.com
Site:
About: See Authors Posts (36)
Steve Kempf, acting commissioner of GSA's Federal Acquisition Service since April, has been tabbed by administrator Martha Johnson to take on the post permanently. Jon Jordan, a 36-year GSA veteran, has been named Kempf's deputy. Here's the memo that Johnson sent out this morning announcing the move:
MEMORANDUM TO ALL GSA EMPLOYEES
FROM:   MARTHA N. JOHNSON
ADMINISTRATOR
SUBJECT:     NEW FAS COMMISSIONER
Many of you have heard me speak of this as GSA's moment. We have set aggressive goals and been challenged to play a leading role in key Administration priorities by the White House. We are on the frontline for championing sustainability, open government, acquisition performance, flexible workplace and more. Leadership and enterprise positioning will be key to our success.
Therefore, I am delighted to announce today that Steve Kempf has accepted my offer to be the next Commissioner of GSA's Federal Acquisition Service, one of our most critical leadership positions.
As GSA steps forward, so, too, will FAS be facing a challenge. FAS has expertise, operational know-how, and extensive customer knowledge. Used well, these will position FAS to gain further market credibility by offering customer agencies real value as they strive to meet their missions under constrained resources.  This opportunity is real and it is now.
At this critical juncture in FAS' history and as an 18 year veteran of FAS, Steve brings significant expertise to the Commissioner role having served as a contracting officer, lawyer, and business professional. Equally as impressive is Steve's leadership style. He is collaborative, inclusive and eager for change. I am confident that Steve will combine his deep roots, loyalty, and enthusiasm for FAS and transform it into our customers' hands down, preferred, acquisition partner.
For starters, Steve has already made strides in:
• Revitalizing FAS' relationships with its customers;
• Appointing an executive to champion innovation and transformation across FAS;
• Driving forward on the Zero Environmental Footprint goal and other key enterprise objectives;
• Building leadership prowess and a workforce positioned for success;
• Completing and executing the FAS strategic reviews and implementation plans for key programs;
• Deepening change management capacity; and
• Communicating constantly with employees, customers, industry, and stakeholders to bolster FAS' ability to perform with excellence.
In addition, I am delighted to announce that Jon Jordan will become the permanent Deputy Commissioner. Jon has worked in GSA and FAS' budget programs for over 36 years and his deep operational knowledge, commitment to excellence and good stewardship of taxpayer dollars will be invaluable to FAS' future.
Please join me in congratulating both Steve and Jon on their permanent appointments and pledge to give them the support they and FAS will need to turbo-charge its future.

Tags: GSA, Martha Johnson, Steve Kempf
June 29th, 2010 | General Services Administration Procurement | Posted by Tom Spoth
closeAuthor: Tom Spoth Name: Tom Spoth
Email: spoth56@gmail.com
Site:
About: See Authors Posts (36)
Corporate Responsibility Magazine released today its list of the top 10 "best corporate citizens" in government contracting.
The magazine took the top 100 contractors listed on USAspending.gov and applied the same methodology it uses to produce its annual "100 Best Corporate Citizens" list. (The necessary information was available only for the 37 publicly traded companies on the list.) Firms are judged on their environmental impact, employee relations, corporate governance, financial responsibility, philanthropy, and human-rights policies.
And, drum roll please … the best corporate citizen in government contracting for 2010 is … Hewlett-Packard!!! Well, good for them. Rounding out the top five are IBM, Merck, Dell, and something called McKesson Corp., which I've never heard of but is apparently the largest health-care company in the world, according to Wikipedia. Ranking in the bottom five were L-3 Communications Holdings, Honeywell, McDermott, Oshkosh and Valero Energy Corp. — however, a special category of shame is reserved for Pfizer, which isn't even allowed to be on the list and instead gets a "red card" because it was recently fined $2.3 billion by the U.S. Department of Justice for bribing doctors.
So what are federal acquisition units supposed to do with this information? Well, they're still trying to figure that out. The Corporate Responsibility Officers Association has formed something called the "Corporate Excellence for Government Roundtable" that is "committed to improving transparency and responsibility among government contractors" will hold its first meeting tomorrow.
It all sort of sounds like a bunch of fluff, but General Services Administration administrator Martha Johnson is taking it seriously: She's scheduled to speak at tomorrow's meeting and participate in the discussion. Maybe GSA and other agencies are looking for new ways to take action against shady or unsavory contractors.
Tags: government contracting, GSA, Hewlett-Packard, Martha Johnson, Pfizer
May 6th, 2010 | Energy management General Services Administration Government reform Procurement Uncategorized | Posted by Tom Spoth
closeAuthor: Tom Spoth Name: Tom Spoth
Email: spoth56@gmail.com
Site:
About: See Authors Posts (36)
So yesterday at the GSA Expo, Administrator Martha Johnson was walking around in a black and white outfit, if I remember correctly. But by the time she arrived at the Coalition for Government Procurement dinner to announce GSA's new goal of eliminating the government's carbon footprint (good luck with that, by the way), she had changed into — you guessed it — a green jacket.
Johnson's speech received what sounded like polite applause last night, from a crowd made up mostly of vendor representatives. And CGP president Larry Allen was fairly critical of Johnson today, even after he'd had a night to sleep on it. He sent me an e-mail that included the words "an arbitrary goal that makes for good press but has no basis in
reality," although he later said he didn't necessarily think Johnson had set such a goal, but simply that he hoped she wasn't. It'll be interesting to see whether setting this lofty goal spurs federal agencies and contractors to action as Johnson hopes it will, or if setting the bar so high will be counterproductive.
UPDATE: I should clarify that Allen's group has pledged to work with Johnson on her initiative and wants to play a role in developing the specifics of her plan. I don't mean to paint this as a GSA vs. industry fight; Johnson also stressed that the private sector should play a key role in reducing the government's environmental impact, and the fact she delivered her message at an industry-sponsored event only underscores that.
Tags: green government, GSA Expo, Martha Johnson
May 5th, 2010 | General Services Administration Uncategorized | Posted by Tom Spoth
closeAuthor: Tom Spoth Name: Tom Spoth
Email: spoth56@gmail.com
Site:
About: See Authors Posts (36)
Green is the name of the game here at the GSA Expo in Orlando. The training session schedule is rife with the words "green" and "sustainable" and it's all that any of the GSA folks here can talk about. It seems clear that new administrator Martha Johnson is taking President Obama's green-government agenda to heart, and that Johnson's commitment is trickling down to all levels. We'll see whether government agencies and vendors are willing to get on board.
The exhibition floor had its share of environmentally friendly stuff — many booths had green products prominently displayed — according to Federal Acquisition Services chief Steve Kempf, 32 percent of exhibitors were peddling green goods. (That's still a far cry from the 95 percent of federal contracts that are supposed to be sustainable as per Obama's October executive order, but it's a start, I suppose.) The green stuff ranged from furniture to storage devices to hand sanitizer. The expo has a dizzying array of products — walking around one sees booths hawking pocket knives, athletic playing field surfaces, mattresses, forklifts, Christmas lights … the list goes on. It's a big government we have indeed, folks.
After the jump, a few photos from the floor: Read the rest of this entry »
Tags: green government, green products, GSA Expo, Martha Johnson
May 4th, 2010 | General Services Administration Procurement Uncategorized | Posted by Tom Spoth
closeAuthor: Tom Spoth Name: Tom Spoth
Email: spoth56@gmail.com
Site:
About: See Authors Posts (36)
GSA kicked off its 2010 expo today in sunny — and muggy — Orlando. Today was devoted solely to training sessions as the vendors set up to display their wares and stragglers continue to arrive. This year's event is well attended, with an estimated 6,000 feds and 3,000 exhibitors, similar to last year's numbers. Tomorrow the main event, the floor show, opens up and the expo really gets going in earnest.
GSA Administrator Martha Johnson officially opened the festivities a little after 4 p.m., saying that this year's expo and those in future years will focus on sustainability. There are a ton of training sessions with the word "green" in the title and I think we can expect to see a bevy of environmentally friendly products on the exhibit floor.
Johnson welcomed everyone to the expo, the doors to the welcome reception swung open, and before long, everyone was doing the Cha-Cha Slide (which, if you've never tried it, is actually surprisingly fun).
No, really:
You go, you crazy feds!
So anyway, my colleague Tim Kauffman and I will be down here through Thursday, faithfully documenting the expo. Check for our coverage on the blog, the Web site, and in our next print edition. More substantive material to come, I promise.
Tags: Cha-Cha Slide, GSA Expo, Martha Johnson
April 27th, 2010 | White House | Posted by Stephen Losey
closeAuthor: Stephen Losey Name: Stephen Losey
Email: slosey@atpco.com
Site:
About: See Authors Posts (684)
I'm at the General Services Administration's Government Web and New Media Conference today, listening to administration officials talk about open government, social media, and how to best use technology to reach the public. And one point keeps coming up: When it comes to websites and other programs, keep it simple, stupid.
OK, so White House CIO Vivek Kundra and GSA Administrator Martha Johnson didn't use those words exactly. But their message was clear: The public is increasingly using iPhones and other mobile devices that have trouble with overly-complex webpages. And if the federal government wants to reach citizens through those avenues, simplicity is key. But as Kundra said, that's not as easy as it sounds:
What becomes really, really important all of a sudden is to figure out, how do you simplify the interaction? A lot of people confuse simplicity with a lack of engineering rigor. It's actually the opposite. The simpler interaction is, on certain platforms, more complex. The underlying architecture, the engineering. And part of what we're trying to do is drive toward that vision.
A little later, Johnson echoed Kundra's point. She said that when agencies build websites and other tools for customers, they should remember exactly what those customers need and not shoehorn in fancy new features when something simpler will do:
I have two children, and when they were younger, I had to think twice about whether it was a toy that they wanted, or it was something that they needed. I think we get quite enamored with our technology toys, but we really need to pay attention to what our customers need. What we need more is a back-and-forth conversation, not a lot of really sophisticated toys that really swamp the user.

I want GSA to lead by example in all this. I want us to have the best website. I want a really, truly, GSA for Dummies website, where people can find what they need, without having to tackle a lot of complicated paths.
What do you think? Have federal websites gotten too complicated and taken with whiz-bang bells and whistles? Are those wonderful toys hampering your ability to reach all corners of the public?
Tags: govwebcon, GSA, Martha Johnson, Vivek Kundra
February 9th, 2010 | General Services Administration | Posted by Steve Watkins
closeAuthor: Steve Watkins Name: Steve Watkins
Email: swatkins@atpco.com
Site:
About: See Authors Posts (240)
The General Services Administration's new chief was sworn in Sunday night by telephone, an agency spokeswoman told FedLine today. Now that's what I call teleworking!
Acting administrator Stephen Leeds administered the oath to Martha Johnson over the phone  because of the snow that pummeled the D.C. area Friday and Saturday, the spokeswoman said.
The storm forced the closure of D.C. federal offices yesterday and today, and in doing so also forced GSA to cancel Johnson's swearing in ceremony and a town-hall meeting with employees planned for today.
GSA rescheduled the ceremony and town hall for next Tuesday.
Tags: GSA, Martha Johnson, Stephen Leeds
February 4th, 2010 | General Services Administration | Posted by Steve Watkins
closeAuthor: Steve Watkins Name: Steve Watkins
Email: swatkins@atpco.com
Site:
About: See Authors Posts (240)
The Senate has confirmed Martha Johnson to lead the General Services Administration, giving the agency its first permanent, Senate-approved leader in two years. The nomination passed in a 94 to 2 vote.
Tags: Kit Bond, Martha Johnson
February 3rd, 2010 | General Services Administration Politics White House | Posted by Tim Kauffman
closeAuthor: Tim Kauffman Name: Tim Kauffman
Email: tkauffman@atpco.com
Site:
About: See Authors Posts (104)
President Obama today sounded off on the hold that's been placed on Martha Johnson's nomination to head the General Services Administration, even as the Senate planned a procedural maneuver to force a vote on her confirmation.
After addressing the Senate Democratic Policy Committee Issues Conference this morning, the president opened the floor to questions. Patrick Leahy, chairman of the Senate Judiciary Committee, voiced his frustration that many of Obama's judicial nominees and political appointees were being blocked by Republicans.
While conceding that Democrats have been guilty of the same thing in the past, Obama said Republicans are blocking nominees for reasons that have nothing to do with their qualifications for their prospective jobs.
He then specifically mentioned Johnson, whose nomination has been held up by Sen. Kit Bond, R-Mo., because Bond wants GSA to promise to move a federal complex to downtown Kansas City.
Nobody can tell me that there's anything particularly wrong with her.  They're blocking her because of some unrelated matter. Don't hold this — this woman hostage.  If you have an objection about my health-care policies, then let's debate the health-care policies.  But don't suddenly end up having a GSA administrator who is stuck in limbo  somewhere because you don't like something else that we're doing.