Federal Times Blogs
December 31st, 2013 | OMB | Posted by Sean Reilly
closeAuthor: Sean Reilly Name: Sean Reilly
Email: sreilly@atpco.com
Site:
About: See Authors Posts (428)
It may say something about federal attitudes toward openness that the Government Accountability and Transparency Board typically meets in secret.
But for the record, the board—launched by the Obama administration two years ago to tackle big-picture spending issues—will hold a public meeting next month. The purpose is to let members of the public weigh in with presentations "regarding accountability and transparency for federal expenditures made through contracts and grants," according to a recent Federal Register notice.
Among the questions on which the board wants input at the Jan. 22 meeting:
"What questions are you trying to answer with federal spending information?"
"Where does federal spending information need clearer instructions or explanation?"
"What suggestions do you have for prioritizing federal spending information?"
Those interested in attending the meeting—to  be held at the General Services Administration's regional office in downtown Washington, D.C.—should send an email to federaltransparency@ratb.gov and write "January 22,2014 GAT Board RSVP" in the subject line. The Register notice has more info for people wanting to make presentations.
The upcoming public get-together appears to be a first for the panel, which is mainly made up of agency inspectors general and operates under the purview of the Office of Management and Budget. Its mission is to build on lessons learned from the Recovery Accountability and Transparency Board (created to monitor spending from the 2009 stimulus bill) as well as to study ways to reduce waste and make spending more transparent, with Vice President Joe Biden's office getting monthly updates, according to the relevant executive order. The board is currently chaired by Richard Ginman, director of procurement and acquisition policy at the Defense Department, according to its website.
While its sessions are closed and generally not announced in advance, the board later posts minutes online; the most recent compilation is from October. The site makes no mention of next month's meeting.
Tags: federal spending, Government Accountability and Transparency Board, Joe Biden, Recovery Accountability and Transparency Board
September 21st, 2011 | OMB | Posted by Sean Reilly
closeAuthor: Sean Reilly Name: Sean Reilly
Email: sreilly@atpco.com
Site:
About: See Authors Posts (428)
Go figure: The humble muffin has become a government change agent.
In what is probably the first-ever Office of Management and Budget directive with a connection to overpriced baked goods, Director Jack Lew is ordering agencies to take stock of their conference spending and report back by Nov. 1.
The impetus, of course, is that newly released report by the Justice Department's inspector general that uncovered numerous examples of questionable expenses at DOJ conferences from October 2007 through September 2009. What really caught the attention of politicians and the media, however, was the finding that muffins at one Washington gathering cost more than $16 each.
No matter that the hotel in question furnished the iced tea and coffee free of charge; this is not the message that a focused-on-efficiency administration wants to convey. In today's memo, Lew, while not singling out specific instances, cites the IG report as a reminder of "how important it is that agencies undertake all due diligence to protect taxpayer resources from unnecessary expenditures."
Under orders from President Obama, he continues, agencies must now conduct "a thorough review" of policies and controls related to conference activities and spending. (In the meantime, all such expenses have to be cleared at the deputy secretary level or the equivalent.) OMB will compile the results for Vice President Joe Biden,  who will have them on the agenda of a December meeting of agency heads tied to the administration's Campaign to Cut Waste.
No word on whether pastries will be served.
Tags: Jack Lew, Joe Biden, muffins, Office of Management and Budget
September 9th, 2010 | Uncategorized | Posted by Stephen Losey
closeAuthor: Stephen Losey Name: Stephen Losey
Email: slosey@atpco.com
Site:
About: See Authors Posts (684)
Stephen Colbert welcomed troops returning from Operation Iraqi Freedom to his show last night, with plenty of surprises — beer, pretty girls, Joe Biden serving hot dogs, Yogi Berra, and a toilet fit for Saddam. Check out the video below, and others after the jump:
The Colbert Report
Mon - Thurs 11:30pm / 10:30c
Been There Won That - Joe Biden & Yogi Berra<a>
Tags: fun, Iraq, Joe Biden, Stephen Colbert
September 3rd, 2010 | Procurement | Posted by Stephen Losey
closeAuthor: Stephen Losey Name: Stephen Losey
Email: slosey@atpco.com
Site:
About: See Authors Posts (684)
Happy Friday! To ease you into your Labor Day weekend, enjoy a few headlines from The Onion, such as "Pentagon Ripped Off By Shady Weapons Dealer:"
Defense Secretary Robert Gates admitted losing $192 million in defense funds Tuesday when he unwittingly purchased a large number of bogus BGM-109 Tomahawk missiles from a disreputable arms dealer known only as "Steve." "When I got the crate open at the office, it turned out the 'missiles' were nothing more than old sewer pipes filled with newspapers and capped with construction cones, all painted to look legit," Gates said.
That's probably the Onion's best weapons acquisition story since last year's "Obama Axes Pentagon Plan To Build Billion Dollar Tank In Shape of Dragon."
And while we're at it, their gloriously insane send-ups of Joe Biden continue in "Biden To Cool His Heels in Mexico For A While" (link contains profanity):
"I need to steer clear of D.C. until some **** blows over," said Biden, sitting in the far corner of a Mexican cantina with his back to the wall and taking a long swig from a bottle of Tecate Light. "It's nothing I can't handle, but let's just say there was a little misunderstanding. Somebody didn't get something they were supposed to get."

"And somebody else got a whole lot more than they bargained for," he added.

[...] On Tuesday, the Senate received a postcard of topless women wearing green, red, and white bikini bottoms from Biden. A personal message apologized for his extended absence and provided contact information and instructions to call his buddy Blaze if they needed a tiebreaking vote.
Have a great weekend! FedLine will be back on Tuesday.
Tags: Friday Fun, Joe Biden, Robert Gates, The Onion
March 23rd, 2010 | White House | Posted by Stephen Losey
closeAuthor: Stephen Losey Name: Stephen Losey
Email: slosey@atpco.com
Site:
About: See Authors Posts (684)
Just leave it to Joe Biden to find a way to embarrass himself in his administration's moment of triumph. (FYI, the following video contains a half-mumbled profanity, in case your co-workers are sensitive to that kind of thing.)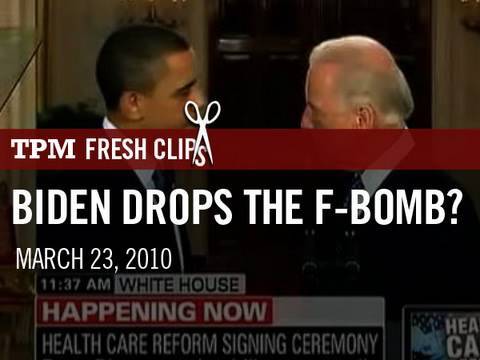 There's only one proper way to respond to that:
Tags: facepalm, gaffe, health care, Joe Biden
January 19th, 2009 | Facilities Regulation Transition White House | Posted by Steve Watkins
closeAuthor: Steve Watkins Name: Steve Watkins
Email: swatkins@atpco.com
Site:
About: See Authors Posts (240)
There are 8,600 facilities with at least one set of the official portraits of President Bush and Vice President Cheney, and at noon eastern tomorrow the portraits will have to be "removed and respectfully disposed" of, according to a GSA spokeswoman.
The spokeswoman didn't expand on what "respectfully dispose" means, so your guess is as good as ours.
The portraits will be replaced by the official photos of President Obama and Vice President Biden as soon as prints become available, which probably means most offices won't see these smiling faces until March, according to GSA.
Tags: Barack Obama, Dick Cheney, George Bush, Joe Biden, official portraits