Federal Times Blogs
June 2nd, 2011 | Justice | Posted by Stephen Losey
closeAuthor: Stephen Losey Name: Stephen Losey
Email: slosey@atpco.com
Site:
About: See Authors Posts (684)
Attorney General Eric Holder delivered an unusual request earlier this week during a panel discussion at Justice Department headquarters: He wants more episodes of The Wire.
For once, this isn't an Onion story. Holder took part in a panel discussion Tuesday on the ways children are exploited by the drug trade, along with three actors from the HBO show. That's when he issued his marching orders to the show's main writers, Reuters said:
"I want to speak to Mr. [Ed] Burns and Mr. [David] Simon: Do another season of The Wire, " Holder said, drawing laughter and applause from the audience. "That's actually at a minimum. … If you don't do a season, do a movie. We've done HBO movies, this is a series that deserves a movie. I want another season or I want a movie."
Holder ended his command rather ominously: "I have a lot of power, Mr. Burns and Mr. Simon." Actor Wendell "Bunk" Pierce responded with a "Hear, hear."
Holder's request is presumably backed by his boss and Omar fanatic, President Obama. So: get to work, guys. The feds want you back on the case.
Tags: Eric Holder, fun, The Wire
May 11th, 2011 | Transportation | Posted by Stephen Losey
closeAuthor: Stephen Losey Name: Stephen Losey
Email: slosey@atpco.com
Site:
About: See Authors Posts (684)
Hats off to the Huffington Post for asking the important questions. In an interview, Transportation Secretary Ray LaHood said he's worried about the way car drivers mistreat bikers, and applauded cities that have constructed dedicated bike lanes. Said LaHood:
I'm concerned that people that are driving cars have a level of respect for bikers, and that's the reason that we have these bike lanes. Bikers have as much right to the streets as anybody driving a car and I am concerned about [their safety].
When HuffPo told LaHood he sounded like a "run-of-the-mill hipster," he appeared confused, and said "I don't even know what that term means."
As Gawker notes, "But isn't that exactly what a hipster would say?"
Federal Times has uncovered exclusive footage of LaHood working his second job as a bike messenger: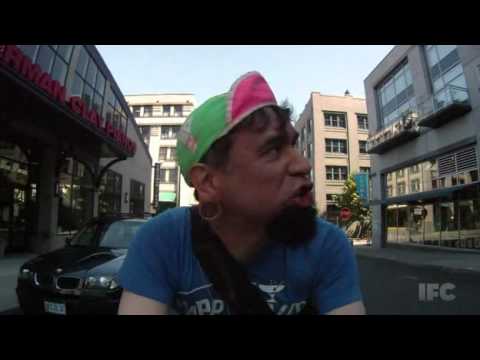 Tags: bike lanes, fun, Ray LaHood
April 27th, 2011 | 2012 Budget | Posted by Stephen Losey
closeAuthor: Stephen Losey Name: Stephen Losey
Email: slosey@atpco.com
Site:
About: See Authors Posts (684)
The Onion has the scoop on President Obama's three-pronged deficit reduction strategy of spending cuts, repealing tax cuts for the wealthy, and staging a daring, Ocean's 11-style heist at Fort Knox:
According to a fact sheet issued by the White House, the proposed measures include slashing farm subsidies, cutting federal pension insurance, tricking Fort Knox security personnel into thinking that the president and five others are ordinary elevator repairmen, capping Medicaid's outlays on equipment, shaping C4 charges to blast 21-inch-thick vault doors off their hinges, and curbing discretionary spending.

[...] "Reining in the runaway growth of entitlement programs and the defense budget will not be easy," Obama said. "And neither will silently ferrying 5,000 tons of bullion through a network of ventilation ducts. But just trust me on this; I've got the blueprints and I think I found a way out through a drainage pipe."
Other ideas under consideration: Trimming the federal workforce, raising the retirement age, and "taking out a $4 trillion fire insurance policy on the Pentagon and burning it to the ground."
Tags: deficit reduction, fun, The Onion
April 6th, 2011 | 2011 Budget | Posted by Stephen Losey
closeAuthor: Stephen Losey Name: Stephen Losey
Email: slosey@atpco.com
Site:
About: See Authors Posts (684)
Stressed out over the increasingly-likely government shutdown and furlough? You deserve a laugh. Take a few minutes and read over this shutdown FAQ humorist Mim Landry posted on April Fool's Day. (It's probably got more useful information than the Obama administration has given unions so far.)
The whole thing is golden, but here's a few of my favorites:
What is a furlough? A furlough involves placing an employee in temporary nonduty, nonpay status because of a lack of work or funds or other nondisciplinary reasons. During a furlough, federal government employees are prohibited from conducting official work duties, if any. For some employees, the difference between nonduty and duty is negligible.

Can I work as an exotic dancer during the furlough to make ends meet? Your federal government fully supports your desire to work as an exotic dancer to make ends meet. Simply provide your supervisor the address and performance timings and we're good.

Do furloughed federal employees get paid? Yes. Federal employees will receive retroactive pay following the furlough. But it may be in rupees.

What about zombies? Since they are technically deceased, zombies pay only sporadic attention to the news and information sources such as telephones and e-mail. They are typically disorganized. Thus, they may not fully appreciate the fact that there has been a government shutdown. [...]

Note that zombies are nearly always considered nonessential personnel and will thus be barred from entering federal government property.
You can find Federal Times' sadly zombie-less FAQs on the shutdown here and here.
Tags: fun, government shutdown, zombies
February 17th, 2011 | 2012 Budget | Posted by Stephen Losey
closeAuthor: Stephen Losey Name: Stephen Losey
Email: slosey@atpco.com
Site:
About: See Authors Posts (684)
The Daily Show's Jon Stewart last night turned his satirical guns on the 2012 budget and the vast amounts of political posturing now going on. He drew blood several times, particularly with this line:
Now, the trick is to get [the budget] to vastly increase the deficit while still giving  Americans the shoddy and indifferent government bureaucracy we've come to expect — or at least be numb to.
Stewart then put on his green eyeshade and took a stab at sorting out the nation's debt crisis. It didn't take long for him to get to the heart of why we're in such a mess and start screaming hysterically for the IBM supercomputer that just mopped the floor on Jeopardy.
Oh, so we can only cut from 12 percent of the budget? All right, well, 12 percent of $3.7 trillion is $440 billion. So here's what we need to do: We need to get $1.1 trillion of spending cuts out of $440 billion. So I'm just going to very quickly…um…WATSON!!! WATSON!!!
"Resident expert" John Hodgman then followed up with some innovative deficit reduction plans like turning the five-sided Pentagon building into a more-menacing rhombus, taxing political cliches, and legalizing "it." No, you hippies, not marijuana. Murder. Under the Hodgman plan, the last person alive gets all the Social Security benefits.
Tags: Daily Show, deficit reduction, fun
February 10th, 2011 | Procurement | Posted by Sarah Chacko
closeAuthor: Sarah Chacko Name: Sarah Chacko
Email: schacko@gannettgov.com
Site:
About: See Authors Posts (65)
It's an honest enough mistake but couldn't have been better timed. In the midst of debate over how to pursue spending for the rest of this year — and days before President Obama's 2012 budget recommendations – the Navy released this solicitation for, you know, stuff.
Clearly, somone accidentally posted a template instead of the proper announcement.  Still, despite the inevitable frustration of meeting the contract requirements for whatever it is, we already have some takers! One reader of Wired's Danger Room, where the post was first brought to light, has offered up a canoe, "guaranteed to be stealthy," for less than $2 million each.
The "Recovery" logo up there means that whatever it is would be part of President's stimulus package. So let's hope whatever it ends up being lives up to their mission of winning wars, deterring aggression and a bunch of other important things.
Tags: Defense, fun, solicitation
December 28th, 2010 | Congress | Posted by Stephen Losey
closeAuthor: Stephen Losey Name: Stephen Losey
Email: slosey@atpco.com
Site:
About: See Authors Posts (684)
In recent years, everything from Netflix to Apple to Hulu has started streaming movies online. Next up: The Library of Congress.
In an interview with the Washington Post on the latest 25 additions to the National Film Registry, Librarian of Congress James Billington said he's looking for ways to put some of the Library's notable films online. Billington plans to stream films through Netflix and other similar sites, as well as the Library's own website.
It's unclear which films may be offered up for streaming. Studios and creators guarding their copyrights may keep some offline (It's probably a safe bet that George Lucas, a notorious stickler for how his movies are presented, will restrict "Star Wars" and the newly-honored "Empire Strikes Back"). But Billington sounds optimistic about streaming's chances:
I hope we'll be able to work something out, because [the registry] has great educational and inspirational as well as entertainment value.
This year's additions to the registry include such popular movies such as "Empire," "The Exorcist," "All the President's Men" and "Airplane!" (Cue the "Surely you can't be serious" jokes.) But it also includes movies like "Cry of Jazz," a short 1959 film about life in Chicago's black neighborhoods that features performances by jazz musician Sun Ra and his Arkestra, W.C. Fields' 1934 "It's a Gift," and "Let There Be Light," a 1946 documentary director John Huston made for the Army — which then censored it — about WWII combat veterans suffering from war-related psychological trauma. Those and other little-known films appear to be ideal candidates for streaming.
And even though Billington didn't sound interested in enshrining YouTube videos in the Library, he seemed to leave the door open to that possibility. "Everything's changing so much," he said. (After all, the Library last year added Michael Jackson's "Thriller" music video to the archives.)
Tags: fun, Library of Congress
December 22nd, 2010 | Uncategorized | Posted by Stephen Losey
closeAuthor: Stephen Losey Name: Stephen Losey
Email: slosey@atpco.com
Site:
About: See Authors Posts (684)
With less than two days left until Christmas Eve, North American Aerospace Defense Command is getting ready for their most important duty: Tracking Santa Claus as he makes his way around the world.
The tradition began in 1955, when a Sears Roebuck ad in Colorado encouraging children to call Santa accidentally printed the hotline number for the Continental Air Defense Command, NORAD's predecessor. CONAD's Director of Operations, Air Force Col. Harry Shoup, was bombarded with calls from local kids that Christmas Eve looking for Santa. But rather than yell and hang up — it was the height of the Cold War and nuclear war fears, after all — Shoup played along. He had his staff monitor the radar as Santa journeyed out from the North Pole, and updated inquisitive children on where the big red guy was at any given moment.
(Go to this link and click play to hear Col. Shoup humorously describe his bewilderment the first time he picked up the red hotline phone, expecting an emergency call from the Pentagon, only to hear a child ask if he was really Santa.)
Beginning at 2 a.m. Friday morning and continuing until Christmas Day, NORAD and Google Earth will provide real-time updates on Santa's location. And crafty parents could use it as a tool to get the little ones to go to bed on time. ("Uh oh, Johnny — Santa's just one state away. Back to bed, quick, or he might skip over us!")
The rest of the year, NORAD's main job is to look for signs of a nuclear strike or other attack against the United States. Fortunately, Santa is the usually the only thing NORAD has to watch from its hardened bunker beneath Cheyenne Mountain in Colorado.
Tags: Christmas, fun, NORAD Tracks Santa
November 30th, 2010 | NASA | Posted by Stephen Losey
closeAuthor: Stephen Losey Name: Stephen Losey
Email: slosey@atpco.com
Site:
About: See Authors Posts (684)
As if the pay freeze news wasn't enough excitement for one week, now NASA has scheduled a press conference for Thursday afternoon to discuss something "that will impact the search for evidence of extraterrestrial life."
There's only one thing this could mean: NASA has aliens. Now let's just hope they're the friendly, ET-kind of visitors, and not the warlike Klingon types.
Seriously, though, probably not. The press conference is to discuss astrobiology (the study of the origin, evolution, distribution and future of life in the universe), and its participants are experts in molecular evolution and evolutionary ecology. And if Hollywood has taught us anything, an actual alien announcement would most likely come straight from the president. But it should be interesting nonetheless.
The press conference will be broadcast live at 2 p.m. on NASA Television and streamed at www.nasa.gov.
October 29th, 2010 | Uncategorized | Posted by Stephen Losey
closeAuthor: Stephen Losey Name: Stephen Losey
Email: slosey@atpco.com
Site:
About: See Authors Posts (684)
Are you a fed tired of the knee-jerk government bashing that's so in vogue these days? The social networking site GovLoop thinks its time for all of you to stand up and yell at the top of your lungs, "I don't suck!"
Yes, GovLoop is holding a "Government Doesn't Suck" rally tomorrow, alongside Jon Stewart and Stephen Colbert's Rally to Restore Sanity/March to Keep Fear Alive event. Go to the south end of the Air and Space Museum and look for the people with green shirts with "Chicks Dig Govies" sign.  (Apparently that's an official GovLoop rally slogan. And I really, really hope they don't start singing government-themed anthems inspired by Joan Osborne — the "What If Gov Was One Of Us?" sign fills me with dread.) GovLoop promises "some swag and solidarity" for feds and fed supporters who swing by to express "reasonable indignation."
The official rally itself is shaping up to be a pretty good mixture of music and comedy. The Roots are the opening act, Sheryl Crow will play, and (best of all) soul legend Mavis Staples will perform with Wilco's Jeff Tweedy. If you attend any of the events tomorrow, sound off about your experience below.
Tags: fun, GovLoop, Jon Stewart, Stephen Colbert