Federal Times Blogs
April 25th, 2014 | Interior | Posted by Stephen Losey
closeAuthor: Stephen Losey Name: Stephen Losey
Email: slosey@atpco.com
Site:
About: See Authors Posts (684)
SPOILER ALERT: The NBC sitcom Parks and Recreation ended its sixth season last night with the endlessly-optimistic public servant Leslie Knope becoming a federal employee by accepting a job as the National Park Service's Midwest Regional Director, and then talking her new boss into relocating the office to her hometown of Pawnee, Indiana. Which is great news for the show's viewers, but raises troubling questions about multiple violations of civil service rules.
FedLine has exclusively obtained a copy of the Interior Department's inspector general report into Regional Director Knope's activities:
To: Jonathan Jarvis, director, National Park Service
From: Mary Kendall, deputy inspector general, Interior Department
Subject: Abuse of authority by Midwest Regional Director Leslie Knope, National Park Service
We initiated an audit of NPS' abrupt relocation of its Midwest Regional Office from Chicago to Pawnee, Ind., after receiving several complaints from long-time NPS employees. We found multiple irregularities and violations of federal hiring authorities and facilities regulations on the part of newly-hired Regional Director Leslie Knope and her supervisor, Grant Larson.
Finding: The office's relocation to Pawnee was highly irregular.
Mr. Larson agreed to relocate an entire office, staffed with dozens of employees who resided in Chicago, on Ms. Knope's recommendation. While Pawnee's lower cost of living, proximity to many national parks and access to above-average breakfast food is advantageous, NPS did not conduct a full and open competition to decide which city to relocate the regional office to, in violation of federal regulations.
Once the decision to move to Pawnee was made, Mr. Larson failed to conduct a full and open competition to find acceptable office space, instead taking Ms. Knope's word that renting the third floor of the Pawnee City Hall would be most cost-effective.
The recent renovation of the third floor was apparently done in his spare time by Pawnee Parks and Recreation Director Ron Swanson. While Mr. Swanson's woodwork appears exemplary, we have concerns that a federal workspace was renovated without proper oversight, inspections and approvals.
In an interview, Mr. Swanson did not directly respond to our request for inspection records. He instead fixed a long, unbroken stare on investigators, and silently directed their attention to what appeared to be a Claymore land mine positioned on his desk. When we asked if the Claymore remained operational, Mr. Swanson giggled. Investigators advise that the presence of possible live explosives near a federal workspace represents an unacceptable risk.
In addition, NPS has received multiple EEO complaints about the murals on display in Pawnee City Hall, many of which have been called offensive to Native Americans, Asian Americans, Irish Americans, Jewish people, women and Presbyterians. The continued display of the murals may constitute a hostile work environment.
NPS employees also raised environmental concerns related to the move to Pawnee. Environmental Protection Agency studies have consistently found concentrated high-fructose corn syrup from the Sweetums factory has leached into Pawnee's water supply. Investigators concluded that relocation to Pawnee may present hazards to the long-term health of NPS employees.
Finding: Leslie Knope's tenure as regional director has been marked by rampant cronyism.
Ms. Knope's qualifications to be regional director are unassailable. Her work ethic, enthusiasm for public service, and knowledge of the fiscal and operational challenges facing parks programs are matched by none.
However, her loyalty to her friends has resulted in mismanagement of her new office, and the flagrant disregard of federal hiring regulations.
After accepting the job, Mr. Larson incorrectly told Ms. Knope that she could hire whomever she wanted. She then made multiple verbal offers of employment to her co-workers in the Pawnee Parks Department, without considering veterans preference, using the category rating system, or posting the vacancies on USAJOBS.gov. While Ms. Knope's dedication to federal hiring reform is admirable, we remain concerned her methods overlooked qualified candidates, and did not result in the best people being hired for the job.
Her employment of Pawnee employee Terry Gergich (AKA Larry, Jerry and Gary Gergich) is an example of the problematic hiring practices in Ms. Knope's office. Mr. Gergich was hired despite the fact that he displays no apparent skills or basic competence, and based on interviews, even appears unsure of what his actual first name is. In addition, Mr. Gergich is technically a retired Pawnee government employee, raising concerns about pension double-dipping.
During a recent visit, investigators observed Ms. Knope's friends April Ludgate and Andy Dwyer caring for her three children. It was unclear whether Ms. Ludgate and Mr. Dwyer remain government employees, but if that is the case, their provision of child care services during work hours to Ms. Knope would also present an ethical violation.
Conclusions
While Ms. Knope's behavior has been problematic, we find that it would not be cost-effective to find another location for the Midwest Regional Office at this late date. It is also too late to root out Ms. Knope's friends and associates from National Park Service positions without generating lawsuits. We advise Ms. Knope be reprimanded and told not to do it again.
The General Services Administration's Office of Inspector General has been advised of our findings and is preparing its own investigation.
May 3rd, 2013 | Justice | Posted by Stephen Losey
closeAuthor: Stephen Losey Name: Stephen Losey
Email: slosey@atpco.com
Site:
About: See Authors Posts (684)
Silver Screen Feds returns this week with an in-depth look at a major character from this year's best new TV show: the Cold War spy drama "The Americans." I've enjoyed watching the gifted, flawed FBI counterintelligence agent Stan Beeman unfold over this show's premiere season. And after watching its May Day finale, I decided that Beeman is too complicated to shoehorn into a narrow "best" or "worst" category, so I'm going to examine both sides of his character. MAJOR SPOILERS for the first season follow.
"The Americans" primarily focuses on Philip and Elizabeth Jennings, two KGB agents who have been living undercover in Northern Virginia for decades, posing as husband and wife and raising two children while spying for the Soviet Union. As the show begins, right after President Reagan's 1981 inauguration, Beeman and his estranged family move in next door to the Jenningses.
Beeman (played by Noah Emmerich, who we previously profiled as the CDC scientist in "The Walking Dead") is extraordinarily good at the spy game, often thinking three moves ahead of his adversaries. Early on, he catches a Soviet embassy clerk named Nina selling Russian caviar to the black market, and uses that information to turn her into a double agent. Beeman's new mole begins feeding him valuable information on what is going on inside the rezidentura, allowing him to identify hidden Soviet spies and a sleeper cell of collaborating Americans.
Tags: FBI, Friday Fun, Silver Screen Feds
April 5th, 2013 | Justice | Posted by Stephen Losey
closeAuthor: Stephen Losey Name: Stephen Losey
Email: slosey@atpco.com
Site:
About: See Authors Posts (684)
Welcome back to Silver Screen Feds! This week, Andy Medici brings us the most dashing federal volcanologist to ever be awarded a GS grade: Pierce Brosnan in "Dante's Peak." And Stephen Losey explains why our worst fed of the week IS AN EFF … BEE … EYE … AGENT!
BEST FEDS: Harry Dalton, U.S. Geological Survey, "Dante's Peak" (Andy Medici)
Deadly volcano? Check. Acid water, poisonous ash clouds and earthquakes? Check.
One federal employee willing to risk it all to save the lives of others? You know it.
In the 1997 film "Dante's Peak," Harry Dalton (Pierce Brosnan) is a highly experienced and knowledgeable volcanologist at the U.S. Geological Survey who just happens to be the one person you would ever want with you in case your town's long dormant volcano suddenly erupts into a firestorm of ash and deadly lava. The small town of Dante's Peak — nestled ominously under a volcano of the same name — has just been named the second most livable city in America. But right away there are warning signs of volcanic activity and James Bond — I mean Harry Dalton — is dispatched to see what is going on.
Tags: Friday Fun, Silver Screen Feds
March 22nd, 2013 | NASA | Posted by Stephen Losey
closeAuthor: Stephen Losey Name: Stephen Losey
Email: slosey@atpco.com
Site:
About: See Authors Posts (684)
Today on Silver Screen Feds, Andy Medici takes a look at the best team of federal employees ever to grace the big screen: Mission control from "Apollo 13." And keep reading for Stephen Losey's take on Environmental Protection Agency Administrator Russ Cargill, from "The Simpsons Movie" — the first character we've profiled who descends into outright super-villainy.
BEST FEDS: Mission Control, NASA, "Apollo 13″ (Andy Medici)

Most of the time, being a good federal employee requires working well as a team. Being able to finish projects on tight deadlines while dealing with multiple other priorities is a staple of any fed's tenure in government.
And in this case, there may be no better federal team in cinema than NASA's mission control from "Apollo 13." The 1995 film — directed by Ron Howard and starring Tom Hanks, Kevin Bacon and lots of other people everyone recognizes — follows the journey of the Apollo 13 astronauts as they attempt to reach Earth safely after a disaster onboard the ship renders it nearly useless.
Tags: EPA, Friday Fun, NASA, Silver Screen Feds, Simpsons
March 15th, 2013 | Treasury | Posted by Stephen Losey
closeAuthor: Stephen Losey Name: Stephen Losey
Email: slosey@atpco.com
Site:
About: See Authors Posts (684)
This week's edition of Silver Screen Feds goes back to the Roaring Twenties and the lawless days of Prohibition, to look at the best and worst Treasury agents who ever busted up a still on-screen: Legendary lawman Eliot Ness from the 1987 film "The Untouchables," and deeply disturbed Agent Nelson Van Alden from HBO's series "Boardwalk Empire."
BEST FEDS: Eliot Ness, Treasury Department, "The Untouchables" (Andy Medici)

How do you take down one of the most notorious criminals in America's history? How do you capture and convict a man responsible for gang violence, murder and untold corruption?
Why, with a Treasury Department employee of course.
And when your target is Al Capone — especially Robert De Niro playing Al Capone — your only hope is Kevin Costner as a highly stylized and ultimately effective Eliot Ness.
Tags: Friday Fun, Silver Screen Feds
March 8th, 2013 | HHS | Posted by Stephen Losey
closeAuthor: Stephen Losey Name: Stephen Losey
Email: slosey@atpco.com
Site:
About: See Authors Posts (684)
This week on Silver Screen Feds, we examine two federal employees who couldn't be any more different: Dr. Edwin Jenner, the doomed researcher at the Centers for Disease Control and Prevention in the zombie apocalypse show "The Walking Dead," and Ranger Smith, the hapless National Park Service ranger who can't stop Yogi Bear from stealing them pic-a-nic baskets.
BEST FEDS: Dr. Edwin Jenner, CDC, "The Walking Dead" (Stephen Losey)
Edwin Jenner holds a unique place in the pantheon of TV and movie feds: The last civil servant on Earth.
Towards the end of the first season of "The Walking Dead," a desperate band of survivors makes their way to the CDC headquarters in Atlanta, hoping to find refuge. What they don't know is that Jenner is the only person left at CDC. He continues to singlehandedly study the brain tissue of a zombie — dubbed TS-19 — desperately hoping to find a cure. But the exhausted Jenner knocks over a vial inside an airlocked laboratory, triggering its automatic decontamination procedures. Jenner escapes the lab, but can do nothing but watch helplessly as the laboratory engulfs all the remaining samples in flames, destroying his work and all possibility of finding a cure.
Tags: Friday Fun, Silver Screen Feds
March 1st, 2013 | Justice | Posted by Stephen Losey
closeAuthor: Stephen Losey Name: Stephen Losey
Email: slosey@atpco.com
Site:
About: See Authors Posts (684)
We began our new feature Silver Screen Feds last week with a look at the heroic postal workers in "Miracle on 34th Street" and the smug Environmental Protection Agency agent from "Ghostbusters." This week, we examine a far less-honorable mailman — Newman from "Seinfeld" — and the surprising heroism of Drug Enforcement Administration agent Hank Schrader in "Breaking Bad."
BEST FEDS: Hank Schrader, DEA, "Breaking Bad" (Stephen Losey)
The main character of the dark crime drama "Breaking Bad" is Walter White, a once-milquetoast high school chemistry teacher who uses his genius and cunning to cook crystal methamphetamine after learning that he has terminal lung cancer. But season after season, as the increasingly amoral Walter transformed into his criminal alter ego Heisenberg, the true hero of "Breaking Bad" has become his brother-in-law — DEA agent Hank Schrader. [Spoilers for the entire show follow.]
Hank's character has changed almost as much as Walter. When the show debuted five years ago, Hank was a boorish, casually racist loudmouth, fond of humming "Ride of the Valkyries" while descending on a meth lab. But his character soon developed surprising facets. After narrowly surviving a parking lot ambush by The Cousins, a pair of chilling cartel assassins (link contains graphic violence), the temporarily-paralyzed Hank was forced to hone his detective skills as he hunted the shadowy, mythical Heisenberg. In the process, he became a far more effective cop than he ever had been, and closed the net on unassuming fried chicken restauranteur and philanthropist Gus Fring's hidden drug empire.
Tags: Friday Fun, Silver Screen Feds
February 22nd, 2013 | Postal Service | Posted by Stephen Losey
closeAuthor: Stephen Losey Name: Stephen Losey
Email: slosey@atpco.com
Site:
About: See Authors Posts (684)
Welcome to a new ongoing feature here at FedLine: Silver Screen Feds! Your trusty FedLine bloggers don't just breathe federal government news day in and day out. We're also die-hard pop culture geeks, and nothing entertains us more than seeing how federal employees are portrayed on television and in film.
Hollywood's depiction of feds runs the gamut — from dashing heroes to hissable villains, from incompetent comic relief to self-sacrificing martyrs. In this series, we're going to take a lighthearted look at the Best and Worst feds in television and movie history. Every Friday, we'll profile two characters — one depicting the best federal employees have to offer, and one not-so-great fictional fed. We may even focus on a few who blur the line between good and bad.
And we'd like to hear from you. E-mail FedLine bloggers Stephen Losey or Andy Medici with your favorite feds from film or television.
For this first entry, Andy takes a look at the postal workers who save the day in the 1947 classic "Miracle on 34th Street." And Stephen examines the tragic flaws that bring down the Environmental Protection Agency's Walter Peck in 1984′s "Ghostbusters."
Tags: Friday Fun, Silver Screen Feds
February 7th, 2013 | Energy | Posted by Stephen Losey
closeAuthor: Stephen Losey Name: Stephen Losey
Email: slosey@atpco.com
Site:
About: See Authors Posts (684)
The Onion today published an amusing story with the headline "Hungover Energy Secretary Wakes Up Next To Solar Panel." It contains an incriminating photo of a perplexed Steven Chu in bed wearing a tank-top, and this classic quote: "This is bad. I really need to stop doing this. I've got to get this thing out of here before my wife gets home."
But what is even better than the story is this: Chu actually responded on his official Facebook page, and denied the alleged affair with a solar panel was behind his decision to step down from the Energy Department. Said Chu:
I just want everyone to know that my decision not to serve a second term as Energy Secretary has absolutely nothing to do with the allegations made in this week's edition of the Onion. While I'm not going to confirm or deny the charges specifically, I will say that clean, renewable solar power is a growing source of U.S. jobs and is becoming more and more affordable, so it's no surprise that lots of Americans are falling in love with solar.
Ahem. "Not going to confirm or deny the charges"? We can read between the lines, Mr. Secretary. (Hat tip to Mike Sager for giving me a heads up on this one.)
Tags: Friday Fun, Steven Chu, The Onion
August 31st, 2012 | Politics | Posted by Stephen Losey
closeAuthor: Stephen Losey Name: Stephen Losey
Email: slosey@atpco.com
Site:
About: See Authors Posts (684)
Last night, Clint Eastwood was The Man With No Speech. The legendary actor and former mayor of Carmel, Calif., took the stage at the Republican National Convention shortly after 10 p.m. EST to warm the crowd up for Mitt Romney. What followed was a seemingly improvised, 12-minute address to an empty chair he pretended had an invisible Barack Obama.
Apparently prompted by an enthusiastic crowd member, Eastwood finished his freewheeling speech by leading the crowd in his classic Dirty Harry line: "Go ahead, make my day." (Which was the obvious Eastwood quote, of course. But I have to confess: I was sort of hoping he'd say, "Right turn, Clyde." Every Which Way But Loose just doesn't get enough love in my book.)
Eastwood's antics lit up Twitter, and launched a new meme. Someone immediately started an "Invisible Obama" account. And within minutes, the hashtag #eastwooding was trending on Twitter as people posted photos of themselves (or their Corgi) haranguing empty chairs. Even an enterprising Photoshopper got Grampa Simpson in on the act.
The Obama campaign also had fun with the speech's surreality. When asked for comment, Politico said, the Obama campaign referred questions to Salvador Dali. And the campaign tweeted this photo with the caption, "This seat's taken."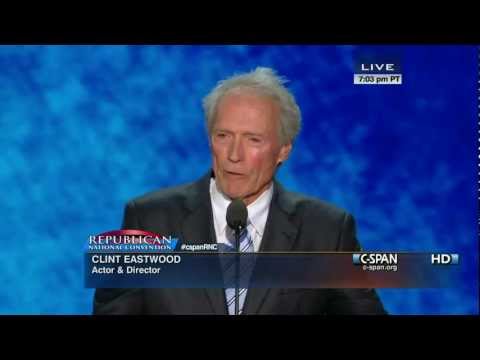 Tags: Clint Eastwood, Friday Fun, Republican National Convention