May 6th, 2013 | Uncategorized | Posted by jim mcelhatton
closeAuthor: jim mcelhatton Name:
Email: jmcelhatton@federaltimes.com
Site:
About: See Authors Posts (5)
One morning in August 2011, the vice president of an information technology contractor for the federal government awoke, checked his BlackBerry and noticed something strange.
Overnight, as court records would later go on to describe, someone had sent an email from the unnamed executive's work account to a former employee.
An internal investigation soon led to a federal probe by the FBI and the General Service Administration's Office of Inspector General.
Now, nearly two years after that unusual email, the former employee, Robert Edwin Steele, 38, stands convicted by a jury in U.S. District Court in Alexandria, Va., of 14 counts of unauthorized access of a protected computer.
In announcing the conviction Friday, federal prosecutors said Steele worked at multiple companies in government contracting, resigning from one known only as "Company A" in December 2010.
But after leaving the company and while working for another contractor, prosecutors said Steele continued sifting through his old employer's records. All told, he accessed the company's internal system more than 79,000 times from December 2010 to early September 2011, authorities said.
When sentenced in July, Steele faces up to one year in prison on two misdemeanor convictions and five years on each of 12 felony convictions.
Tags: acquisition, contracts, FBI, GSA, Information Technology
May 3rd, 2013 | Justice | Posted by Stephen Losey
closeAuthor: Stephen Losey Name: Stephen Losey
Email: slosey@atpco.com
Site:
About: See Authors Posts (679)
Silver Screen Feds returns this week with an in-depth look at a major character from this year's best new TV show: the Cold War spy drama "The Americans." I've enjoyed watching the gifted, flawed FBI counterintelligence agent Stan Beeman unfold over this show's premiere season. And after watching its May Day finale, I decided that Beeman is too complicated to shoehorn into a narrow "best" or "worst" category, so I'm going to examine both sides of his character. MAJOR SPOILERS for the first season follow.
"The Americans" primarily focuses on Philip and Elizabeth Jennings, two KGB agents who have been living undercover in Northern Virginia for decades, posing as husband and wife and raising two children while spying for the Soviet Union. As the show begins, right after President Reagan's 1981 inauguration, Beeman and his estranged family move in next door to the Jenningses.
Beeman (played by Noah Emmerich, who we previously profiled as the CDC scientist in "The Walking Dead") is extraordinarily good at the spy game, often thinking three moves ahead of his adversaries. Early on, he catches a Soviet embassy clerk named Nina selling Russian caviar to the black market, and uses that information to turn her into a double agent. Beeman's new mole begins feeding him valuable information on what is going on inside the rezidentura, allowing him to identify hidden Soviet spies and a sleeper cell of collaborating Americans.
Tags: FBI, Friday Fun, Silver Screen Feds
June 13th, 2012 | Justice | Posted by Stephen Losey
closeAuthor: Stephen Losey Name: Stephen Losey
Email: slosey@atpco.com
Site:
About: See Authors Posts (679)
In one of the least-likely team-ups imaginable, heavy metal band Metallica is working with the FBI to solve a murder. The FBI today launched a multimedia campaign — including a video PSA with Metallica singer James Hetfield — to try to find the suspected killer of Virginia Tech student and aspiring teacher Morgan Harrington.
Harrington disappeared after attending an October 2009 Metallica concert at the University of Virginia. She was last seen trying to hitch a ride after the show, and her Pantera t-shirt was found nearly a month later, the FBI said. Harrington's skeletal remains were found in a Virginia farm in January 2010.
The FBI says DNA evidence links Harrington's suspected murderer to a sexual assault in Fairfax, Va., and released composite sketches of the alleged assaulter. A group called the Jefferson Area Crime Stoppers is offering a $100,000 reward for information leading to the arrest and conviction of Harrington's killer, and Metallica has kicked in another $50,000.
Hetfield's PSA video is below, and after the jump find a recording of Metallica's 1988 song "…And Justice For All," which seems oddly appropriate for this story.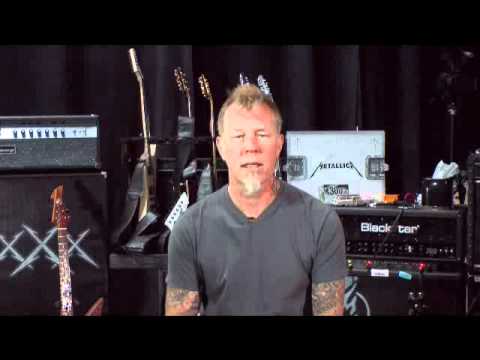 June 23rd, 2011 | Justice | Posted by Nicole Johnson
closeAuthor: Nicole Johnson Name: Nicole Johnson
Email: njohnson@federaltimes.com
Site:
About: See Authors Posts (202)
Law enforcement agents across a dozen countries joined forces to bring down two international cyber crime rings suspected of causing $74 million in losses to more than 1 million victims, the FBI announced Wednesday.
Two individuals from the northern European country Lativa were arrested Tuesday and indicted on charges filed in Minnesota, where the two allegedly created a phony advertising agency. Peteris Sahurovs, 22, and Marina Maslobojeva, 23 claimed they represented a hotel chain that wanted to purchase online advertising space on the Minneapolis Star Tribune's news website, according to details about the indictment in a news release.
Dubbed "Operation Trident Tribunal," the coordinated effort included officers from the United States, France, Canada, Germany and other countries and zeroed in on the scareware scams, where malicious software is sold as legitimate computer software.
Investigators seized more than 40 computers, servers and bank accounts throughout the United States and several European countries, following scareware scams investigated by FBI offices in Seattle and Minneapolis.
Here are some FBI tips on how to spot scareware:
Scareware pop-ups may look like actual warnings from your system, but  some elements aren't fully functional. For instance,  you may see a list of reputable icons—like software companies or security publications—but you can't click through to go to those actual sites.
Scareware pop-ups are hard to close, even after clicking on the "Close" or "X" button.
Fake antivirus products are designed to appear legitimate, with names such as Virus Shield, Antivirus, or VirusRemover.
Tags: cybercrime, FBI
April 28th, 2011 | Uncategorized | Posted by Nicole Johnson
closeAuthor: Nicole Johnson Name: Nicole Johnson
Email: njohnson@federaltimes.com
Site:
About: See Authors Posts (202)
A review of the FBI's efforts to mitigate national security cyber incidents found that some field agents tasked with investigating these cases lack the technical skills and expertise to effectively do their jobs.
The redacted version of the report, released Wednesday by the Justice Department's Office of the Inspector General, examined the ability of the FBI-led National Cyber Investigative Joint Task Force to defend against attacks on U.S. computer networks and efforts by the FBI field offices to investigate these attacks.
Of the 36 agents interviewed in 10 of the FBI's field offices, 13 said they do not have the technical skills required by the agency's Cyber Division to investigate national security cases. In addition, 5 of the 36 agents said they didn't think they were "able or qualified to investigate national security intrusions effectively," the report said.
Only 18 of the 36 agents had prior experience in computer networking, and some had never heard of the National Cyber Investigative Joint Task Force, which serves as the headquarters for the FBI's cyber intrusions operations.
In nearly half of the 10 offices reviewed, agents said they were assigned to cases that "exceeded their technical abilities."
A policy that requires field agents to rotate every three years to gain experience often puts inexperienced workers on cases left behind by skilled agents.
FBI agreed with the IG recommendations to address these issues. The agency has written draft information sharing protocols and will review the rotation policy, among other things.
Tags: cybersecurity, FBI, inspector general
October 11th, 2010 | Justice | Posted by Stephen Losey
closeAuthor: Stephen Losey Name: Stephen Losey
Email: slosey@atpco.com
Site:
About: See Authors Posts (679)
Sen. Susan Collins, R-Maine, is keeping pressure on the FBI to reform in the wake of a cheating scandal. Collins sent FBI Director Bob Mueller a letter Oct. 7 that said he should immediately punish those who cheated on an important exam on domestic investigations rules and privacy, and force any cheater who wasn't fired to retake the exam.
Collins also wants the FBI to conduct a department-wide review to find out if there were any other cheaters that weren't identified by an inspector general investigation. Mueller last month said disciplinary actions are being taken against cheaters and promised to follow up on any other allegations of misconduct
Justice IG Glenn Fine released a report Sept. 27 that found dozens to hundreds of FBI agents and other employees — including the former assistant director in charge of the Washington field office and two of his special agents in charge — cheated on the Domestic Investigations and Operations Guide (DIOG) exam. Some allegedly improperly collaborated on the test, others allegedly shared answer sheets, and others may have hacked into the FBI's computers to obtain answers.
Collins said the scandal indicates the FBI doesn't take the DIOG seriously:
Tags: cheating, FBI, scandal, Sen. Susan Collins
August 3rd, 2010 | Justice | Posted by Stephen Losey
closeAuthor: Stephen Losey Name: Stephen Losey
Email: slosey@atpco.com
Site:
About: See Authors Posts (679)
In what would be the stupidest potential lawsuit in almost a month, the FBI is threatening to sue Wikipedia for posting its official seal online.
The FBI appears to be concerned that no-goodniks could pull the seal from Wikipedia to make phony badges and documents. But seriously, FBI, the cat's already out of the bag on this one. Heck, even the FBI's own site has decent JPGs of the seal that can be found by anyone with rudimentary Google skills.
Wikipedia's response letter leans heavily on the snark, and refers to the FBI's "creative editing" and "strategic redaction of important language" in the law it cites. But Cindy Cohn of the Electronic Frontier Foundation sums the whole episode up perfectly when she spoke to the New York Times: "I have to believe the FBI has better things to do than this."
March 5th, 2010 | Facilities General Services Administration Justice | Posted by Tim Kauffman
closeAuthor: Tim Kauffman Name: Tim Kauffman
Email: tkauffman@atpco.com
Site:
About: See Authors Posts (104)
FBI employees now scattered in four locations in the Phoenix area will move into a new 200,000-square-foot office building about two years from now.
The General Services Administration announced Wednesday it has selected the Phoenix office of construction firm Ryan Companies to build the $62 million facility. The building will be owned by Ryan and leased to GSA for use by the FBI under a 20-year lease.
Many companies apparently competed for the build-to-suit lease project, indicating the high level of interest in government projects in a time of economic uncertainty in the construction industry.
John Strittmatter, president of Ryan's southwest division, told the Phoenix Business Journal that the effort was well worth it.
It was a national competition that lasted well over a year. It was a long and expensive process, but we're very excited.
The building currently is being designed; construction will begin this fall and take 18 months to complete.
Tags: FBI
February 19th, 2010 | Justice | Posted by Stephen Losey
closeAuthor: Stephen Losey Name: Stephen Losey
Email: slosey@atpco.com
Site:
About: See Authors Posts (679)
The FBI today said it has formally closed its investigation into the 2001 anthrax mailings that killed five people — including U.S. Postal Service workers Joseph Curseen and Thomas Morris — and sickened 17 others. The 96-page investigative summary posted here concludes that Army anthrax researcher Bruce Ivins, who committed suicide in 2008,  acted alone:
Investigators learned that Dr. Ivins was alone late at night and on the weekend in the lab where RMR-1029 [the batch of anthrax spores used in the attacks] was stored in the days immediately preceding the dates on which the anthrax could have been mailed. Before the anthrax mailings, Dr. Ivins had never exhibited that pattern of working alone in the lab extensively during non-business hours, and he never did so after the anthrax attacks. When confronted, he was unable to give a legitimate explanation for keeping these unusual and, in the context of the investigation, suspicious hours.

[...] Dr. Ivins was among the very few anthrax researchers nationwide with the knowledge and ability to create the highly purified spores used in the mailings. Finally, everyone else who had access to RMR-1029 was ruled out as the mailer because, among other reasons, they lacked the ability and/or opportunity to prepare and store the material.
The report goes into more detail on Ivins' obsessions and mental health problems and other suspicious activity before and after the anthrax mailings.
More documents detailing the Amerithrax investigation can be found here and here.
Tags: anthrax, bioterrorism, Bruce Ivins, FBI
February 11th, 2010 | Agencies Justice Transportation Security Administration | Posted by Rebecca Neal
closeAuthor: Rebecca Neal Name: Rebecca Neal
Email: rneal@atpco.com
Site:
About: See Authors Posts (181)
A Pennsylvania college student sued the federal government Wednesday, saying that TSA and FBI officials detained him at an airport because he was carrying a set of English-Arabic flashcards, reports The Washington Post.
Nicholas George, 22, of Montgomery County, Pa., is a senior majoring in physics and Middle Eastern studies at California's Pomona College. In his lawsuit, he argues that he was detained for five hours in August at the Philadelphia airport because three Transportation Security Administration officers, two Federal Bureau of Investigation agents and two Philadelphia police officers were suspicious of his flashcards and semester studying abroad in the Middle East. George's lawsuit states that the detainment was a violation of his constitutional rights to free speech and freedom from unreasonable search and seizure.
The Post quotes an anonymous source who said the questioning of George was based on officers' observations of George's behavior:
A federal official familiar with the matter, discussing the case on the condition of anonymity, said that TSA officers observed "anomalous" behavior by George before he entered the checkpoint. The official said his "erratic" conduct escalated upon screening and, along with other unspecified factors, that led officers to call police to investigate further.
Under questioning, George said he was not a "terrorist, a communist, a Muslim or a member of any campus 'pro-Islamic group,'" at which point FBI agents told him he was not a threat and let him go.