Federal Times Blogs
January 7th, 2013 | 2013 Budget | Posted by Stephen Losey
closeAuthor: Stephen Losey Name: Stephen Losey
Email: slosey@atpco.com
Site:
About: See Authors Posts (684)
Now that the tax portion of the fiscal cliff mess has been resolved — for now, at least — the next major dispute will likely be over raising the debt ceiling. Treasury Secretary Tim Geithner said last month that although the federal government reached its debt limit Dec. 31, he could finagle another two months or so by taking so-called "extraordinary measures." That implied the government could keep running as-is until the end of February.
It turns out those measures may not be all that extraordinary. The Bipartisan Policy Center, a think tank that studies budgetary matters, just put out an analysis of the government's finances that concluded it could run out of money as soon as Feb. 15. That would be just slightly more than a month-and-a-half — not the two months Geithner hoped for. To be sure, that's just a worst-case scenario — BPC said the government may be able to keep operating until March 1, depending on factors such as how much revenue the government brings in.
But the point is, time is tight. And if the debt ceiling mess isn't resolved soon, we could be looking at a partial government shutdown.
Oh, and the BPC report throws cold water on all the people hoping for a deus ex machina solution to the debt ceiling mess. There are "no silver bullets" to extend the date, it says. It cites two quotes from President Obama and his spokesman that the 14th Amendment doesn't allow him to unilaterally raise the debt ceiling, as much as Democrats like Nancy Pelosi might like him to.
And minting a magical $1 trillion platinum coin to give the government more borrowing room — as has been repeatedly proposed over the last year — would be "impractical, illegal, and/or inappropriate," the BPC said. Although, I'm not quite sure what their problem is. As The Simpsons showed us, nothing can go wrong with a trillion-dollar bill as long as you keep it out of the hands of Fidel Castro.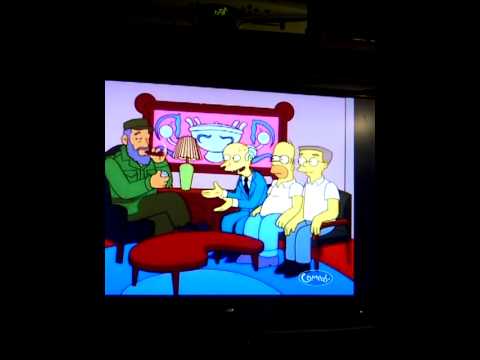 Tags: debt ceiling, shutdown, Simpsons
August 2nd, 2011 | Social Security Administration | Posted by Nicole Johnson
closeAuthor: Nicole Johnson Name: Nicole Johnson
Email: njohnson@federaltimes.com
Site:
About: See Authors Posts (220)
Social Security payments scheduled for Wednesday will be disbursed on time, Social Security Administration Commissioner Michael Astrue announced Tuesday.
Up until late last week, it wasn't clear if lawmakers would strike a deal to increase the debt limit, causing concern for recipients of Social Security and VA benefits who probably would not have received payments.
Payments set for Aug. 10, 17th and 24th will also go out on time.  
"I am happy to announce there will be no delay in the payment of August Social Security benefits," said Astrue, "which should be a relief to those people who were concerned about their benefits.  I'm pleased the President and Congress were able to come together in a bipartisan fashion to avoid an interruption in payments."
Tags: Congress, debt ceiling
July 29th, 2011 | Congress | Posted by Stephen Losey
closeAuthor: Stephen Losey Name: Stephen Losey
Email: slosey@atpco.com
Site:
About: See Authors Posts (684)
With four days to go (roughly) until the federal government runs out of cash, the effort to raise the debt ceiling is growing more and more chaotic. Last night, House Speaker John Boehner, R-Ohio, couldn't muster enough GOP votes to pass his plan to raise the debt ceiling in two stages while cutting some $917 billion in discretionary spending (give or take a few hundred billion).
The strain is evident. Earlier in the week, Boehner told House Republicans to "get your ass in line" and back his plan, with no success. House GOP leadership is now scrambling to revise the bill and salvage a vote. But that's bound to be a futile exercise anyway. Senate Majority Leader Harry Reid, D-Nev., already pledged to sink Boehner's bill, Obama just denounced it as having "no chance of becoming law," and making it more conservative just makes it even less likely to pass the Senate.
Meanwhile, millions of federal employees and retirees are growing increasingly nervous with no official word on how a potential default would affect them. The National Federation of Federal Employees today announced their "Each One, Reach One" campaign to pressure lawmakers to get their act together. NFFE President Bill Dougan wants all federal employees to call one or more of their representatives and tell them to raise the debt ceiling by the Aug. 2 deadline.
Because we've got to laugh so we don't cry, here's Stephen Colbert's inspired — and incredibly dorky — riff on John McCain's dismissal of Tea Partiers as "hobbits."
Tags: debt ceiling, gridlock, Harry Reid, John Boehner, NFFE, Stephen Colbert
July 27th, 2011 | Pay & Benefits | Posted by Stephen Losey
closeAuthor: Stephen Losey Name: Stephen Losey
Email: slosey@atpco.com
Site:
About: See Authors Posts (684)
It's looking increasingly likely that a deficit reduction deal is going to hit future feds particularly hard, as we reported last week. Rep. Dennis Ross, R-Fla., today confirmed that not only are lawmakers seriously considering raising the amount federal employees contribute toward their pensions, but the increase would be a lot higher for new employees than for current employees.
Ross told me that he's not personally involved in the negotiations and couldn't say how big the increases might be. (Unions have been told that current employees' contributions — to both the Federal Employees Retirement System and the Civil Service Retirement System — would go up by either 0.4 or 0.5 percentage points per year for three years once the pay freeze ends, and that future employees' FERS contributions would be either 5.5 percent or 6 percent. FERS contributions are now 0.8 percent.)
"For those existing employees, it will not be as significant as what it will be for new employees," Ross said. "There's no question that that's going to be considered. To what extent, I don't know."
Ross said the deficit reduction deal may also require federal employees to pay more toward their health insurance.
But just how deep will the cuts to federal employees' pay and benefits go? "I think that's probably some of the fine print that's going to be decided after an overall deal is made, as to the amount of [spending] cuts," Ross said. "We'll probably know more, maybe before the weekend."
Although negotiations now appear in disarray, Ross is confident that lawmakers and the White House will find some way to cut the deficit and raise the debt ceiling. "There'll be a deal struck," Ross said. "It's just a matter of when."
Tags: CSRS, debt ceiling, deficit reduction, Dennis Ross, FERS
July 25th, 2011 | Congress | Posted by Stephen Losey
closeAuthor: Stephen Losey Name: Stephen Losey
Email: slosey@atpco.com
Site:
About: See Authors Posts (684)
Senate Majority Leader Harry Reid may have swerved in the game of chicken that is our debt ceiling debate, depending on how you look at it. He and Sen. Chuck Schumer, D-N.Y., held a press conference this afternoon to propose a $2.7 trillion deficit reduction package that would extend the debt ceiling into 2013.
The proposal would not include any additional tax revenues — which Republicans have taken a hard line on and has scotched all previous attempts at a bargain — but it would also not touch entitlements such as Medicare, Medicaid and Social Security. Reid said it would include $1.2 trillion in domestic discretionary cuts, including defense, over a decade and another $1 trillion from winding down the wars in Iraq and Afghanistan.
President Obama immediately endorsed Reid's plan. But since Iraq and Afghanistan were going to end sooner or later, some view counting those savings as deficit reduction as a sham budget gimmick that won't mollify creditors. Some conservative commentators and Republican staffers are already throwing cold water on the plan for just that reason.
Meanwhile, House Speaker John Boehner outlined his own plan, which would raise the debt ceiling in two stages. First, Boehner said, the government would cut $1.2 trillion over a decade and raise the ceiling by $1 trillion. Then, Congress would form a committee to prepare a bill cutting another $1.8 trillion. If Congress passes those cuts, the debt ceiling goes up another $1.6 trillion. (It also requires a vote on the Balanced Budget Amendment later this year.)
Boehner's plan centers on exactly the kind of short-term debt ceiling increases that Obama and Democrats oppose, since it would force us to have this debate all over again during a presidential election. (And its worth noting that Republican leaders at one point also were against short-term increases.)
All of this means we're probably no closer to a solution than we were this morning.
Tags: debt ceiling, deficit reduction
July 25th, 2011 | White House | Posted by Stephen Losey
closeAuthor: Stephen Losey Name: Stephen Losey
Email: slosey@atpco.com
Site:
About: See Authors Posts (684)
About two weeks ago I described deficit talks as going from bad to worse. Well, on Friday things went from worse to abysmal. President Obama says House Speaker John Boehner stopped returning his calls when they were supposedly wrapping up the final details on a deal, and then pulled out of negotiations. Boehner says Obama backtracked on a handshake deal on new revenue and demanded another $400 billion in taxes.
This photo, taken Saturday when top lawmakers were summoned to the White House for emergency talks, tells the whole story. The fatigue and frustration can be plainly seen on Obama and Boehner's faces, and it seems the two men can't even look at one another anymore.
There's barely eight days left to agree on some way to raise the debt ceiling before … well, who knows what will really happen Aug. 3? Unions and employee groups haven't been told anything. During a partnership council meeting in March, before the averted shutdown, they peppered administration officials with questions that went unanswered. But at last week's partnership meeting, unions didn't even bother asking Office of Personnel Management Director John Berry how a default would hurt feds. "Didn't get us very far" last time, American Federation of Government Employees National President John Gage said.
Federal Times would like to hear from you on this subject. Are you hearing anything at all from your higher-ups on what a default would mean? Is there talk of furloughs, or other unfortunate consequences? What other questions do you have? E-mail me at slosey@federaltimes.com. If you don't want to be quoted, that's not a problem.
July 19th, 2011 | Pay & Benefits | Posted by Stephen Losey
closeAuthor: Stephen Losey Name: Stephen Losey
Email: slosey@atpco.com
Site:
About: See Authors Posts (684)
The prospect of major cuts to federal pay and benefits as part of a debt ceiling deal has many federal employees and their advocates extremely nervous. The so-called Gang of Six today backed lowering cost-of-living adjustments for federal and military retirees. But other proposals have suggested making federal employees contribute about 5 percent more of their salaries toward their pensions, base their pensions on their highest-five salaries instead of their high-three, switching feds' health care to a premium support system, cutting staffing levels, or further freezing pay raises.
At a pen-and-pad briefing this morning with House Minority Whip Steny Hoyer, D-Md., and Rep. Chris Van Hollen, D-Md., I asked what fed-oriented proposals were still on the table, and which had the greatest chance of becoming reality. Hoyer responded:
Clearly, there have been a wide array of options put on the table. There have been no specific federal employee cuts that have been supported by us at this point in time. But there are things on the table dealing with pay and benefits of federal employees.

Retirement, federal employee health benefits and pay — they are the three benefits that federal employees essentially have. There have been … an array of options discussed. There have been no agreements on any of those.
Van Hollen then chimed in:
The Republican budget plan would immediately cut federal employee pay by about 5 1/2 percent. We think that that's a terrible signal to send to federal employees. It's like saying to the guys who helped track down Osama bin Laden, thank you very much, here's your 5 1/2 percent pay cut. So it is, as the Whip said, we've been working very hard to make sure that there's shared responsibility within this package.
Hoyer in May said proposals to cut federal employees' benefits must be on the table in deficit reduction talks, though he did not endorse any proposals.
Tags: Chris Van Hollen, debt ceiling, deficit reduction, Steny Hoyer
July 15th, 2011 | OMB | Posted by Stephen Losey
closeAuthor: Stephen Losey Name: Stephen Losey
Email: slosey@atpco.com
Site:
About: See Authors Posts (684)
We're in truly uncharted waters with the current debt ceiling showdown, and federal employee groups are starting to get nervous. The 21-member Federal-Postal Coalition just asked Office of Management and Budget Director Jack Lew and Treasury Secretary Tim Geithner for a meeting to detail the consequences if the ceiling isn't raised by Aug. 2.
If Congress doesn't raise the debt ceiling, the coalition wants to know:
Will there be a government shutdown? If so, what plans are in place to ensure continuity of operations?
What will it mean for the Thrift Savings Plan's G Fund, which is backed by government securities (and into which the Treasury suspended additional investments back in May for a little more breathing room)? What about retirement funds?
Will federal employees be furloughed? And what will that mean for their pay and benefits?
The coalition is made up of federal unions such as the American Federation of Government Employees, the National Treasury Employees Union and the National Association of Letter Carriers; management groups such as the Federal Managers Association and the Senior Executives Association; and other employee groups such as the National Active and Retired Federal Employees Association and the American Foreign Service Association.
Unless something changes soon (and after this week, it's not looking good) we're going to see a lot more frayed nerves. There's 18 days left until Aug. 2 — time is running out.
Tags: debt ceiling, deficit reduction
July 14th, 2011 | White House | Posted by Stephen Losey
closeAuthor: Stephen Losey Name: Stephen Losey
Email: slosey@atpco.com
Site:
About: See Authors Posts (684)
Here's Politico on yesterday's debt ceiling negotiations, which are quickly going from bad to worse:
President Barack Obama abruptly walked out of a stormy debt-limit meeting with congressional leaders Wednesday, a dramatic setback to the already shaky negotiations.

"He shoved back and said 'I'll see you tomorrow' and walked out," House Majority Leader Eric Cantor (R-Va.) told reporters in the Capitol after the meeting.

On a day when the Moody's rating agency warned that American debt could be downgraded, the White House talks blew up amid a new round of sniping between Obama and Cantor, who are fast becoming bitter enemies.

[...] A Democratic aide said[:] "Cantor rudely interrupted the president three times to advocate for short-term debt ceiling increases while the president was wrapping the meeting. This is just more juvenile behavior from him and Boehner needs to rein him in, and let the grown-ups get to work."
And House Democratic Whip Steny Hoyer's take on the same meeting:
Today's White House meeting was constructive and progress was made.
Oh, Steny. Always the eternal optimist.
Tags: debt ceiling, deficit reduction, Monty Python, Rep. Eric Cantor, Steny Hoyer
July 13th, 2011 | Congress | Posted by Stephen Losey
closeAuthor: Stephen Losey Name: Stephen Losey
Email: slosey@atpco.com
Site:
About: See Authors Posts (684)
If Congress can't raise the debt ceiling, says Rep. Dennis Ross, R-Fla., it's all good. We'll just shut down the Education, Labor, and Commerce departments. Maybe a few others, too, and turn their duties over to the states. Here's the chairman of the House federal workforce subcommittee in a July 9 op-ed:
The federal government takes in about $175 billion per month in tax revenues. … We spend about $30 billion per month on debt interest. Without raising the debt ceiling, we can still service our debt. That leaves the government $145 billion per month, without borrowing. Tax revenue currently covers 67 percent of federal expenses. Social Security, Medicare, Medicaid, debt interest and social safety net programs consume 60 percent of our budget — i.e. they are fully covered with existing revenue.

Granted, the departments of Education, Labor, Commerce and other bureaucracies that have enjoyed double-digit budget increases the past 10 years will have to shut down. But this is where our differences truly materialize. I believe that states such as Florida can educate our kids, ensure a safe workplace, promote our products and are closest to the people. [emphasis added]
Ross also calls for implementing many of the Simpson-Bowles deficit reduction proposals, including switching the Federal Employees Health Benefits Program to a premium support system as a pilot test for doing the same to Medicare:
The  bipartisan commission suggests capping discretionary spending to pre-2008 levels, cuts to both nondefense and defense discretionary spending (yes, the Department of Defense is overflowing in wasteful spending), cutting the federal workforce by 10 percent or more, and eliminating all congressional earmarks. Regardless of whether a Democrat or Republican uttered these suggestions, these are good ideas.
Ross opens his column by comparing Republicans and Democrats' relationship to the uneasy partnership between Clint Eastwood and Eli Wallach in The Good, the Bad and the Ugly: "Even if they don't trust each other, [they] need to work together to solve our looming debt-and-entitlement budget crisis. (Of course, in that movie Blondie and Tuco spent nearly three hours trying to kill each other while hunting buried Confederate gold, so that may not bode well for deficit negotiations.)
But Ross' analogy raises another question. If Republicans and Democrats are the Good and the Ugly … who would that make the Bad?
Tags: debt ceiling, deficit reduction, Dennis Ross, Sergio Leone