Federal Times Blogs
October 8th, 2013 | 2014 Budget Defense Veterans Affairs | Posted by Sean Reilly
closeAuthor: Sean Reilly Name: Sean Reilly
Email: sreilly@atpco.com
Site:
About: See Authors Posts (428)
The big news today is what's not happening—i.e., there is no indication of any deal in sight to reopen the government this week. In addition, a bill to ensure back pay to hundreds of thousands of furloughed federal employees appears to be hitting a Senate slowdown. The measure, sponsored by Rep. Jim Moran, D-Va., raced through the Republican-run House on a 407-0 vote Saturday; supporters had hoped for a similar glide through the Democratic controlled-Senate.
But on Monday, Sen. John Cornyn, R-Texas, called it "premature" to move ahead with the back pay bill while Democrats were refusing to take up other House-passed measures to selectively restore funding to high-profile agencies like the Federal Emergency Management Agency, the National Institutes of Health, and the National Park Service, according to an article published on Roll Call's website.
Rather than pushing the bill quickly through the Senate, Cornyn suggested that the legislation go through the "normal legislative process," which would mean opening it up to amendments. As the Senate Minority Whip, Cornyn is number two in the Senate GOP's pecking order, so his position presumably carries some weight.
A spokesman for Senate Majority Leader Harry Reid, D-Nev., did not respond to an email asking whether Reid planned to bring the back pay bill up before the full Senate this week. A spokesman for Senate Minority Leader Mitch McConnell, R-Ky., declined comment this morning.
In other news, some 7,000 Veterans Affairs Department employees join the ranks of the furloughed today.
Overall, VA–the second largest government agency–has fared much better than most; of some 332,000 total employees, fewer than 15,000 are subject to furloughs, according to its shutdown contingency plan. Many of the 7,000 sent home today work in regional offices that will now be closed. Something else to keep an eye on is the possibility that–should the shutdown continue into the second half of October–VA benefit checks could be delayed, including payments for disability compensation and GI Bill living stipends, according to the department.
Anything we're missing in regard to major developments or agency responses to the shutdown? Send us a note at shutdownstories@federaltimes.com
June 26th, 2013 | IRS Small Business Administration Veterans Affairs | Posted by jim mcelhatton
closeAuthor: jim mcelhatton Name:
Email: jmcelhatton@federaltimes.com
Site:
About: See Authors Posts (29)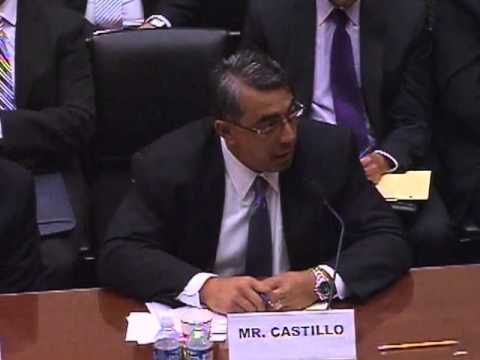 Rep. Tammy Duckworth, D-Ill, lost her legs and the use of her right arm as a helicopter pilot in Iraq in 2004. She was awarded a Purple Heart for her combat injuries.
Braulio Castillo broke his foot in a prep school injury nearly three decades ago at the U.S. Military Preparatory School, which he attended for nine months before playing football in college. He owns a technology business certified as a service-disabled, veteran-owned company eligible for government set aside contracts.
The two met at a House Committee on Oversight and Government Reform hearing Wednesday in an exchange neither will forget anytime soon.
For background, what brought them together was a months-long House probe into whether Castillo's company won IRS contracts thanks, in part, to help from a top contracting official and friend inside the IRS named Greg Roseman, who pleaded the Fifth Amendment when called to testify.
While much of the hearing delved into questions about Roseman and Castillo's friendship, lawmakers from both parties wondered aloud how a prep school injury suffered so long ago could result in Castillo's company getting special set aside contract status from the government at a time when so many injured veterans are looking for work.
But among hours of testimony, Duckworth's questioning of Castillo stood out.
She talked of her own struggles and those of a friend who, exposed to Agent Orange, died of leukemia. She talked of recovering from her injuries along with a young man whose leg had been blown off. And she talked about a backlog of veterans waiting more than 200 days to receive disability ratings from the Department of Veterans Affairs.
At one point, Duckworth read aloud from a letter that Castillo had sent to the VA as his company sought set-aside contract status, quoting him as saying, "These are crosses that I bear due to my service to our great country and I would do it again to protect this great country."
Duckworth paused.
"I'm so glad that you would be willing to play football in prep school again to protect this great country," she said. "Shame on you, Mr. Castillo. Shame on you. You may not have broken any laws … but you certainly broke the trust of this great nation. You broke the trust of veterans."
You can watch the exchange here.
Tags: IRS, Strong Castle, Tammy Duckworth, VA. SBA
June 26th, 2013 | IRS Small Business Administration Veterans Affairs | Posted by jim mcelhatton
closeAuthor: jim mcelhatton Name:
Email: jmcelhatton@federaltimes.com
Site:
About: See Authors Posts (29)
An IRS technology official at the center of a House investigation into whether he pushed the agency to award contracts potentially worth up to $500 million to a company owned by a personal friend pleaded the Fifth Amendment and refused to testify at a House hearing Wednesday.
A House Committee on Oversight and Government Reform report Tuesday said Greg Roseman, an IRS deputy director, may have influenced the IRS to award lucrative IT contracts to Strong Castle, Inc.
The same report also said the company had given the Small Business Administration misleading information to win approval so it could obtain set aside contracts, and that its Veterans Affairs-awarded status as a so-called service disabled veteran company was based on a nearly three decade old foot injury by its owner.
The House investigation also uncovered numerous text messages between Roseman and Strong Castle's owner, Braulio Castillo. The company was previously called Signet Computers. The committee report said the company had little experience, but Castillo pushed back on that assertion, saying the firm had 15 years experience when he purchased it.
Still, Rep. Darrell Issa, R-Ca., the chairman of the committee, said the company had little experience because employees under the previous owner from years ago were no longer around.
Appearing before the committee, Roseman declined to testify other than giving his title, and he declined to say whether he was still employed by the IRS.
The House report called the relationship between Roseman and Castillo "cozy."
"Text messages … show that Castillo and Roseman had a long-term friendship that extended well beyond a professional relationship," the report said, adding that many of the messages were vulgar.
Investigators also found a February 2012 email from Roseman to Castillo in which Roseman provided the name of a supervisory contract specialist at the General Services Administration, where Roseman previously worked, who could help Castillo get a contract on GSA's Schedule 70, a catalog of governmentwide contracts for information technology products and services. In the email, Roseman told Castillo, "I've talked to her and she will look into expediting."
Beth Tucker, a deputy  IRS commissioner, said the agency is the process of severing its relationship with Strong Castle.
While Issa said the IRS hadn't indicated in recent days whether it would continue doing business with the company, Tucker characterized new text messages uncovered in the House probe as a surprise to IRS officials.
She said Roseman was asked by supervisors if he had a personal relationship with Castillo and "he denied it."
Meanwhile, Castillo said his company won blanket purchase agreements from the IRS, which placed orders that amounted to about $50 million, with most of that money going to the company's large business partner, IBM.
Tags: IRS, Siget, Strong Castle, VA
June 21st, 2013 | Pay & Benefits Veterans Affairs | Posted by jim mcelhatton
closeAuthor: jim mcelhatton Name:
Email: jmcelhatton@federaltimes.com
Site:
About: See Authors Posts (29)
The Veterans Affairs Department's outreach strategy to try get Boston area vets enrolled in benefits is targeting the town's famous love of sports.
The VA is paying $7,500 a piece to run ads in annual yearbooks for the New England Patriots and Boston's Red Sox, Celtics and Bruins, which, by the way, need two games to win hockey's Stanley Cup.
Michael B. McNamara, outreach program manager for the VA's New England healthcare system, said in a phone interview that the VA as been running ads in the yearbooks for two years. So far, the strategy of reaching out to vets based on the fact the city is so sports crazy seems to be working, he said.
"It's a religion up here," he said of Boston's love of pro sports teams.
McNamara said 504 veterans have contacted the VA after seeing the ads asking about benefits. McNamara said the outreach is important because many veterans don't know they're eligible for benefits.
McNamara emailed a copy of one ad slated for the Red Sox yearbook, and you can see it here.
June 3rd, 2013 | IRS Veterans Affairs | Posted by Sean Reilly
closeAuthor: Sean Reilly Name: Sean Reilly
Email: sreilly@atpco.com
Site:
About: See Authors Posts (428)
Todd Grams, the Veterans Affairs Department's chief financial officer, is leaving to become chief of staff at the IRS.
In an email sent today to "Friends and Colleagues," Grams, who is also the VA's executive-in-charge for management, said he is returning to the IRS this week at the request of acting Commissioner Danny Werfel.
"For a total of almost 11 years (over two tours), I have had the honor to serve our nation's veterans," Grams said. "I am very grateful to have had both opportunities to contribute at the VA." Grams was previously at the IRS from 2001 to 2006, first as  CFO and then as chief information officer, according to his official bio.
Grams is at least the fourth senior official to exit the Veterans Affairs Department—the second largest Executive Branch agency–since February. Others include Deputy Secretary Scott Gould, Chief Information Officer Roger Baker and Chief Technology Officer Peter Levin.
Two years ago, Grams' work in consolidating and streamlining VA management earned him a prestigious Service to America ("Sammie") award from the Partnership for Public Service.  Asked who will replace him, VA spokesman Josh Taylor in an email this afternoon that he had "nothing on that yet."
Grams isn't Werfel's only new hire. In a news release today, the IRS said that Heather Maloy will be deputy commissioner for services and enforcement, while David Fisher will become a senior adviser and chief risk officer.
Fisher, who headed the Defense Department's now disbanded Business Transformation Agency, has more recently been chief administrative and financial officer at the Government Accountability Office. Maloy has been commissioner for the IRS's Large Business and International Division. The release doesn't say who–if anyone–each of the three is replacing.
"Their extensive expertise in management inside and outside the IRS will help us make improvements now and in the future," Werfel said. "These are essential steps to restore the public's trust and ensure the fair and effective administration of the nation's tax system."
Tags: Danny Werfel, Josh Taylor, Todd Grams
April 29th, 2013 | Veterans Affairs | Posted by Sean Reilly
closeAuthor: Sean Reilly Name: Sean Reilly
Email: sreilly@atpco.com
Site:
About: See Authors Posts (428)
Scott Gould, the number two official at the Veterans Affairs Department for the last four years, is stepping down May 17, VA Secretary Eric Shinseki said in a news release today.
As the department's deputy secretary, Gould has served as chief operating officer since winning Senate confirmation to the job in April 2009. In that role, he "has been vital to the progress we've made on our top three priorities: increasing access to VA care and services, eliminating the compensation claims backlog and ending veterans' homelessness," Shinseki said in the release. "While we have more work to do, Scott's contributions have been immense."
The release is mum on why is leaving now or where he might be heading next, but in an email to FedLine, VA spokesman Josh Taylor said Gould "made this decision with his family, on his own terms." While Gould has not made a final decision on  next step, Taylor said, he is "ready for the next stage in his private-sector career." Gould did not reply to phone and email messages seeking direct comment.
Gould is at least the third senior VA official to announce his departure in recent months; since February, both Chief Information Officer Roger Baker and Chief Technology Officer Peter Levin have stepped down.
Gould came to VA from IBM Global Business Services, where he was vice president for public sector strategy, according to his official bio. He has also been CEO of an investment services firm and  worked at the Treasury Department, Commerce Department and Export-Import Bank.
[This post has been updated]
Tags: Eric Shinseki, Peter Levin, Roger Baker, Scott Gould
February 15th, 2013 | Information Technology Veterans Affairs | Posted by Nicole Johnson
closeAuthor: Nicole Johnson Name: Nicole Johnson
Email: njohnson@federaltimes.com
Site:
About: See Authors Posts (220)
The Veterans Affairs Department's chief information officer told employees Friday he will resign, the department confirmed.  
In a message to IT staff, Baker did not say when his last day will be and offered no explanation about his resignation. The DorobekINSIDER hinted that Baker may leave as soon as March 1.
Here's some of what Baker told employees:
I would like to thank each of you for your hard work and dedication in serving our VA customers and our Nation's Veterans.  Over the last four years, VA IT has come to be recognized as a leader in federal IT.  We have improved our relationships with our IT customers; established one of the highest performing product delivery organizations in the world; achieved visibility to our networks and medical devices; focused our decision-making based on metrics and not by anecdotes; and become an IT organization that is seen as an investment for the VA rather than an expense.

 Most critically, VA IT has become the backbone for the transformation of the VA into a 21stCentury organization that the Secretary has envisioned.  Your ability to deliver the technology necessary to support that transformation and to reliably meet our commitments to our customers is fundamental to that transformation.
Under Baker's watch, VA instituted a program that drastically improved the number of IT projects delivered on schedule.  
Baker also has a senior role in VA's partnership with the Defense Department to integrate their electronic health record systems. That project recently came under fire from lawmakers, who criticized the departments' decision to revise plans to create a single electronic health record system.
Tags: Roger Baker
November 13th, 2012 | Information Technology Veterans Affairs | Posted by Nicole Johnson
closeAuthor: Nicole Johnson Name: Nicole Johnson
Email: njohnson@federaltimes.com
Site:
About: See Authors Posts (220)
The Veterans Affairs Department has awarded HP Enterprise Services a $36 million contract to move 600,000 email accounts to the cloud.
Under the five-year contract, VA users will have access to email and shared calendars using Microsoft Office 365 for Government. Users, however, will not have access to additional features such as instant messaging and web and video conferencing.
"VA is moving to cloud-based email and collaboration as part of a broader effort to leverage emerging technologies to reduce costs, increase efficiencies and, most importantly, improve service delivery to our nation's veterans," Charles De Sanno, executive director for enterprise systems engineering at the VA, said in a news release.
The HP contract was awarded under VA's Veterans Administration Transformation Twenty-One Total Technology, or T4 program.
The administration's cloud first mandate requires agencies to first consider a cloud solution when procuring information technology. In addition to VA, Agriculture Department, Federal Aviation Administration, Defense Information Systems Agency and the Environmental Protection Agency are using Microsoft's cloud-based email.
August 24th, 2012 | Veterans Affairs | Posted by Stephen Losey
closeAuthor: Stephen Losey Name: Stephen Losey
Email: slosey@atpco.com
Site:
About: See Authors Posts (684)
The Veterans Affairs Department today delivered to Congress dozens of DVDs documenting its controversial 2011 human resources conferences (now being investigated by the agency's Office of Inspector General for possible wasteful spending).
The vast majority of them are typical HR conference fare: addresses by Office of Personnel Management Director John Berry and VA Chief Human Capital Officer John Sepulveda, and discussions about recruitment challenges, labor-management relations and disability programs. (Which supports the IG's conclusion that the conference was held for legitimate reasons, despite its concerns about hundreds of thousands of dollars in alleged wasteful spending on promotional items and scouting trips, and possible illegal or improper gifts to conference organizers.)
But the DVDs also included a video, shown the last day of the July conference, that collected some of its sillier moments. That clip shows VA employees singing Michael Jackson's "Beat It" at the conference's karaoke night and dancing, and has a short clip of the in-person appearance of the actor who portrayed Gen. George Patton in the highly-criticized $52,000 video.
What do you think — harmless shenanigans no different from any other conference? Or an example of government waste? Watch the video and sound off below.
Tags: conference, spending, waste
August 22nd, 2012 | Veterans Affairs | Posted by Stephen Losey
closeAuthor: Stephen Losey Name: Stephen Losey
Email: slosey@atpco.com
Site:
About: See Authors Posts (684)
The $52,000 "Patton" parody video commissioned by the Veterans Affairs Department and released this morning is — let's be honest — kind of a snooze. The actor sorta sounds like George C. Scott's Gen. Patton towards the end — I'll give him that — but doesn't look like him at all, it's too long, and what few jokes there are are pretty lame. (And I'm not really sure how one actor, his costume, a big flag, and a smattering of B-roll and interviews with VA employees requires a budget of $52,000.)
It doesn't have the catchy tune or wit of the General Services Administration's infamous "When I'm Commissioner" clip (which remains the "Thriller" of conference scandal videos). But one line from the ersatz Ol' Blood-and-Guts did catch my ear — and make me wonder if the actor's real inspiration was a certain space opera that took place a long time ago, in a galaxy far, far away…
Tags: conference, waste