September 15th, 2010 | Treasury | Posted by Stephen Losey
closeAuthor: Stephen Losey Name: Stephen Losey
Email: slosey@atpco.com
Site:
About: See Authors Posts (679)
For weeks government regulatory geeks have been waiting with baited breath to see whether President Obama would formally nominate Elizabeth Warren to be the first head of the Consumer Financial Protection Bureau, sidestep the highly contentious nomination process and give her a limited recess appointment, or duck the conflict altogether and choose someone else. According to ABC's Jake Tapper, the answer is … none of the above.
Tapper says Warren will be the — deep breath — Assistant to the President and Special Adviser to the Secretary of the Treasury on the Consumer Financial Protection Bureau. Basically, she'll be a White House adviser, reporting to both Obama and Treasury Secretary Tim Geithner, charged with setting up the new bureau. It remains to be seen exactly what this means. Salon's Andrew Leonard sounds baffled over whether this pseudo-appointment would give Warren some actual power, or just make her one more adviser with no real authority.
Cue conservative carping on yet another czar and liberal griping about Obama's ducking of political fights over their pet issues in 3 … 2 … 1 …
Tags: Consumer Financial Protection Bureau, Elizabeth Warren
September 2nd, 2010 | Treasury | Posted by Stephen Losey
closeAuthor: Stephen Losey Name: Stephen Losey
Email: slosey@atpco.com
Site:
About: See Authors Posts (679)
The Washington Post's Political Economy blog today reported that Elizabeth Warren — the left's hands-down favorite to run the new Consumer Financial Protection Bureau — has unexpectedly dropped a fall class she was scheduled to teach at Harvard.
This last-minute change for Warren's contracting law class is fueling speculation that she could be nominated soon, and is gearing up for what could be a grueling confirmation battle. (Long story short, liberals love her and think she'd stand up to banks running amok; conservatives view her as a zealot who doesn't know what she's talking about.)
The Post said that even when Warren was heading a congressional panel overseeing the TARP bailout, she found time to keep teaching. And Andrew Leonard at Salon's How the World Works blog notes that Warren has been seen recently at the White House and dining with Obama adviser Valerie Jarrett. "So something is up," Leonard wrote.
Tags: Consumer Financial Protection Bureau, Elizabeth Warren
July 8th, 2010 | Treasury | Posted by M. Scott Mahaskey
closeAuthor: M. Scott Mahaskey Name: M. Scott Mahaskey
Email: smahaskey@gannettgov.com
Site:
About: See Authors Posts (1)
As her 20th agency visit, First Lady Michelle Obama was at the Department of Treasury, July 7, 2010, to thank its employees for their work. In particular, she praised the organization's effort on financial reform, which she hopes will prevent another meltdown. Michelle Obama also mentioned the Treasury's cooperation with her "Let's Move" campaign, aimed at promoting a healthier lifestyle, by introducing tax credits to grocery stores opening in under-served communities. (Jee Abbey Lee/ Medill News Service for Fedline)
June 7th, 2010 | OMB Treasury White House | Posted by Tom Spoth
closeAuthor: Tom Spoth Name: Tom Spoth
Email: spoth56@gmail.com
Site:
About: See Authors Posts (36)
So let's say you're sitting around on a Saturday afternoon, thinking, "Well shucks, I'd sure like to finally get around to solving America's national debt problem today, but I'm really starting to get a little soft in the middle … maybe I should go outside and get some exercise instead."
We've all been there, right? Well, worry no more: Budgetball is here!
Budgetball is, no lie, "an active sport of quick passes, tough defense, and bold comebacks designed to increase awareness of the national debt and reward strategic thinking and collaborative problem-solving around the issues of fiscal responsibility." Read the rest of this entry »
Tags: Barack Obama, Budgetball, national debt, oven mitts, Tim Geithner
April 21st, 2010 | Federal Reserve Treasury Uncategorized | Posted by Tom Spoth
closeAuthor: Tom Spoth Name: Tom Spoth
Email: spoth56@gmail.com
Site:
About: See Authors Posts (36)
Gordon Gekko would probably shed a tear at this promotional video released by the government today.  For just over a minute, the video lavishes attention on a new $100 bill rolled out today, as Ben Franklin's famous visage soars and gyrates around the screen and inspirational music plays in the background.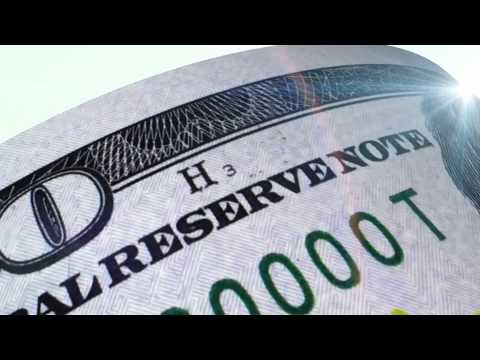 The video highlights in big blue letters the bill's new security features: a 3-D security ribbon, a portrait watermark, a security thread, color-shifting numerals and a "bell in the inkwell," whatever that means.
Tags: Benjamin Franklin, currency, Goldman Sachs, Michael Douglas
February 11th, 2010 | Agencies Treasury | Posted by Rebecca Neal
closeAuthor: Rebecca Neal Name: Rebecca Neal
Email: rneal@atpco.com
Site:
About: See Authors Posts (181)
Just think, snowed-in feds — should Washington D.C. break its snowfall record next year, perhaps you can catch up on episodes of Ron Howard's planned Internal Revenue Service comedy. It'll almost be like you're back in your offices!
FedLine has blogged about Howard's planned Fox series before, which will be shot "documentary style" like NBC's The Office and Parks & Recreation. Now we're learning that Howard has started casting the show, with Numb3rs star David Krumholtz in the lead. Krumholtz will lead the action in an IRS regional office, according to Michael Ausiello over at Entertainment Weekly.
What say you, feds? Would you watch a show set at a federal office? Who would you like to see play feds?
September 18th, 2009 | Agencies Treasury | Posted by Rebecca Neal
closeAuthor: Rebecca Neal Name: Rebecca Neal
Email: rneal@atpco.com
Site:
About: See Authors Posts (181)
Is the IRS funny? Famed director Ron Howard thinks so.
Howard and his producing partner, Brian Grazer, are the team behind the critically-acclaimed and ratings-challenged "Arrested Development." Howard may need to tap that blend of hysterical awkwardness with his new sitcom, which will be centered around an Internal Revenue Service field office. Trade publication The Hollywood Reporter first announced the project.
The show has a pilot commitment with Fox, which means the network will pay to develop the first episode of the show, known as a pilot, and will pay a penalty to Howard and Grazer should it not pick up the pilot for air. Howard hired Brent Forrester, a writer-director on NBC's "The Office," to write the pilot.
Forrester had kind words for IRS' employees, describing the boss in the show as "trying hard to believe that his job is good and noble and provides a very important, vital service."
The one thing that unites all Americans is their suspicion and hatred for the IRS. That makes the characters on the show underdogs, because outside the office everyone is suspicious of them."
Do you think this show sounds like a promising sitcom? Would you watch? Or do you think Americans don't want to watch feds at work?
Tags: IRS
July 17th, 2009 | Procurement Treasury Workplace | Posted by Steve Watkins
closeAuthor: Steve Watkins Name: Steve Watkins
Email: swatkins@atpco.com
Site:
About: See Authors Posts (240)
The Treasury Department's Bureau of Public Debt is looking for a contractor to run a couple of three-hour discussions on "Humor in the Workplace."
According to this FedBizOpps notice, which topped the Drudge Report today,  the programs will "discuss the power of humor in the workplace, the close relationship between humor and stress, and why humor is one of the most important ways that we communicate in business and office life."
The requirements:
Participants shall experience demonstrations of cartoons being created on the spot. The contractor shall have the ability to create cartoons on the spot about BPD jobs. The presenter shall refrain from using any foul language during the presentation. This is a business environment and we need the presenter to address a business audience.
At the end of the day the bureau wants its workers to learn the following:
• Understand the importance and power of humor in the workplace in a responsible manner
• How to use talents in a creative way that adds humor to everyday experiences
• Alleviate stress in home and the office
• Know how and why humor is important to communication
• Improve work-place relationships
• Prevent burn-out
While every workplace could probably use a little humor, one has to wonder whether the right way of going about it is a cheerless training session paid for by taxpayers.
Update: Treasury has canceled it's search for workplace humor following a congressional inquiry into the item on Drudge. Guess FedLine wasn't the only one wondering why taxpayers should pay to make Treasury laugh.
Tags: bureau of public debt, FedBizOpps, Friday Fun, humor in the workplace
June 17th, 2009 | Agriculture Defense Energy Environmental Protection Agency General Services Administration HHS Postal Service Transportation Treasury | Posted by Tim Kauffman
closeAuthor: Tim Kauffman Name: Tim Kauffman
Email: tkauffman@atpco.com
Site:
About: See Authors Posts (104)
Federal agencies having a tough time meeting the plethora of green government mandates should take a close look at the 15 federal teams who have been recognized this year for spearheading environmentally sustainable practices at their agencies.
Winners of the 2009 White House Closing the Circle Awards — handed out Wednesday during the middle of the three-day 2009 Federal Environmental Symposium East in Bethesda, Md. –Â Â are demonstrating best practices in areas such as recycling, green purchasing and fuel conservation.
The big winner was the Air Force, which received four awards for initiatives under way at local bases and headquarters. The Environmental Protection Agency's regional office in Denver was the biggest individual winner, taking home two awards.
A complete list of the winners — along with some of their accomplishments — is after the jump.
Tags: environment, green government
April 24th, 2009 | Treasury | Posted by Gregg Carlstrom
closeAuthor: Gregg Carlstrom Name: Gregg Carlstrom
Email: gcarlstrom@atpco.com
Site:
About: See Authors Posts (195)
Because there's really nothing more enjoyable on a Friday afternoon than reading a document (pdf) entitled "The Supervisory Capital Assessment Program: Design and Implementation."
It's a summary, from the Federal Reserve, of how the government conducted its "stress tests" of the nation's 19 largest banks. The results of those stress tests are expected to go public on May 4.
One thing that immediately jumps out at me: Treasury had just 150 employees working on these stress tests. If that sounds like a lot, consider that they were spread across 19 banks — and these are huge banks, each with more than $100 billion in assets.
I'm not passing judgment on the quality of their work — too early to do that — but that number really struck me.
Tags: stress tests