Federal Times Blogs
February 13th, 2012 | 2013 Budget Agencies NASA White House | Posted by Blair Tomlinson
closeAuthor: Blair Tomlinson Name:
Email: btomlinson@atpco.com
Site:
About: See Authors Posts (10)
November 10th, 2011 | NASA | Posted by Nicole Johnson
closeAuthor: Nicole Johnson Name: Nicole Johnson
Email: njohnson@federaltimes.com
Site:
About: See Authors Posts (220)
NASA has named Cornell University Professor Mason Peck its new chief technology officer, the agency announced this week.  
As CTO, Peck will be NASA's chief advisor and advocate for technology policy and programs, according to a news release. His office is responsible for coordinating, tracking and integrating NASA's technology investments and communicating the impact of those investments on society.
Peck, who starts his new position in January, will replace former CTO Robert Braun. Braun resigned in September and has since resumed his teaching and research positions at the Georgia Institute of Technology in Atlanta.
Peck's new assignment is through an "intergovernmental personnel agreement" with Cornell University, which allows him to remain teaching in the School of Mechanical and Aerospace Engineering and Systems Engineering Program.
His experience with aerospace technology dates back 20 years and includes work as a NASA engineer on various technology programs, such as the Tracking and Data Relay Satellite System and Geostationary Operational Environmental Satellites.
Tags: chief technology officer
August 10th, 2011 | NASA | Posted by Sarah Chacko
closeAuthor: Sarah Chacko Name: Sarah Chacko
Email: schacko@gannettgov.com
Site:
About: See Authors Posts (65)
Seven companies have been selected to create new vehicles to test the use and recoverability of technology in near space, NASA announced Tuesday.
Each successful vendor will receive a two-year indefinite-delivery, indefinite-quantity contract, worth a combined total of $10 million.
The selected companies are: 
Armadillo Aerospace, Heath, Texas 
Near Space Corp., Tillamook, Ore. 
Masten Space Systems, Mojave, Calif. 
Up Aerospace Inc., Highlands Ranch, Colo. 
Virgin Galactic, Mojave, Calif. 
Whittinghill Aerospace LLC, Camarillo, Calif. 
XCOR, Mojave, Calif.
The work is part of NASA's Flight Opportunities Program at Dryden Flight Research Center in Edwards, Calif., which fosters the development of commercial  reusable transportation to near space, the region of Earth's atmosphere between 65,000 and 350,000 feet.
" The program is an example of an innovative teaming relationship with industry to provide affordable access to near space while evaluating the microgravity environment for future science and technology experiments," NASA spokesman David Steitz said in an e-mail.
Examples might include autonomous landing systems that can guide unmanned cargo vehicles while avoiding hazards like boulders and pits, fuel transfer systems that work in micro-gravity to allow for the refueling of space vehicles while still in orbit, and propulsion engines that may reduce travel time to Mars by half, Steitz said.
March 24th, 2011 | NASA | Posted by Nicole Johnson
closeAuthor: Nicole Johnson Name: Nicole Johnson
Email: njohnson@federaltimes.com
Site:
About: See Authors Posts (220)
There were mixed feelings last month when the federal chief information officer proposed giving federal workers a $2,000 subsidy to buy their own laptops and smartphones.
Some balked at the idea and raised concerns that security would be at stake. But federal CIO Vivek Kundra's proposal isn't exactly far-fetched.
When NASA asked several of its chief technology officers where NASA technology is headed over the next five years, mobile computing took center stage.
James McClellan, CTO at NASA's Johnson Space Center, said "I don't think it's much of a leap to say that 5 years from now the average NASA employee will be using a mobile computing platform that is essentially a nice display with a browser connected to all their content and social connections through the ubiquitous 'cloud.'"
McClellan added that "employees may even be supplying their own preferred device (Bring Your Own Device-BYOD), enabled by the ability for NASA applications to be securely used on even a personal device via mobile app management profiles."
Kundra has made it clear, the marriage of mobile applications and mobile environments will be "hardwired in the DNA of any new system that's actually developed."
At NASA, the use of smartphone technology skyrocketed from 5,300 connected devices in January 2010 to 11,300 the same time this year. In NASA's monthly publication from the Office of the CIO, agency managers had this to say about mobile computing:
Mobile device management technology will continue to improve, enabling NASA to secure, monitor, and manage corporate data on both Government-issued and employee owned devices. Tablets will continue to gain acceptance in NASA with increased vendor diversity, though Apple will remain the leader.
Tags: chief information officer, chief technology officer, mobile apps, mobile computing
January 27th, 2011 | NASA | Posted by Stephen Losey
closeAuthor: Stephen Losey Name: Stephen Losey
Email: slosey@atpco.com
Site:
About: See Authors Posts (684)
The end of January brings heartbreaking memories for NASA each year. Today is the 44th anniversary of the launchpad fire on board Apollo 1, which killed three astronauts. Friday marks 25 years since the Space Shuttle Challenger exploded shortly after takeoff, killing all seven astronauts on board. And next Tuesday, Feb. 1, is the eighth anniversary of the loss of the Space Shuttle Columbia and its seven astronauts.
NASA Administrator Charles Bolden earlier today laid a wreath at Arlington National Cemetery in their honor and declared today a Day of Remembrance. And in his message marking the occasion, Bolden reminded NASA's engineers and other employees how important it is that they not stay silent when they see something wrong, and that that lives may depend on them standing up.
NASA has learned hard lessons from each of our tragedies, and they are lessons that we will continue to keep at the forefront of our work as we continuously strive for a culture of safety that will help us avoid our past mistakes and heed warnings while corrective measures are possible. In memory of our colleagues, I ask the NASA Family once again to always make its opinions known and to be unafraid to speak up to those in authority, so that safety can always be our guiding principle and the sacrifices of our friends and colleagues will not be in vain.
President Reagan's address to the nation after the Challenger disaster is embedded below.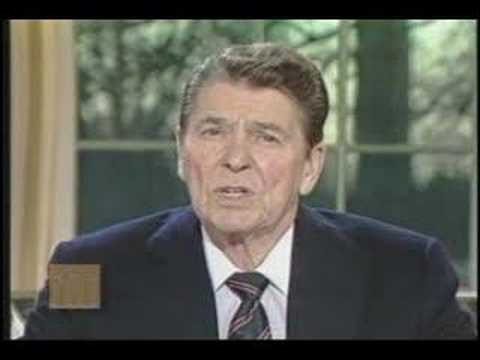 Tags: Space Shuttle
December 2nd, 2010 | NASA | Posted by Stephen Losey
closeAuthor: Stephen Losey Name: Stephen Losey
Email: slosey@atpco.com
Site:
About: See Authors Posts (684)
The Washington Post has an advance peek at the big announcement NASA has scheduled for later today. It's not aliens, but it is pretty interesting nonetheless — researchers have found a bacterium that relies on arsenic, not phosphorus, as one of its six essential components.
The Post said this doesn't prove that some forms of life on Earth evolved from a different common ancestor than the rest of us — the so-called "second genesis." "But the discovery very much opens the door to that possibility, and to the related existence of a theorized 'shadow biosphere' on earth."
The Mono Lake discovery highlights one of the central challenges of astrobiology — knowing what to look for in terms of extraterrestrial life. While it remains uncertain whether the lake's microbes represent another line of life, they show that organisms can have a chemical architecture different from what is currently understood to be possible.

"One of the guiding principles in the search for life on other planets, and of our astrobiology program, is that we should 'follow the elements,'" said Ariel Anbar, an ASU professor and biogeochemist. [Biochemist and researcher] "Felisa [Wolfe-Simon]'s study teaches us that we ought to think harder about which elements to follow."
November 30th, 2010 | NASA | Posted by Stephen Losey
closeAuthor: Stephen Losey Name: Stephen Losey
Email: slosey@atpco.com
Site:
About: See Authors Posts (684)
As if the pay freeze news wasn't enough excitement for one week, now NASA has scheduled a press conference for Thursday afternoon to discuss something "that will impact the search for evidence of extraterrestrial life."
There's only one thing this could mean: NASA has aliens. Now let's just hope they're the friendly, ET-kind of visitors, and not the warlike Klingon types.
Seriously, though, probably not. The press conference is to discuss astrobiology (the study of the origin, evolution, distribution and future of life in the universe), and its participants are experts in molecular evolution and evolutionary ecology. And if Hollywood has taught us anything, an actual alien announcement would most likely come straight from the president. But it should be interesting nonetheless.
The press conference will be broadcast live at 2 p.m. on NASA Television and streamed at www.nasa.gov.
September 27th, 2010 | Defense General Services Administration NASA | Posted by Sean Reilly
closeAuthor: Sean Reilly Name: Sean Reilly
Email: sreilly@atpco.com
Site:
About: See Authors Posts (428)
A little fuzzy on the distinctions between various types of federal contracts?
Don't feel bad, because some federal contracting officers are, too, according to a Federal Register notice published today.
In a jointly filed proposed rule, the Defense Department, NASA and the General Services Administration indicate that they are trying to correct the mistaken impression among contracting officers "governmentwide" that the fixed labor rates in time-and-materials/labor-hour contracts make them "fixed-price type contracts."
In fact, as the Government Accountability Office reported last year, time and materials contracts are considered high-risk because the contractor's profit hinges on the number of hours worked.
Tags: Defense Department, General Services Administration, Government Accountability Office, NASA
September 2nd, 2010 | NASA | Posted by Stephen Losey
closeAuthor: Stephen Losey Name: Stephen Losey
Email: slosey@atpco.com
Site:
About: See Authors Posts (684)
Got a few dozen miners who are going to be trapped in a confined space for a few months? Need to figure out how to keep them from growing depressed, bored or otherwise driving each other crazy? Call NASA, of course.
USA Today reports that NASA is lending its psychiatric assistance to 33 Chilean miners who are stuck in a collapsed mine and are two to four months away from rescue. For obvious reasons, NASA has put a lot of thought into how people relate to one another when they're stuck in a tin can for months at a time — and how to keep them from going for each other's throats. (The agency is now seriously considering a manned six-month mission dubbed "Plymouth Rock" that would actually land on an asteroid in deep space.)
The same coping tools astronauts need during long space voyages will also help the trapped miners, NASA says. That includes keeping them updated on news and sports, letting them regularly talk to their family members, and most importantly, giving them honest updates about the rescue progress, even when things aren't going well and they're months away from freedom.
[NASA contractor Jack] Stuster has reminded the rescuers to expect exacerbation of minor problems, withdrawal, territorial behavior and possible hostility toward their rescuers or the mining company. [S]tudies of submariners during the 1950s show that a person's re-entry into home life after months of absence may be stressful and that post-traumatic stress disorder can occur.
Which begs the question: Is there anything NASA doesn't have a hand in?
Tags: mine, psychology, space travel
August 23rd, 2010 | NASA | Posted by Stephen Losey
closeAuthor: Stephen Losey Name: Stephen Losey
Email: slosey@atpco.com
Site:
About: See Authors Posts (684)
For at least 45 years, NASA's mission control has awakened voyaging astronauts each morning by playing them songs — some funny, some poignant, some live, and some hilariously inappropriate. (Who thought it would be a good idea to play David Bowie's "Space Oddity" — which ends with a doomed astronaut's malfunctioning spacecraft drifting through space — not once, but twice?)
Now, time is running out on NASA's space shuttle program, and along with it, that fun tradition. But before it ends, NASA has decided to let the public get in on the act. NASA on Friday launched its "Space Rock" contest for aspiring musicians to create original songs that could be used to wake up astronauts on the final shuttle mission next February.
The only rules are that the songs must be original, and must have something to do with space. Record your song in an mp3 (no more than 1.5 MB in size), upload it by Jan. 10, and the public will then vote. The top two vote-getters will be broadcast on STS-134.
If you don't have a musical bone in your body, you can still participate. NASA's also allowing people to vote on the best songs used to awaken astronauts in the past, and the top two winners will be broadcast during the next-to-last shuttle flight. There's some good choices here. The nerd in me wants to pick the Star Trek theme, but the sentimental sap has to go with Louis Armstrong's "What A Wonderful World" — simply because it would require a heart of stone for someone to hear that song while watching a sunrise from outer space and not choke up.
- H/t GovExec
Tags: contest, music, Space Shuttle