Federal Times Blogs
June 30th, 2014 | General Services Administration | Posted by Andy Medici
closeAuthor: Andy Medici Name: Andy Medici
Email: amedici@federaltimes.com
Site:
About: See Authors Posts (169)
The General Services Administration is celebrating its 65th birthday by highlighting how much government work has changed over the decades.
Ori Hoffer, social media strategist at GSA, said in a blog post that employees used to use manual typewriters and process contract bids by hand, but now use a wide array of technology to help shorten and simplify the process.
The agency also has evolved from testing natural gas as a vehicle fuel to using electric and hybrid cars in its rental fleet.
"While the people and the technology have changed, and the mission statement may be a bit different, the goal is still the same – streamline the administrative work of the federal government," Hoffer said.
February 4th, 2014 | Congress General Services Administration | Posted by Andy Medici
closeAuthor: Andy Medici Name: Andy Medici
Email: amedici@federaltimes.com
Site:
About: See Authors Posts (169)
On April 2, 2012 a General Services Administration Inspector General report detailed wasteful practices at an $823,000, 2010 regional conference in Las Vegas, leading to the ouster of GSA's top leadership and reforming government conference spending.
A music-video parody of Travie McCoy's music video for 'Billionaire' featuring Bruno Mars by then GSA employee Hank Terlaje titled "The Commissioner Project" and shown at the conference quickly became one of the most famous – or infamous – parts of the ongoing scandal.
It's also quite catchy. (Full disclosure: Terlaje says in the song that every time he closes his eyes he sees his name on Federal Times.)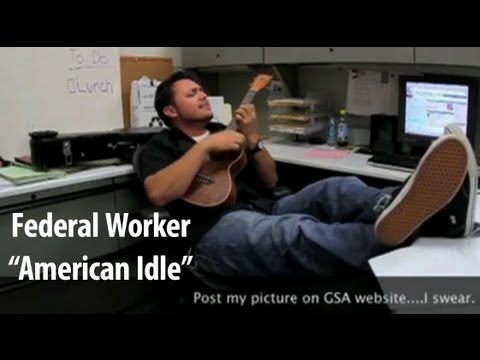 But recently Terlaje received a copyright for the work and one key lawmaker is saying it is ineligible.
Rep. Darrell Issa, the chairman of the House Oversight and Government Reform Committee, sent a letter to GSA administrator Dan Tangherlini Feb. 4 and said the video was created using government resources – including employees and facilities – for a government event and is there ineligible for a copyright.
"As the video appears to have been filmed at federal government facilities, with GSA personnel, and for the express purpose of use at an official event, the committee is concerned that securing a private copyright on such work is inappropriate. Any such copyright would appear to rightfully belong to the federal government," Issa said in the letter.
Issa is requesting all agency documents and communications regarding the production and creation of the work and any and all communications regarding Terlaje and the video.
The video shows Terlaje in a cubicle and other office spaces as well as on the beach and in parks.
I have reached out to Terlaje for comment and will update if I receive any response. Or if he reads it here he can always email me at amedici@federaltimes.com.
June 25th, 2013 | General Services Administration | Posted by Andy Medici
closeAuthor: Andy Medici Name: Andy Medici
Email: amedici@federaltimes.com
Site:
About: See Authors Posts (169)
The General Services Administration is launching an initiative to promote safer driving  by making it easier for the public to report the misuse of a government vehicle, according to the agency.
GSA will place a "How's My Driving?" decal on 1,050 GSA vehicles within its internal fleet that will direct the public to report improper use of a government car to driving.gsa.gov. The initiative will streamline the reporting process and give the public one place to voice their concerns, according to the agency.
From the press release:
GSA remains committed to promoting vehicle safety. This program allows the American people to directly engage with the agency and will encourage safe and responsible usage of GSA vehicles. Safety is our top priority. For more information, visit driving.gsa.gov.
June 24th, 2013 | General Services Administration OMB | Posted by Sean Reilly
closeAuthor: Sean Reilly Name: Sean Reilly
Email: sreilly@atpco.com
Site:
About: See Authors Posts (428)
The Senate Homeland Security and Governmental Affairs Committee gave quick approval this afternoon to candidates for two long-vacant executive branch positions.
On voice votes, the panel endorsed the nominations of Dan Tangherlini to head the General Services Administration and Howard Shelanski to lead the Office of Information and Regulatory Affairs in the Office of Management and Budget. Both nominations now go to the full Senate for a final confirmation vote, according to a news release. Tangherlini has been acting head of GSA since April of last year, but President Obama picked him to permanently fill the job only last month. The OIRA post has been unfilled since last August, when Cass Sunstein resigned to return to Harvard University.
[Spelling of Howard Shelanski's name corrected.]
Tags: Dan Tangherlini, General Services Administration, Howard Shelenski, Office of Management and Budget
June 17th, 2013 | General Services Administration Information Technology Procurement | Posted by jim mcelhatton
closeAuthor: jim mcelhatton Name:
Email: jmcelhatton@federaltimes.com
Site:
About: See Authors Posts (29)
An undercover investigation by the General Services Administration's watchdog office has  traced second-hand computer equipment originally costing the U.S. government about $25 million to more than a dozen sham educational organizations and, ultimately, back to one man: Steven Alexander Bolden.
Federal prosecutors in Tacoma, Wash., earlier this month filed fraud charges against Bolden, saying he tricked the government into believing he represented schools and thus was eligible for access to GSA's Computers for Learning program.
Under the program, agencies, as permitted by law, can transfer surplus computers and technology equipment to schools and nonprofit educational groups.
The investigation, which was reported on last week by the Seattle Post-Intelligencer, began last summer after the IG's office found 13 nonprofit organizations that received computers through the GSA program. While the groups appeared unaffiliated, they all had ties to Bolden, according to court papers.
"There is probable cause to believe that Bolden engaged in a scheme spanning several years in which he impersonated educational nonprofit organizations into giving him government computers and computer equipment," prosecutors wrote in an affidavit outlining the probe, which was filed in U.S. District Court in Tacoma, Wash., on May 31.
Charging documents said Bolden received thousands of pieces of computer equipment over the years, keeping it for himself or selling computers through online sales sites such as Craigslist, which was subpoenaed as part of the investigation, records show.
An attorney listed for Bolden listed on the case's docket did not respond immediately to a phone message Monday.
Tags: Craigslist, GSA, surveillance
June 7th, 2013 | Agency Management General Services Administration Government reform Procurement Workplace | Posted by jim mcelhatton
closeAuthor: jim mcelhatton Name:
Email: jmcelhatton@federaltimes.com
Site:
About: See Authors Posts (29)
Time and time again, big contractors went over the heads of General Service Administration contracting officers who were trying to negotiate good prices for the government.
But when it came time to choose, GSA supervisors sided with the contractors.
That's the conclusion of recent GSA Office of Inspector report that raises troubling questions about the enormous pressure contracting officers can come under from contractors with close ties to managers and even members of Congress.
While GSA says it's got new management and won't tolerate such interference nowadays, the bigger questions are whether this sort of thing happens elsewhere, not just in GSA but in other agencies? Do lawmakers get involved? And when negotiations get heated, are contracting officers fully in charge or do contractors have outsized influence?
If there's more to this story, let me know at jmcelhatton@federaltimes.com or (703) 750-8659.
May 20th, 2013 | General Services Administration Information Technology Procurement | Posted by Nicole Johnson
closeAuthor: Nicole Johnson Name: Nicole Johnson
Email: njohnson@federaltimes.com
Site:
About: See Authors Posts (220)
The General Services Administration is moving forward with plans to stand up a cloud broker contract for acquiring and managing the performance of federal cloud services.
The Department of Homeland Security is one of two agencies that has committed to testing GSA's cloud broker model in a pilot program expected to launch this fall, said GSA's Mark Day. Speaking Monday at the annual Management of Change conference in Maryland, Day said GSA will award one contract to test the concept of a broker model and reevaluate the pilot by year's end to determine how it could be expanded.
GSA has not yet defined all the services a cloud broker would provide, but the National Institute of Standards and Technology defines a cloud broker as "an entity that manages the use, performance and delivery of cloud services and negotiates relationships between cloud providers and cloud consumers." Technology research firm Gartner defines cloud brokerage as a business model in which an entity adds value to one or more cloud services on behalf of one or more cloud users.
Some question whether the cloud broker model will add value or end up costing agencies more money. In a Feb. 14 letter to Rep. Doris Matsui, R-Calif., GSA's Lisa Austin said the cloud broker model could be more effective in creating ongoing competition among cloud providers, rather than awarding single contracts for each cloud service.
"Part of the pilot is really understanding what's the right role, [and] what's the right process" for a cloud broker model, Day told Federal Times. "We think we have an idea, but now we've got to test it."
Day made clear what cloud brokers would not do inherently governmental functions, such as contracting. It isn't clear to what extent brokers would negotiate services between agencies and cloud service providers, but the hope is that cloud brokers will increase vendor competition and reduce pricing and reduce the complexities of acquiring cloud services and integrating them with existing services.
Roughly 15 agencies are part of the cloud broker discussion, Day said. He would not name the second agency that has committed to testing the broker model because the agency has not announced it publicly.
The challenge for GSA has been attracting business to some of its existing federal contracts, rather than agencies launching their own contracts or using other agencies' contracts. To garner greater use of its strategic sourcing contracts and future use of its cloud broker contract, GSA is meeting with agencies to determine their commitment to participate in market research and use the contracts, Day said. GSA can better leverage the federal government's buying power, and vendors have an idea of what's possible, in terms of business volume on a contract, he said.
Tags: cloud broker, cloud computing
May 16th, 2013 | Agency Management Federal Travel General Services Administration Procurement | Posted by jim mcelhatton
closeAuthor: jim mcelhatton Name:
Email: jmcelhatton@federaltimes.com
Site:
About: See Authors Posts (29)
More than half of the attendees at a big training meeting in 2011 for the General Services Administration's acquisition arm hailed from the Washington area, but when it came time to figure out a location, officials headed to sunny Orlando instead.
As outlined in a memo released by the GSA's Inspector General this week, a review found that Federal Acquisition Service officials settled on a contract proposal for conference planning and training that came to nearly a quarter million dollars, while the next highest vendor proposed just $79,784.
Despite the price, the IG found that officials essentially steered the conference to the Disney Institute by cutting and pasting from the request for quotation of a GSA leadership conference held months earlier by the FAS office in Atlanta. Three other vendors were rated poor and disqualified.
"This indicates that the competition may have been restricted since the requirements in the work statement could not be meet by other potential vendors," James P. Hayes, deputy assistant IG, concluded in a May 15 memo to FAS Commissioner Thomas A. Sharpe, Jr., who was not in charge of FAS at the time.
Overall, the Florida conference conference cost $164,000, while 58-percent of the 155 attendees came from the Washington area, the IG found.
In am email, Dan Cruz, a spokesman for GSA, said the activity took place in 2011 and "would not be tolerated today."
He said Acting GSA Administrator Dan Tangherlini, who also was not with GSA at the time, has enacted reforms leading to greater oversight of travel, conference spending and related procurement activities.
"Over the past year, GSA has cancelled more than 50 conferences," Cruz said. "These internal reforms, including cuts in travel and conference spending, have led to $73 million in savings."
Tangherlini was named head of GSA after the former chief, Martha Johnson, resigned amid embarrassing disclosures of lavish, taxpayer-funded conferences, including a now infamous gathering in Las Vegas that cost more than $800,000 and featured a red carpet party and a mind reader.
March 19th, 2013 | Cybersecurity General Services Administration Information Technology Procurement | Posted by Nicole Johnson
closeAuthor: Nicole Johnson Name: Nicole Johnson
Email: njohnson@federaltimes.com
Site:
About: See Authors Posts (220)
The General Services Administration has launched a full review of its key online procurement system, after discovering a security vulnerability that may have exposed users' sensitive data.
The security flaw was reported to GSA on March 8, and the agency has since issued a software patch on the system and is investigating potential impacts to vendors registered in GSA's System for Award Management (SAM).
"When we got the word that this might be the case, we got right on it," GSA Acting Administrator Dan Tangherlini told reporters Tuesday following a congressional hearing. "And there is nothing that we won't do, there's no step we're not going to take to ensure the safety and the security of people's data within that system."
Tangherlini said GSA is testing changes to the system and will continue to keep users informed. "I am incredibly concerned about it, and the good news is that everyone in the organization is incredibly concerned," he said of the system's known security flaw.
The vulnerability could have compromised sensitive information, including Social Security numbers, of individuals registered in the system, according to GSA.gov. Contractors that use Social Security numbers instead of taxpayer identification numbers could be at greater risk, and those individuals will receive credit monitoring.
The vision for the SAM system is to serve as a single access point for nine procurement systems, but GSA has yet to accomplish that goal.  To date, the SAM system includes four of the nine systems and provides access to contractors' business information, their certifications required to receive federal contractors and grants and which contractors have been suspended and debarred.
In 2008, GSA began consolidating its systems in a effort to reduce costs, eliminate redundancies and improve efficiency.
A March 2012 Government Accountability Office report found that "while GSA has taken some steps to reduce costs, it has not reevaluated the business case for SAM or determined whether it is the most cost-effective alternative."
The Federal Acquisition Service and Office of the Chief Information Officer are now providing program oversight, following an internal review of all GSA operations last year. Tangherlini has also called for the development, reporting and monitoring of key metrics for the SAM project.
February 20th, 2013 | General Services Administration Information Technology | Posted by Nicole Johnson
closeAuthor: Nicole Johnson Name: Nicole Johnson
Email: njohnson@federaltimes.com
Site:
About: See Authors Posts (220)
Federal officials are working to streamline the government's security program for cloud products and services.
A critical part of the Federal Risk and Authorization Management Program (FedRAMP)mandates that cloud vendors hire a third-party organization to verify they meet federal security requirements. Today, the General Services Administration and the National Institute of Standards and Technology must first approve those third party-organizations, or 3PAOs. Then there's the task of monitoring the performance of the 3PAOs and recommending whether to renew or revoke their status.
In a request for information to industry, GSA asked for input on how to privatize the accreditation process for 3PAOs. As FedRAMP evolves into a fully operational program within the next month or two, GSA is identifying ways to scale the program and get more cloud contractors through the FedRAMP process.
To date, there are 16 companies designated as approved 3PAOs, but that number is expected to increase. Only two vendors have completed the FedRAMP process.
GSA wants to contract with a privatized board to accredit 3PAOs, based on program standards. GSA wants industry to comment on the evaluation process for 3PAOs and how long those companies should have to comply with new accreditation standards. Those responses are due Feb. 26.
Tags: cloud computing, FedRAMP