Federal Times Blogs
November 4th, 2013 | 2009 Budget 2010 Budget 2011 Budget Defense | Posted by Sean Reilly
closeAuthor: Sean Reilly Name: Sean Reilly
Email: sreilly@atpco.com
Site:
About: See Authors Posts (428)
The linguistic origins of the word "golf" are lost to time. But for 21st century feds, the game often just means trouble.
The latest evidence: Stephen Calvery, head of the Defense Force Protection Agency, gets an unfavorable write-up by the Defense Department's inspector general for giving employees administrative leave to participate in the agency's 2009 and 2010 golf tournaments.
Under the rules, such leave is allowable only if it benefits the agency's mission, furthers a particular DoD function or has "a government-wide recognized and sanctioned purpose," according to a redacted copy of the report posted today on the IG's website.
"DoD regulations do not list a golf tournament as a common situation in which agencies generally grant excused absence," the report says.
Calvery responded that the tournament was one of several team-building "esprit de corps" initiatives he had launched at the agency, which was created after 9/11 to protect the Pentagon and its workforce.
In his further defense, Calvery noted that only four employees received administrative leave to attend the 2009 tournament. After checking with lawyers, however, he required participating staff to take annual leave for the 2011 event. The IG was unmollified, citing the wrongful use of administrative leave as one of several allegations to have merit.
The IG also found that Calvery misused his position to have his office staff pick up his lunch and bring him coffee, arranged for someone (the name is blacked out, but it wasn't a DoD employee) to use the force protection agency's firing range and provided preferential hiring treatment to a subordinate.
Calvery still heads the agency, according to its website. What disciplinary action he faced, if any, is unclear. A DoD spokesman said today that he didn't know and that—if the punishment was administrative in nature-could not disclose it, anyway.
But let's take the opportunity to review a few other examples of federal employees who ran into links-related trouble, drawing on information compiled by the non-partisan Project on Government Oversight.
There was, for example, the Bureau of Land Management district manager who accepted tickets to golf tournaments from oil and gas companies. Or the Department of Homeland Security employees found to have spent tens of thousands of dollars on training at golf and tennis resorts. Or the Justice Department officials who came under fire for awarding a $500,000 grant to the World Golf Foundation.
Horseshoes, anyone?
June 29th, 2012 | 2011 Budget CIA | Posted by Sean Reilly
closeAuthor: Sean Reilly Name: Sean Reilly
Email: sreilly@atpco.com
Site:
About: See Authors Posts (428)
You can argue about the effectiveness of the United States' national security classification program, but there's no disputing one point: Keeping secrets costs money—lots of it.
Last year, executive branch agencies shelled out an estimated $11.4 billion on classified information systems and other facets of the program, according to an annual report released this week by the Information Security Oversight Office, a branch of the National Archives and Records Administration.
That's up 12 percent–or $1.2 billion–from 2010, and more than double the figure from a decade ago. The actual tab to taxpayers is likely much higher, because the report doesn't include spending by the CIA, the National Reconnaissance Office and four other agencies that do almost all of their work in secret. Their estimates are provided in a classified addendum to the public portion of the report.
ISOO doesn't speculate on possible reasons behind last year's double-digit percentage increase, but one obvious suspect is the government's response to the massive WikiLeaks breach, which became known starting in mid-2010. Spending on "protection and maintenance for classified information systems," for example, shot up 20 percent last year to $5.65 billion. The cost of physical security also ballooned by more than 20 percent to $1.74 billion. Interestingly, though, estimated agency spending on personnel security dropped 10 percent to about $1.4 billion.
Tags: CIA, Information Security Oversight Office, National Archives and Records Administration, National Reconnaissance Office
November 15th, 2011 | 2011 Budget Agriculture HHS OMB | Posted by Sean Reilly
closeAuthor: Sean Reilly Name: Sean Reilly
Email: sreilly@atpco.com
Site:
About: See Authors Posts (428)
There's some apparent good news coming from the White House this afternoon on the improper payment front, according to a news advisory.
At 2:30 p.m., Office of Management and Budget Director Jack Lew and three other top administration figures are holding a conference call "to discuss the administration's progress cutting wasteful improper payments by nearly $18 billion'' the advisory says. FedLine had asked about this last week and was told the data was being finalized. Presumably these are figures for fiscal 2011 versus fiscal 2010.
Not clear is whether the nearly $18 billion figure is a cut in absolute terms or represents something more nebulous. In fiscal 2010, you may recall, improper payments jumped to about $125 billion from $110 billion in fiscal 2009 because of higher spending levels overall, according to OMB. But because the overall improper payment rate dipped from 5.65 percent to 5.49 percent, the administration could say its efforts saved $3.8 billion that would have otherwise mistakenly gone out the door.
Also participating in this afternoon's call are Health and Human Services Secretary Kathleen Sebelius, Education Secretary Arne Duncan and Agriculture Department Deputy Secretary Kathleen Merrigan. Why them? The reductions are fueled by decreases in payment errors in Medicare, Medicaid, college Pell Grants and food stamps, according to the advisory.
We'll keep you posted.
Tags: Arne Duncan, Jack Lew, Kathleen Merrigan, Kathleen Sebelius
October 27th, 2011 | 2011 Budget Information Technology OMB | Posted by Nicole Johnson
closeAuthor: Nicole Johnson Name: Nicole Johnson
Email: njohnson@federaltimes.com
Site:
About: See Authors Posts (220)
A review of federal information technology investments found that agencies spend far more than the $79 billion reported on the government's web-based IT tracking system, according to a report by the Government Accountability Office.
The IT Dashboard only provides investment data for 26 agencies, the report noted. The website does not include spending data for 61 other agencies, including the Securities and Exchange Commission, the Central Intelligence Agency and legislative and judicial branch agencies.
OMB encourages small agencies to use the IT Dashboard, but they choose not to, according to the GAO report released Wednesday.
While administration officials often quote $79 or $80 billion as the entire federal IT spend for fiscal 2011, GAO highlighted instances where agencies accounted for some IT systems in their overall IT budget but excluded others. GAO blamed the inconsistencies on the Office of Management and Budget's murky guidance for how agencies should report IT investments and identify and categorize them.
OMB defines IT as any equipment used to automate various processes, such as acquisition and storage, or equipment used to receive and transmit data and information.
OMB officials said they give "agencies the flexibility to determine what to include as an IT investment, and agencies have chosen to interpret the definition of IT in different ways," the report said.
"As a result, the nation's actual annual investment in IT is much higher than the $78.8 billion identified by agencies" GAO said.
For example, in its IT budget submission to OMB the National Oceanic and Atmospheric Administration included only $181 million of the $382 million budget for its Joint Polar Satellite System and $215 million of the $690 million budgeted for its Geostationary Operational Environmental Satellite-R series.
GAO said NOAA excluded "at least $676 million in IT-related development" on the IT Dashboard for the two systems.
Currently, the Dashboard tracks the performance and budget of for about 828 major IT investments and provides some details on more than 6,000 other IT investments.
GAO recommendations to OMB include: 
- Clarify its guidance to agencies for reporting IT investments and specify which systems should be included.
- Revise guidance to agencies for categorizing IT investments.
- Specify which executive branch agencies are accounted for when referring to federal IT spending.
OMB said the IT dashboard already clarifies which agencies are included in the $79 billion investment total and that existing guidance tells agencies how to identify IT investments. But OMB did agree that its guidance to agencies does not address key categories for IT investments like space systems and whether they should be accounted for.
Tags: GAO
October 4th, 2011 | 2011 Budget 2012 Budget Postal Service | Posted by Sean Reilly
closeAuthor: Sean Reilly Name: Sean Reilly
Email: sreilly@atpco.com
Site:
About: See Authors Posts (428)
If only on paper, the U.S. Postal Service's financial condition has just shown some stunning improvement. That's because Congress pushed back a $5.5 billion retiree health care payment originally due last Friday (i.e., Sept. 30) until Nov. 18, according to short-term spending legislation approved in the last week.
Sept. 30 was the final day of fiscal 2011, for which the Postal Service had been predicting a total loss of about $10 billion, in part because of that legally required retiree health care obligation.  With that payment now delayed until November, the expected 2011 deficit plummets to $4.5 billion.
Of course, the mail carrier has a similar payment due next September, meaning that its 2012 retiree health care obligations just doubled to around $11 billion. Not to worry, though: USPS leaders say they can't make the installment originally due Sept. 30 and chances are that they won't be able to make next year's, either–even though both still count on its books as expenses.
After all, it's only money.
Tags: U.S. Postal Service
October 3rd, 2011 | 2010 Budget 2011 Budget Postal Service | Posted by Sean Reilly
closeAuthor: Sean Reilly Name: Sean Reilly
Email: sreilly@atpco.com
Site:
About: See Authors Posts (428)
Say this for snail mail: it's never been victimized by a computer hacker.
That, in essence, is the point of a new U.S. Postal Service television advertising campaign that seeks to make a virtue of the mail's retro qualities.
"This is how people and business connect," runs the voiceover in one ad as the video shows a jaunty letter carrier on her rounds. "Feeling safe and secure that important letters and information don't get lost in thin air or disappear with a click, but are delivered from person to person."
Take that, Internet.
The two commercials, aimed at boosting businesses' use of the mail, aired for a couple of days last month and then went back up over the weekend for a run on network and cable channels that will last through this Saturday, USPS spokeswoman Patricia Licata said in an email.
The campaign is the first of its kind in almost a dozen years, Licata said, "and we feel that it's time to promote a channel that is too often overlooked and underestimated." Calling the information proprietary, she declined to give the campaign's cost, but said that the Postal Service's total ad spending in fiscal 2011 was about $147 million, roughly the same as the preceding year.
July 10th, 2011 | 2011 Budget | Posted by Sean Reilly
closeAuthor: Sean Reilly Name: Sean Reilly
Email: sreilly@atpco.com
Site:
About: See Authors Posts (428)
Two small signs this month of how feds are adjusting to the prospect of tight money.
One comes from the pages of the Federal Register, where last week, the National Agricultural Statistics Service announced that it is both suspending its July sheep and goat survey and indefinitely postponing its Census of Aquaculture and a separate land ownership survey "due to budgetary cutbacks." The notice doesn't say how much money is involved; NASS officials could not be reached for comment Friday.
 The other is a nugget from an Association of Government Accountants report this month on technology trends.
What's driving tech adoption nowdays? The potential to save money, one unnamed federal CFO is quoted as saying: "Cost reduction sells investments."
Incidentally, AGA is holding its annual professional development conference in Atlanta this week (yes, FedLine is there) and the themes for some of the panel discussions say plenty about how the budget terrain has shifted in the last year. A couple of samples: "Motivating a Work Force in a Climate of Budget Cuts;" "Between a Rock and a Hard Place: Are Tight Budgets Hurting Internal Controls?;" and "Reducing Costs: Tools and Techniques for Dealing with Dramatic Budget Reductions."
Tags: Association of Government Accountants, National Agricultural Statistics Service
June 16th, 2011 | 2010 Budget 2011 Budget 2012 Budget General Services Administration | Posted by Sean Reilly
closeAuthor: Sean Reilly Name: Sean Reilly
Email: sreilly@atpco.com
Site:
About: See Authors Posts (428)
The electronic government funding saga continues, even if the e-government fund would no longer exist under a spending bill approved today by a House appropriations subcommittee.
As tech-conscious readers might remember, Congress whacked the e-gov account from $34 million in 2010 to $8 million in the year-long continuing resolution enacted this April. Under a fiscal 2012 spending bill approved today by the subcommittee, the fund would be folded into the General Services Administration's Office of Citizen Services, said Daniel Schuman, policy counsel for the Sunlight Foundation, an open government group that has been birddogging the issue.
In all, the combined operation would receive $50 million under the bill.
How much of that would go to e-gov? Schuman estimates $13 million, assuming the citizen services office gets the same $37 million received last year. So, that would be substantially more than this year, but still a heckuva lot less than last year.  A few weeks ago, the Obama administration said that this year's reductions will force an end to two initiatives: Fedspace.gov and the Citizen Services Dashboard.
But with months of budget wrangling still ahead, this  story is definitely to be continued.
April 19th, 2011 | 2011 Budget Executive Office of the President OMB | Posted by Sean Reilly
closeAuthor: Sean Reilly Name: Sean Reilly
Email: sreilly@atpco.com
Site:
About: See Authors Posts (428)
Remember the contingency plans that agencies have to prepare for the event of a government shutdown?
Those documents have never been more accessible–now that the immediate threat of a halt to agency operations has passed.
Under a "What's New" section of its web site dated April 14, the Office of Management and Budget has posted links to more than 50 agency plans. Had the government closed, for example, more than three-quarters of employees in the Executive Office of the President would have been furloughed. At least for now, the prospect of a shutdown has receded since Congress last week approved a government-wide budget for the rest of fiscal 2011.
The new-found availability of the shutdown plans is a shift from only a few weeks ago, when the Obama administration rebuffed pleas from federal employee unions to release them. Late last month, the American Federation of Government Employees sued for access under the Freedom of Information Act.
But while the OMB site suggests that the administration began posting links to the records in one place only last Thursday, budget office spokeswoman Moira Mack said the site actually went up April 8.  On Monday, April 4,  agencies began "reaching out" to federal managers to discuss plans for an orderly shutdown, Mack said in an email, and began fielding employee questions later in the week.
And even if many agency shutdown plans are now only a mouse click away, AFGE will pursue its lawsuit, a spokesman said, to set some "parameters' for how to handle the information in the future.
Tags: American Federation of Government Employees, Office of Management and Budget
April 8th, 2011 | 2011 Budget | Posted by Stephen Losey
closeAuthor: Stephen Losey Name: Stephen Losey
Email: slosey@atpco.com
Site:
About: See Authors Posts (684)
A boisterous crowd of federal employees — who will be furloughed or ordered to keep working without pay if Congress doesn't strike a budget deal by midnight — gathered at the Edward J. Kelly Park in Washington today at a rally organized by the American Foreign Service Association. Most of them were from the State Department or the U.S. Agency for International Development, but there were a smattering of feds from other agencies as well. (All on their lunch break, of course.)
I videotaped the tail end of a speech by Daniel Hirsch, State vice president of AFSA, and then caught AFSA President Susan Johnson inviting attendees to sing the Star Spangled Banner. This is just a taste of the mood in DC right now. Federal employees are worried and angry that their jobs are caught in the middle of a political showdown, but are expressing pride about what they do and how they serve the country.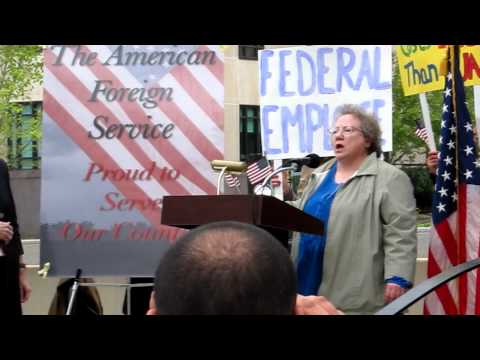 Tags: government shutdown