Federal Times Blogs
August 29th, 2013 | Uncategorized | Posted by jim mcelhatton
closeAuthor: jim mcelhatton Name:
Email: jmcelhatton@federaltimes.com
Site:
About: See Authors Posts (29)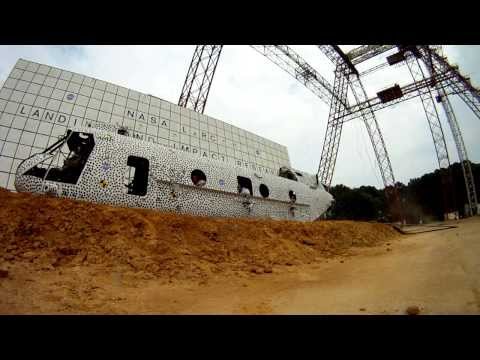 While many feds sit in the office most of the day, a few at NASA's Langley Research Center in Hampton, Va., recently spent their work day smashing a Marine CH-46E helicopter fuselage filled with 15 dummy passengers into the ground.
The experiment aimed to test seats and seat belts and gauge the odds of surviving a helicopter crash.
You can read more about the testing here, but for an inside look at what goes on when a helicopter falls from 30 feet, check out the video released by NASA. The guys in the front row didn't seem to far too well, but officials say the results will take a while to fully analyze.
August 22nd, 2013 | HR Management | Posted by Sean Reilly
closeAuthor: Sean Reilly Name: Sean Reilly
Email: sreilly@atpco.com
Site:
About: See Authors Posts (428)
The Mansfield Fellowship Program is looking for a few good federal employees interested in spending some quality time in Japan.
The program, named for the late Sen. Mike Mansfield, D-Mont., who also served as the U.S. ambassador to Japan, couples seven weeks of language training with ten months in Japan placed with the government and other organizations. The program is designed for 10 fellows; more information is available here.
Among other requirements, fellows must have two consecutive years of federal service by next July, obtain their agencies' approval and be willing to spend at least another two years with the government once they get back, presumably putting their fellowship experience to good use. Applications are due by Dec. 2.
So, go for it, or as one might say in Japanese: "Ganbatte!"
August 22nd, 2013 | OPM | Posted by Sean Reilly
closeAuthor: Sean Reilly Name: Sean Reilly
Email: sreilly@atpco.com
Site:
About: See Authors Posts (428)
The Office of Personnel Management is again asking feds what they think of their benefits, according a recently posted memo on the agency's web site.
OPM will be administering the Federal Employee Benefits Survey this summer by email to a random sample of workers, acting OPM Director Elaine Kaplan said in the Aug. 13 heads-up.  The survey was last done two years ago after traditional benefits questions were dropped in 2010 from the Federal Employee Viewpoint Survey. Completing the benefits survey should take about 15 minutes and doing it during work hours is OK, Kaplan indicated.
The survey's chief purpose is to measure benefits' "importance, adequacy and value" to make sure that they mesh with employee needs and best practices, Kaplan wrote. The results will be reported government-wide and used for policy and educational purposes.
Tags: Federal Employee Benefits Survey, Federal Employees Viewpoint Survey
August 22nd, 2013 | Defense HR Management | Posted by Sean Reilly
closeAuthor: Sean Reilly Name: Sean Reilly
Email: sreilly@atpco.com
Site:
About: See Authors Posts (428)
The Merit Systems Protection Board is making headway in containing an unprecedented surge in appeals fueled by Defense Department employee furloughs.
As of yesterday, the board had docketed almost 16,600 appeals, or about half the total. It now expects to have most of the remainder done soon after Labor Day and then begin the adjudication process for the DoD cases, according to the latest update posted on its home page.
Challenges of sequester-related furloughs–most of them from Defense Department workers–have swollen the MSPB's workload to roughly five times its normal level. Consider some numbers provided today by Board Clerk William Spencer. The total number of furlough appeals (docketed and undocketed) stood at 32,368.  Appeals of all other kinds: 5,346.
No doubt to the relief of the tiny MSPB's 200-strong workforce, the surge is showing signs of ebbing. While he didn't have exact figures, Spencer said that the influx of new appeals has dropped since the beginning of last week.
In its online update, the board apologized for any inconvenience to appellants, but added that it would be inefficient to start adjudicating appeals "only to discover that furlough appeals raising similar arguments, filed by similarly situated employees, remain to be docketed." Going forward, the MSPB "hopes to consolidate and adjudicate as many similar claims as possible, and this cannot be done until the docketing process is near completion."
August 22nd, 2013 | OPM | Posted by Sean Reilly
closeAuthor: Sean Reilly Name: Sean Reilly
Email: sreilly@atpco.com
Site:
About: See Authors Posts (428)
How to dramatize the largely hidden loss of experience and expertise as federal workers call it quits?
Here's the National Active and Retired Federal Employees Association's solution:  On its web site, the group has built an online ticker  that seeks to track the impact of that exodus down to the hour. Based on Office of Personnel Management data, NARFE calculates that the nation has lost an average of 10,000 years of federal worker experience every day since Jan. 1. It also suggests that the current political and fiscal climate is not inconsequential.
"Sure, people retire," the group says on the site. "They deserve to. But why are we losing waves of valuable federal workers in 2013? Could it be because of proposals in Washington that freeze federal worker pay year after year, furlough workers with families and threaten to tear down the benefits that federal workers earned?"
What do you think, readers? Could it?

Tags: NARFE, National Active and Retired Fedeal Employees Association
August 22nd, 2013 | Postal Service | Posted by Andy Medici
closeAuthor: Andy Medici Name: Andy Medici
Email: amedici@federaltimes.com
Site:
About: See Authors Posts (169)
The Postal Service's Inspector General's office is launching a review of conference spending at the agency.
The office said that conferences can be an effective method of communication or they can be abused. Agencies have made great strides to reduce those costs by promoting teleconferencing and reducing the number of meetings, the office said in an Aug. 21 announcement.
"We are conducting research to determine if the Postal Service properly accounted for and evaluated Postal Service initiatives to reduce meeting and conference costs," the announcement said.
The inspector general's office is also asking attendees at recent Postal Service conferences and events to report if they thought costs could have been reduced and if the amenities provided were appropriate.
Scrutiny of conference spending has increased since an April 2012 inspector general report that detailed a 2010 General Services Administration conference that cost $823,000 and forced out the agency's top leaders. The Veterans Affairs Department and the IRS have also come under fire for excessive conference spending.
August 21st, 2013 | 2013 Budget Environmental Protection Agency | Posted by Sean Reilly
closeAuthor: Sean Reilly Name: Sean Reilly
Email: sreilly@atpco.com
Site:
About: See Authors Posts (428)
More than 17,000 Environmental Protection Agency employees will be spared a final furlough day that had been scheduled for Aug. 30, Administrator Gina McCarthy announced today. In a message to EPA staff, McCarthy attributed the decision to savings found elsewhere in the agency's budget.
"The choices we made are difficult, but we continue to be flexible—applying good management decisions to ensure we continue to carry out our mission and reduce the impact of sequestration on each employee," McCarthy said, according to a transcript provided by the American Federation of Government Employees, which represents many EPA staff.
In recent weeks, the Defense Department, IRS and Housing and Urban Development Department have also trimmed previously scheduled furlough days. The cancellation of the Aug. 30 day means that EPA employees will have taken about six days of unpaid time off, said John O'Grady, president of the AFGE's Chicago local for the agency. While the cancellation is "wonderful" news, O'Grady said, he  questioned whether furloughs had been needed in the first place.
"We've been trying to tell them that all along," O'Grady said. "Finally it seems that we had somebody who listened."
Tags: American Federation of Government Employees, Gina McCarthy, John O'Grady
August 20th, 2013 | Uncategorized | Posted by Andy Medici
closeAuthor: Andy Medici Name: Andy Medici
Email: amedici@federaltimes.com
Site:
About: See Authors Posts (169)
Travel spending at federal agencies have been cut drastically in the last year or two. OMB asked agencies to cut travel spending and in some cases agencies cut them by up to 30 percent.
How have all of you been affected by these drastic cuts in travel spending?
Feel free to comment below or to email me at amedici@federaltimes.com.
August 20th, 2013 | Air Force Defense HR Management Information Technology Pay & Benefits | Posted by Nicole Johnson
closeAuthor: Nicole Johnson Name: Nicole Johnson
Email: njohnson@federaltimes.com
Site:
About: See Authors Posts (220)
The Air Force on Monday awarded IBM an $11.8 million contract to integrate its military personnel and pay processes into one system.
As part of the Air Force Integrated Personnel and Pay System Program (AF-IPPS), IBM will design "an enterprise resource planning-based solution to meet all personnel and pay requirements," according to a Defense Department announcement. Work is expected to be completed by December 2014.
The new personnel and pay system will replace the Military Personnel Data System (MilPDS) and the Defense Joint Military Pay System (DJMS) for the Air Force, according to a December 2012 Mitre report. The new system will play a key role in helping the Air Force meet its audit goals.
The system will serve about 507,000 service members and "thousands of military leaders of different ranks, specialties, and career fields," according to the administration's IT Dashboard, which tracks the status of large technology projects. The Air Force expects the system will reduce annual payroll errors by 75 percent, and allow airmen to be compensated in a timely manner at least 98.5 percent of the time.
The Mitre report also notes the new system will have a self-service capability for airmen to update personal information and access their pay records anytime. However, the system is expected to have more than 100 user interfaces and connections to external systems, which could create technical, cost and schedule challenges, the report said.
August 20th, 2013 | Cybersecurity Homeland Security | Posted by Andy Medici
closeAuthor: Andy Medici Name: Andy Medici
Email: amedici@federaltimes.com
Site:
About: See Authors Posts (169)
A senior officer at McAfee, Inc., will be the newest deputy undersecretary for cybersecurity at the National Protection and Programs Directorate at DHS, according to an Aug. 19 blog post by secretary Janet Napolitano
Phillis Schneck, the vice president for the global public sector at McAfee, Inc., has also held positions at IBM, NASA, the University of Maryland, CygnaCom solutions, and other companies.
Phyllis has been a close partner in our cybersecurity mission for many years. She served for eight years as chairman of the FBI's InfraGard National Board of Directors and founding president of InfraGard Atlanta, growing the InfraGard program to over 30,000 members nationwide in the past decade, and fostering a relationship between InfraGard and DHS. Equally impressive, Phyllis holds three patents in high-performance and adaptive information security, and has six research publications in the areas of information security, real-time systems, telecom and software engineering.

During my tenure as Secretary, we have strengthened partnerships with the private sector to secure cyber networks and protect physical assets while developing a world-class cybersecurity workforce. In fact, the position of Deputy Under Secretary for Cybersecurity was created in 2011 to act as the Department's chief cybersecurity policy official, in recognition of the growing importance of cybersecurity to DHS' mission of strengthening the security and resilience of our nation's critical infrastructure. I am confident that Phyllis will continue these efforts, and build upon the foundations laid by her predecessors, to create a safe, secure and resilient cyber environment and promote cybersecurity knowledge and innovation.