Federal Times Blogs
August 31st, 2012 | Politics | Posted by Stephen Losey
closeAuthor: Stephen Losey Name: Stephen Losey
Email: slosey@atpco.com
Site:
About: See Authors Posts (684)
Last night, Clint Eastwood was The Man With No Speech. The legendary actor and former mayor of Carmel, Calif., took the stage at the Republican National Convention shortly after 10 p.m. EST to warm the crowd up for Mitt Romney. What followed was a seemingly improvised, 12-minute address to an empty chair he pretended had an invisible Barack Obama.
Apparently prompted by an enthusiastic crowd member, Eastwood finished his freewheeling speech by leading the crowd in his classic Dirty Harry line: "Go ahead, make my day." (Which was the obvious Eastwood quote, of course. But I have to confess: I was sort of hoping he'd say, "Right turn, Clyde." Every Which Way But Loose just doesn't get enough love in my book.)
Eastwood's antics lit up Twitter, and launched a new meme. Someone immediately started an "Invisible Obama" account. And within minutes, the hashtag #eastwooding was trending on Twitter as people posted photos of themselves (or their Corgi) haranguing empty chairs. Even an enterprising Photoshopper got Grampa Simpson in on the act.
The Obama campaign also had fun with the speech's surreality. When asked for comment, Politico said, the Obama campaign referred questions to Salvador Dali. And the campaign tweeted this photo with the caption, "This seat's taken."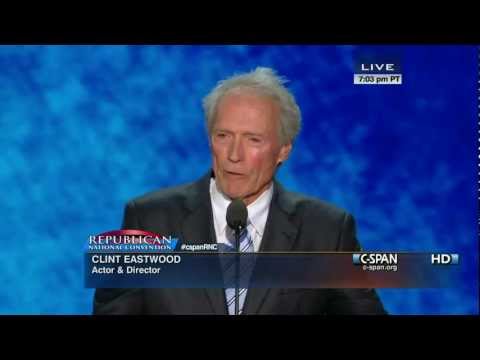 Tags: Clint Eastwood, Friday Fun, Republican National Convention
August 28th, 2012 | Pay & Benefits | Posted by Stephen Losey
closeAuthor: Stephen Losey Name: Stephen Losey
Email: slosey@atpco.com
Site:
About: See Authors Posts (684)
President Obama's decision to extend the pay freeze — at least until Congress passes a 2013 budget — has been condemned by labor leaders. Federal Times would like to find out what you think about the prospect of an even longer pay freeze. How will it affect you? Will it make you more likely to retire? What do you think is driving Obama's decision?
Write me at slosey@federaltimes.com if you'd like to talk. If you'd prefer to remain anonymous, that's fine.
Tags: pay freeze, what do you think?
August 27th, 2012 | Procurement | Posted by Sarah Chacko
closeAuthor: Sarah Chacko Name: Sarah Chacko
Email: schacko@gannettgov.com
Site:
About: See Authors Posts (65)
Deltek Inc.,  a leading market research and business management company, announced today that it has been bought by private equity firm Thoma Bravo for roughly $1.1 billion.
Deltek, which is now publicly traded, will be privately held under the deal. Deltek's stockholders will receive $13 in cash for each share when the transaction closes, the company said in a news release. Deltek's board of directors and its  largest shareholder, New Mountain Capital, approved the acquisition.
Deltek, which earned $341 million last year and has more than 1,600 employees, provides services to 98 of the top 100 federal contractors.  The company's revenues increased more than 20 percent between 2010 and 2011 – a likely result of Deltek's acquisition of INPUT, a business development company, in September 2010 and the Washington Management Group, with its FedSources market research and consulting components, in April 2011.
"Over the past seven years, we have successfully executed our long term plans for Deltek to enter new markets, grow internationally, and expand our industry-leading solutions for project-based companies," Deltek President, CEO and chairman of the board Kevin Parker said in the announcement. "Throughout our journey, New Mountain Capital gave us outstanding support and was instrumental in building the Deltek of today. We're very excited about the opportunity to continue Deltek's successful journey in partnership with Thoma Bravo."
The transaction is subject to customary closing conditions and regulatory approvals but is anticipated to close by the end of 2012. Deltek will continue to be based in Herndon, Va.  and led by its existing senior management team.
Tags: business development, contractors, Deltek, market research, Thoma Bravo
August 27th, 2012 | Postal Service | Posted by Sean Reilly
closeAuthor: Sean Reilly Name: Sean Reilly
Email: sreilly@atpco.com
Site:
About: See Authors Posts (428)
"The wheels of justice turn slowly, but grind exceedingly fine," a proverb goes.
By that standard, it should come as no surprise that the U.S. Postal Service now has until Oct. 9 to respond to allegations in a $180 million lawsuit filed by contractor Northrop Grumman over the handling of a major automation project.
The suit was filed in early May, with the Postal Service's response originally due two months later. But Federal Court Claims Judge George Miller later pushed back the deadline until Sept. 3 and—in a ruling this month—delayed it again to Oct. 9 following a motion from USPS attorneys that they still need more time.
While those lawyers are conferring with Postal Service employees and reviewing documents,  "scheduling issues and the limited availability of relevant USPS personnel have delayed progress toward filing a response," Miller wrote in an order summarizing the mail carrier's rationale for a second postponement. According to the Postal Service, Northrop Grumman did not object.
Tags: George Miller, Northrop Grumman, U.S. Court of Federal Claims, U.S. Postal Service
August 24th, 2012 | Veterans Affairs | Posted by Stephen Losey
closeAuthor: Stephen Losey Name: Stephen Losey
Email: slosey@atpco.com
Site:
About: See Authors Posts (684)
The Veterans Affairs Department today delivered to Congress dozens of DVDs documenting its controversial 2011 human resources conferences (now being investigated by the agency's Office of Inspector General for possible wasteful spending).
The vast majority of them are typical HR conference fare: addresses by Office of Personnel Management Director John Berry and VA Chief Human Capital Officer John Sepulveda, and discussions about recruitment challenges, labor-management relations and disability programs. (Which supports the IG's conclusion that the conference was held for legitimate reasons, despite its concerns about hundreds of thousands of dollars in alleged wasteful spending on promotional items and scouting trips, and possible illegal or improper gifts to conference organizers.)
But the DVDs also included a video, shown the last day of the July conference, that collected some of its sillier moments. That clip shows VA employees singing Michael Jackson's "Beat It" at the conference's karaoke night and dancing, and has a short clip of the in-person appearance of the actor who portrayed Gen. George Patton in the highly-criticized $52,000 video.
What do you think — harmless shenanigans no different from any other conference? Or an example of government waste? Watch the video and sound off below.
Tags: conference, spending, waste
August 23rd, 2012 | Postal Service Uncategorized | Posted by Sean Reilly
closeAuthor: Sean Reilly Name: Sean Reilly
Email: sreilly@atpco.com
Site:
About: See Authors Posts (428)
The U.S. Postal Service's forthcoming cutbacks at thousands of post offices have gotten a qualified thumbs up from an independent overseer.
In an advisory opinion released today, the five-member Postal Regulatory Commission said that the Post Office Structure Plan, or POStPlan, makes sense from a public policy perspective, but added a few recommendations, such as giving local customers a clear choice between keeping an individual post office open with reduced hours or closing it altogether and providing replacement delivery service.
Under the plan, announced in May, the Postal Service intends to reduce customer service "window" hours to as little as two hours a day at some 13,000 mostly rural post offices in hopes of eventually saving about $500 million annually.
The commission's opinion is non-binding (in fact, the Postal Service is already winding up a buyout and early retirement deal for postmasters that's linked to the plan), but its endorsement is further evidence that this approach is a much easier sell than the Postal Service's now discarded strategy of closing up to 3,700 post offices.
"Given the difficult financial reality facing the Postal Service, I am relieved that the Postal Regulatory Commission has approved the Postal Service's initial cost-cutting measures," Sen Tom Carper, D-Del., said in a statement, adding that he is "grateful" that the panel acted expeditiously.
"I will be carefully reviewing the recommendations offered by the commissioners and plan to closely monitor the Postal Service's implementation of its plan to ensure that it's done appropriately," Carper, who heads the Senate subcommittee with responsibility for the mail carrier, continued. "That being said, the hard truth is that cost-saving efforts of this scale are not enough on their own to fundamentally fix the Postal Service's financial problems. "
August 23rd, 2012 | Defense Procurement | Posted by Sarah Chacko
closeAuthor: Sarah Chacko Name: Sarah Chacko
Email: schacko@gannettgov.com
Site:
About: See Authors Posts (65)
The average compensation package of the chief executive officer for one of the top five Pentagon contractors is roughly $21.5 million, according to an analysis by the Project on Government Oversight.
Ben Freeman, an investigator for the government watchdog group, looked at the compensation packages of CEOs at Lockheed Martin, Boeing, General Dynamics, Northrup Grumman, and Raytheon reported in the firms' Securities and Exchange Commission filings.
The Defense Department — and therefore, taxpayers — pay for part of contractors' executive compensation, which is billed as part of the indirect overhead rates on contracts. Some lawmakers are pushing measures to reduce how much contractors can receive for executive compensation.
(To be clear, the highest paid defense contractor wasn't among the five in POGO's analysis, Freeman said.  David Cote, the CEO of Honeywell, received a $35.7 million compensation package last year, according to an Associated Press study.)
But the $21. 5 million in average executive compensation among the top defense contractor is still enough to pay for:
– the salaries of 475 American workers. "The average worker in the U.S. earned $45,230 last year," Freeman said in his blog post. "These CEO's were paid more in an average day than the average American worker was paid all of last year."
– the salaries of 335 soldiers. "According to a 2011 Congressional Budget Office analysis, the median compensation (including basic pay, allowances for food and housing, and tax advantages) for enlisted U.S. military personnel with ten years of experience was about $64,000. "
– the salaries of 268 defense and aerospace industry workers. "According to a Deloitte study, the average wage (just salary, not benefits) for the entire aerospace and defense industry in 2010 was $80,175."
August 22nd, 2012 | Veterans Affairs | Posted by Stephen Losey
closeAuthor: Stephen Losey Name: Stephen Losey
Email: slosey@atpco.com
Site:
About: See Authors Posts (684)
The $52,000 "Patton" parody video commissioned by the Veterans Affairs Department and released this morning is — let's be honest — kind of a snooze. The actor sorta sounds like George C. Scott's Gen. Patton towards the end — I'll give him that — but doesn't look like him at all, it's too long, and what few jokes there are are pretty lame. (And I'm not really sure how one actor, his costume, a big flag, and a smattering of B-roll and interviews with VA employees requires a budget of $52,000.)
It doesn't have the catchy tune or wit of the General Services Administration's infamous "When I'm Commissioner" clip (which remains the "Thriller" of conference scandal videos). But one line from the ersatz Ol' Blood-and-Guts did catch my ear — and make me wonder if the actor's real inspiration was a certain space opera that took place a long time ago, in a galaxy far, far away…
Tags: conference, waste
August 22nd, 2012 | Uncategorized | Posted by Andy Medici
closeAuthor: Andy Medici Name: Andy Medici
Email: amedici@federaltimes.com
Site:
About: See Authors Posts (169)
In the wake of a $823,000 2010 conference in Las Vegas that toppled agency leadership, GSA has been engaged in a top-to-bottom internal review. Part of that review was focused on identifying other wasteful programs and policies and eliminating them.
GSA implemented "The Great Ideas Hunt" to solicit ideas from its own employees and gather feedback on the value of everything from surveys to magazine subscriptions. GSA said the program has received 623 ideas, most of which the agency is still reviewing.
"When we began our Top-to-Bottom review of the entire agency, we wanted to look for ways to engage employees in a meaningful way about how to improve the agency and make it more efficient," said Acting Administrator Dan Tangherlini.
But five ideas the agency is implementing right now include:
Reduce Subscriptions: A GSA employee highlighted the fact that GSA can save money by reducing the number of newspaper and magazine subscriptions and choosing online versions when possible. By doing this the GSA can save up to $630,000 agency-wide.

Eliminate Redundant Survey: Three suggestions were submitted urging the agency to retire a costly and redundant employee survey.  It turns out that the survey costs $1 million annually and virtually all of its questions are addressed in the Office of Personnel Management Employee Viewpoint Survey, which is free. GSA has now stopped its use of the survey.

Create Web-based Surveys: Four GSA employees submitted an idea to replace the paper-based Public Buildings Service (PBS) Tenant Satisfaction Survey with a web-based solution instead.  PBS is making this change immediately, which will save about $1.2 million annually.

Expand PrintWise policy: Two entries noted that setting the default printing settings to 'double-sided' will save money on paper and reduce GSA's impact on the environment. As a result, GSA will roll out this policy agency-wide, and could realize a savings of $2.7 million.
Implement External Great Ideas: GSA received so many helpful ideas through this campaign internally, that three employees suggested the agency create an external website to allow federal partners and vendors to share  ideas and feedback on how GSA can better manage our offerings.
August 21st, 2012 | HR Management Information Technology | Posted by Nicole Johnson
closeAuthor: Nicole Johnson Name: Nicole Johnson
Email: njohnson@federaltimes.com
Site:
About: See Authors Posts (220)
Most federal information technology executives are not involved in their department's succession planning activities, according to a new workforce study.
The 25 IT executives included in the ACT-IAC (American Council for Technology and Industry Advisory Council) study said their agency's succession planning program and human capital resource management strategy were either partially developed or poorly developed or non-existent. Seventy percent said they were not included in succession planning discussions.
None of the 16 human capital executives surveyed had metrics that measured whether their agency's succession, skills and management needs were being met.
 "The human capital practitioners felt as though they are delivering succession planning programs as they are required to do by the Office of Personnel Management," Dr. Susan Grunin, who chairs the ACT-IAC group that commissioned the study, said in a statement. "However, one of the key results we found is that many IT operational managers are not aware these program[s] exist in their areas. If they are aware, many find them to be ineffective at producing managers capable of executing agency initiatives."
Other findings include:
- Intra-agency succession planning does not happen uniformly across government.
- Internal communications in this area are often ineffective.
- Some agency IT operational managers develop and use their own internal succession planning processes.
However, NASA and Commerce Department were touted as having good succession planning structures that require senior officials to develop, maintain and operate human capital programs based on the agency's goals and objectives. Both programs allow management at multiple levels to provide feedback.
In a TechAmerica CIO survey released in May, the IT trade organization found that 52 percent of CIOs do not have formal succession plans to replace retiring leaders and top managers. The consequence of not doing so could mean a downward spiral in IT leadership capability, according to TechAmerica.
In its study, ACT-IAC recommends that agencies:
- Publicize their management development and succession planning widely. NASA uses monthly reports, video-conferencing and intranet sites to get the word out.
- Include rotational assignments for their managers as part of succession planning.
- Train new agency leaders on the purpose and benefits of succession planning.
The study also recommends that OPM provide a virtual or in-person succession planning forum for agencies to learn best practices and updates on succession planning policies.
Tags: ACT-IAC, chief information officer, succession planning