Federal Times Blogs
April 25th, 2011 | Pay & Benefits | Posted by Stephen Losey
closeAuthor: Stephen Losey Name: Stephen Losey
Email: slosey@atpco.com
Site:
About: See Authors Posts (684)
Rep. Paul Ryan, R-Wisc. — one of the House's leading deficit hawks and a critic of federal payroll costs — recently spoke to a focus group of voters that aired on Sean Hannity's Fox News program April 12. When pressed to lay out exactly how he would cut the deficit, Ryan talked about ending corporate welfare, and then segued to his plans for the federal workforce:
The size of the federal government grew 10 percent in just the last two years. Name me another business in this time that is growing that much. So what we propose is through attrition, shrinking the federal workforce by 10 percent. For every three workers that retire, one gets rehired, to force the federal government to get more lean and more efficient.

Plus, benefits. We think federal workers should contribute something to their pension, because most other workers, in all other aspects, pay toward their pensions. We think the federal workers should do as well.
Ryan's statement on federal pensions is misleading, and inconsistent with his previous stance on the subject.
His assertion that feds "should contribute something to their pension" ignores the fact that federal employees already do put money toward their pensions. Employees under the Federal Employees Retirement System contribute 0.8 percent of their salaries towards their defined benefit pensions, as well as 6.2 percent of their salaries toward Social Security, for a total of 7 percent. (Feds under the older Civil Service Retirement System pay 7 percent into their defined benefit pension. CSRS employees do not pay into Social Security, but they don't receive any benefits from Social Security either.)
Ryan is well aware of this fact. His own budget plan takes a cue from the White House's deficit reduction commission, and calls for greatly increasing the amount federal employees currently pay toward their pensions. The National Active and Retired Federal Employees Association estimates Ryan's plan — which formed the basis of a budget plan the House passed April 15 — would increase the share FERS employees pay into their defined benefit pensions from 0.8 percent to 5.8 percent. This, when combined with that 6.2 percent paid into Social Security, would mean FERS employees would pay 12 percent in all toward their pensions. As for CSRS employees, NARFE said their contributions would increase from 7 percent to about 12.5 percent.
One can certainly argue that federal employees don't pay enough towards their FERS or CSRS pensions. But to imply that they don't pay at all is wrong. Video of Ryan's comments are below, and the discussion about the federal workforce begins at the 7-minute mark.
UPDATE: Rep. Ryan's spokesman, Kevin Seifert, just returned a call I placed earlier today, and said he didn't think Ryan's comments implied that feds don't pay anything toward their pensions — just that they should pay more.
That may be what Rep. Ryan meant, but it doesn't come across that way — especially since Ryan follows his statement about feds by saying that other workers pay toward their pensions.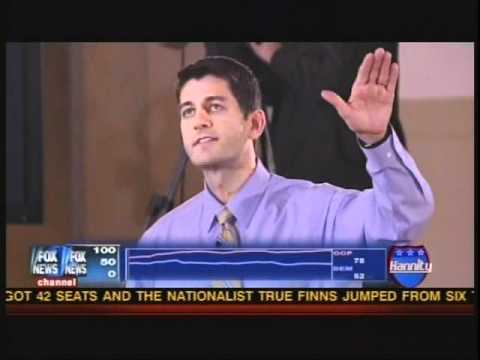 Tags: CSRS, deficit reduction, factchecking, FERS, Paul Ryan, pension
Comments