Federal Times Blogs
April 8th, 2011 | 2011 Budget | Posted by Stephen Losey
closeAuthor: Stephen Losey Name: Stephen Losey
Email: slosey@atpco.com
Site:
About: See Authors Posts (684)
A boisterous crowd of federal employees — who will be furloughed or ordered to keep working without pay if Congress doesn't strike a budget deal by midnight — gathered at the Edward J. Kelly Park in Washington today at a rally organized by the American Foreign Service Association. Most of them were from the State Department or the U.S. Agency for International Development, but there were a smattering of feds from other agencies as well. (All on their lunch break, of course.)
I videotaped the tail end of a speech by Daniel Hirsch, State vice president of AFSA, and then caught AFSA President Susan Johnson inviting attendees to sing the Star Spangled Banner. This is just a taste of the mood in DC right now. Federal employees are worried and angry that their jobs are caught in the middle of a political showdown, but are expressing pride about what they do and how they serve the country.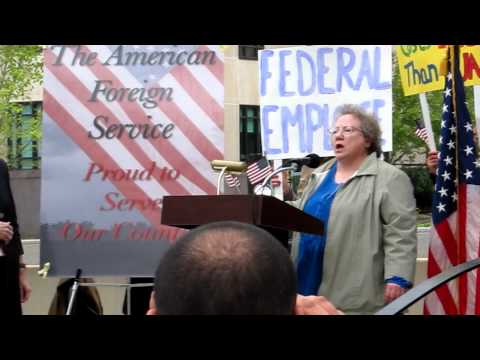 Tags: government shutdown
Comments
readme Says:
April 10th, 2011 at 5:44 pm

Treasury with its sticky hands to dip into CSRS retirement funds and TSP G funds, Treaury should put its sticky hands into Wall Street and all those financial institutions – Citibank, Solomon Bros., Lehman, and all the messiah followers they bailed out with free half a trillion dollars with no transparency of repayment. It is always the workers that get beat up when the going gets tough that the White House, Congress and Senate caused. These politicians should all be recalled for incompetence and selfish interests.