Federal Times Blogs
January 31st, 2011 | 2011 Budget Congress Uncategorized | Posted by Sean Reilly
closeAuthor: Sean Reilly Name: Sean Reilly
Email: sreilly@atpco.com
Site:
About: See Authors Posts (428)
Cutting federal spending—at least on paper—is fast becoming Washington's newest growth industry.
Get ready for the latest contribution tomorrow when eight senators release a bill to reduce spending as a percentage of the nation's gross domestic product. Known as the Commitment to American Prosperity Act (aka, the "CAP Act"), the measure would set a 10-year "glide path" to cap all spending—apparently including funding for popular entitlement programs like Medicare—from the current 24.7 percent of GDP to what a news release calls "the historical level" of 20.6 percent.
The lead sponsors are Sens. Bob Corker, R-Tenn., and Claire McCaskill, D-Mo. Sen. John McCain, R-Ariz., and five other Republicans make up the co-sponsors. A Capitol press conference is set at 12:30 p.m. tomorrow, according to the release.
Tags: Sen. Bob Corker, Sen. Claire McCaskill, Sen. John McCain
January 31st, 2011 | Office of Personnel Management | Posted by Stephen Losey
closeAuthor: Stephen Losey Name: Stephen Losey
Email: slosey@atpco.com
Site:
About: See Authors Posts (684)
Federal employees in the Washington area will be able to take unscheduled leave or unscheduled telework Tuesday, the Office of Personnel Management just announced. Forecasters say Washington could get a "light wintry mix" tonight. That may not sound like a lot, but OPM seems to want to get way out in front of this storm. (Last week's flash snowstorm and epic gridlock showed just how much havoc a little poor weather and lack of preparation can wreak on the capital.)
"Now is the time for managers and employees to discuss the possibility of working from home on Tuesday," the notice said. OPM also said the government could have a delayed opening tomorrow, and that uncertain weather conditions could extend through Wednesday.
[UPDATE: The Washington Post's Capital Weather Gang is forecasting a "double ice threat" between now and midday Wednesday.]
Chicago, on the other hand, is expected to get smacked beginning at noon tomorrow by a "life-threatening" blizzard (which may include 18-foot waves from Lake Michigan). The Chicago Federal Executive Board just told me that their Emergency Preparedness Advisory Committee — a 12-member panel that includes leaders from OPM, the Federal Emergency Management Agency, and the General Services Administration — will meet at 4 p.m. CST today to decide whether to close the government or make any other operational status changes.
Feds in and around Chicago should monitor their FEB's Operating Status page here as your storm develops.
And speaking of the government's response to snowstorms, the Onion has the scoop on FEMA pre-positioning supplies for New Orleans:

FEMA Rushes Supplies To New Orleans In Anticipation Of Light Snow
January 31st, 2011 | Pay & Benefits | Posted by Stephen Losey
closeAuthor: Stephen Losey Name: Stephen Losey
Email: slosey@atpco.com
Site:
About: See Authors Posts (684)
Here is my interview with Capital Insider's Morris Jones on deficit reduction proposals targeting federal employees. This aired Friday evening on TBD Channel 8 in the Washington area, and I will be back next month to talk more about the important issues facing feds.
Tags: Capital Insider, on the air, pay freeze
January 31st, 2011 | Office of Personnel Management | Posted by Stephen Losey
closeAuthor: Stephen Losey Name: Stephen Losey
Email: slosey@atpco.com
Site:
About: See Authors Posts (684)
We've heard from a few readers recently who say they're having problems with OPM's processing of their health care enrollment requests, and are wondering if there are more issues out there. Have you experienced any difficulties with OPM and your FEHBP lately? Are your changes not going through, getting mistakenly deactivated, or anything else? What kind of service are you getting from OPM?
We'd like to hear from you. E-mail me at slosey@federaltimes.com to share your story. If you'd like to remain anonymous, that's fine.
Tags: customer service, FEHBP, health care, what do you think?
January 28th, 2011 | Postal Service | Posted by Sean Reilly
closeAuthor: Sean Reilly Name: Sean Reilly
Email: sreilly@atpco.com
Site:
About: See Authors Posts (428)
The U.S. Postal Service has shelved a proposal that "would have expanded its ability to subcontract rural routes to contract delivery service," according to an announcement this week by the National Rural Letters Carriers' Association. The decision "came after extensive discussions" between the NRLCA and Postmaster General Patrick Donahoe, as well as other postal officials, according to the release on the union's web site.
"We have tabled the issue while we are in the process of resolving a labor contract," Postal Service spokesman Mark Saunders said via email, when asked for confirmation of the union's claim.
Although Donahoe recently acknowledged that more subcontracting was an option, the exact contours of what the Postal Service wanted to do remain unclear. Neither the agency nor the union would release the written proposal, although the NRLCA was predictably concerned about the possible impact on its members.
The union, which represents about 115,000 career and non-career postal workers, is still talking to the Postal Service about a new contract, according to participants on both sides, despite an impasse declared more than two months ago.
Also in contract negotiations is the American Postal Workers Union. "I know that many of our members are eager to hear details about our exchanges," APWU President Cliff Guffey said in a release today that described progress as slow. "Unfortunately, while talks are ongoing, it is not feasible to elaborate on specifics."
Tags: American Postal Workers Union, Cliff Guffey, National Rural Letter Carriers Association, U.S. Postal Service
January 28th, 2011 | Workplace | Posted by Stephen Losey
closeAuthor: Stephen Losey Name: Stephen Losey
Email: slosey@atpco.com
Site:
About: See Authors Posts (684)
The Merit Systems Protection Board on Jan. 26 ruled that federal employees who were fired on suitability grounds can appeal their removal to the MSPB.
In Aguzie and Barnes v. Office of Personnel Management, MSPB said that employees' rights to appeal adverse actions still apply when OPM finds someone is unsuitable for employment and tells an agency to remove him. OPM had argued that those appeals should not be appealed under the usual adverse action procedures.
Federal unions applauded MSPB's ruling.
"This ruling allows employees, who are highly valued by their agency and who may have worked there for many years, to defend themselves if OPM directs their agency to remove them based on some alleged misstatement in their employment application or in a reinvestigation," said Colleen Kelley, president of the National Treasury Employees Union. "Until this decision, employees removed as a result of suitability actions had only limited appeal rights."
Andres Grajales, assistant general counsel at the American Federation of Government Employees said the union was glad to see the decision.
"The MSPB rightly closed a loophole that allowed the federal government to circumvent Title 5, Chapter 75 due process rights when using suitability determinations to remove an employee for alleged misconduct," Grajales said. "This decision ensures that employees will be able to  exercise the full range of appeal rights guaranteed to them by statute, regardless of whether a proposed removal comes from their employing agency or from OPM."
January 28th, 2011 | Executive Office of the President Intelligence OMB Uncategorized | Posted by Sean Reilly
closeAuthor: Sean Reilly Name: Sean Reilly
Email: sreilly@atpco.com
Site:
About: See Authors Posts (428)
Just as agencies are wrapping up security reviews launched after the latest WikiLeaks breach, a coalition of open government groups is warning of possible consequences for federal employee rights.
Although improving safeguards for classified information is laudable, "we urge you not to craft policies that encourage agencies to unduly restrict free speech, or otherwise distract agencies from actually improving information security," representatives of the American Civil Liberties Union and eight other organizations wrote Office of Management and Budget Director Jack Lew in a letter dated Friday.
Ordered by Lew early this month and due to be finished Jan. 28, the "initial assessments" are supposed to address more than 100 different points, according to a memo posted on OMB's web site.  While no one's quarreling with the overall purpose, the ACLU and other letter signers say they are particularly concerned about a suggestion that agencies monitor employees' "pre- and post-employment activities" or their participation in on-line sites like WikiLeaks or Open Leaks.
"It's not at all clear how agencies could accomplish this, and, more importantly, such monitoring sweeps so broadly as to threaten constitutional rights," the letter says.
Federal Times reached out Friday to an OMB spokesperson for a response to the letter. Radio silence so far, but we'll add anything that comes in.
For the record, the assessments are being overseen by the Office of the Director of National Intelligence and the National Archives' Information Security Oversight Office.
The intelligence folks aren't commenting, but Jay Bosanko, director of the oversight office, said recently that all of the requirements listed in the memo don't apply to all agencies. The open government coalition, however, would like to see that spelled out for the record, said Amy Bennett of OpenTheGovernment.org, which also signed the letter.
"A lot of these requirements aren't standards-based and they aren't rules-based," she said.
Tags: American Civil Liberties Union, Jack Lew, Office of Management and Budget, OpenTheGovernment.org, Wikileaks
January 28th, 2011 | Pay & Benefits | Posted by Stephen Losey
closeAuthor: Stephen Losey Name: Stephen Losey
Email: slosey@atpco.com
Site:
About: See Authors Posts (684)
If you're in the Washington area, tune into Capital Insider this evening at 8 p.m. to see me interviewed about my story "The anti-feds," and the Republican push to balance the budget in part by targeting federal jobs and salaries.
Capital Insider is on TBD channel 8.
Tags: Capital Insider, on the air, pay freeze
January 27th, 2011 | General Services Administration Homeland Security | Posted by Nicole Johnson
closeAuthor: Nicole Johnson Name: Nicole Johnson
Email: njohnson@federaltimes.com
Site:
About: See Authors Posts (220)
Consolidating data centers on the Department of Homeland Security's St. Elizabeths campus won't be a problem; there are none.
There will, however, be a centralized location for servers in the campus' information technology operations center, DHS official Mark Hamilton said during an industry day Thursday. Two off-campus data centers, DHS 1 and 2, will house the data.
The General Services Administration hosted the event to field questions about the $2.63 billion contract to install, test and operate a secure network throughout the future DHS headquarters. 
Here are some other take-aways from the event:  
- Federal employees and contractors are really going to use HSPD12 identification cards to access systems and buildings, Hamilton said. That will start from the minute they enter the garage and continue to their workstations, conference rooms and other areas.
- The 4.5 million square feet campus will be targeted for LEED Gold certification, the second highest rating from the U.S. Green Building Council's Leadership in Energy and Environmental Design program.
- The three-phase information technology project also includes 8 specific task for each phase, such as project management, technical consulting and security.
-There will be a single provider for all commercials communication on the campus.
- A solicitation will be issued in March and an award will be made in June.
January 27th, 2011 | NASA | Posted by Stephen Losey
closeAuthor: Stephen Losey Name: Stephen Losey
Email: slosey@atpco.com
Site:
About: See Authors Posts (684)
The end of January brings heartbreaking memories for NASA each year. Today is the 44th anniversary of the launchpad fire on board Apollo 1, which killed three astronauts. Friday marks 25 years since the Space Shuttle Challenger exploded shortly after takeoff, killing all seven astronauts on board. And next Tuesday, Feb. 1, is the eighth anniversary of the loss of the Space Shuttle Columbia and its seven astronauts.
NASA Administrator Charles Bolden earlier today laid a wreath at Arlington National Cemetery in their honor and declared today a Day of Remembrance. And in his message marking the occasion, Bolden reminded NASA's engineers and other employees how important it is that they not stay silent when they see something wrong, and that that lives may depend on them standing up.
NASA has learned hard lessons from each of our tragedies, and they are lessons that we will continue to keep at the forefront of our work as we continuously strive for a culture of safety that will help us avoid our past mistakes and heed warnings while corrective measures are possible. In memory of our colleagues, I ask the NASA Family once again to always make its opinions known and to be unafraid to speak up to those in authority, so that safety can always be our guiding principle and the sacrifices of our friends and colleagues will not be in vain.
President Reagan's address to the nation after the Challenger disaster is embedded below.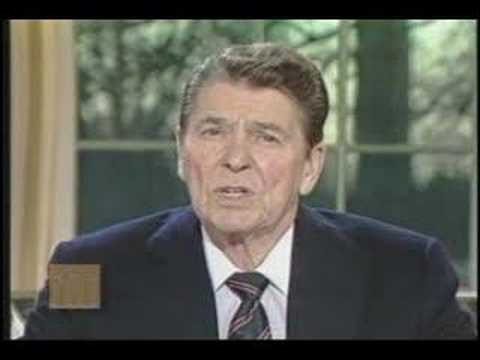 Tags: Space Shuttle