Federal Times Blogs
April 30th, 2010 | Congress Defense Federal Travel | Posted by Tom Spoth
closeAuthor: Tom Spoth Name: Tom Spoth
Email: spoth56@gmail.com
Site:
About: See Authors Posts (36)
Tuesday's meeting of the House Armed Services subcommittee on oversight and investigations started to resemble an episode of "Seinfeld" after a while, as Congressmen became obsessed with parsing the difference between a "continental breakfast" and a "light snack."
David Fisher, head of DoD's Business Transformation Agency, offered a convoluted distinction between the two from the rules that govern defense travel, to illustrate the complexity of those regulations.
Committe chairman Vic Snyder, an Arkansas Democrat, came up with his own definition. "I think if you stay on your feet it's light refreshments, if you sit down it's a continental breakfast," he declared.
"We'll have to adjudicate that," Fisher remarked dryly.
Tags: defense travel, light refreshments, Seinfeld
April 28th, 2010 | Energy | Posted by Stephen Losey
closeAuthor: Stephen Losey Name: Stephen Losey
Email: slosey@atpco.com
Site:
About: See Authors Posts (684)
File this story under "cool things the government does." The Lawrence Livermore National Laboratory plans to use the world's largest laser to create a controlled fusion reaction it hopes will eventually result in "nearly limitless" energy.
Livermore this summer will fire a mile-long laser beam, split it into 192 smaller beams, and focus the beams on a pinpoint of deuterium and tritium — two reactive hydrogen isotopes that can be extracted from seawater. CNN reports that the fusion reaction is expected to be so intense it will actually create a tiny star.
If the experiment works – and proves lasers can create the same type of controlled fusion reactions that take place in the sun – Livermore said it could pave the way for commercial fusion power plants. One gallon of seawater could provide the same energy as 300 gallons of gasoline, according to the lab. But that won't happen for at least another 20 years.
Livermore says there's no danger from this experiment. The tiny, 100 million-degree-Celsius star they will create will die in 200 trillionths of a second. And spokeswoman Lynda Seaver says there's no way it can explode: "The [worst possible] mishap is, it doesn't work."
That reminds me. Large Hadron Collider, we're still waiting for that planet-killing black hole. Don't leave us hanging.
Tags: clean energy, geek, laser, Lawrence Livermore, science
April 28th, 2010 | Workplace | Posted by Stephen Losey
closeAuthor: Stephen Losey Name: Stephen Losey
Email: slosey@atpco.com
Site:
About: See Authors Posts (684)
This fall, the federal government is going to launch a new social networking site called FedSpace. This site is intended to be a kind of Facebook for federal employees and allow them to collaborate through blogs, wikis and other forms of social networking.
What do you think about this plan? How would you use a fed-focused social networking site? Would it make it easier for you to collaborate across agency lines? What kind of dangers or pitfalls might come with an official social networking program?
Also, how have you used social networking tools in the past to do your job? Are you an intelligence analyst who has used A-Space and Intellipedia? If so, have they helped you, or have they been a bust?
We'd love to hear from you. E-mail me at slosey@federaltimes.com to share your thoughts. If you'd prefer to remain anonymous, that's fine.
Tags: A-Space, Facebook, FedSpace, govwebcon, Intellipedia, social networking
April 27th, 2010 | White House | Posted by Stephen Losey
closeAuthor: Stephen Losey Name: Stephen Losey
Email: slosey@atpco.com
Site:
About: See Authors Posts (684)
I'm at the General Services Administration's Government Web and New Media Conference today, listening to administration officials talk about open government, social media, and how to best use technology to reach the public. And one point keeps coming up: When it comes to websites and other programs, keep it simple, stupid.
OK, so White House CIO Vivek Kundra and GSA Administrator Martha Johnson didn't use those words exactly. But their message was clear: The public is increasingly using iPhones and other mobile devices that have trouble with overly-complex webpages. And if the federal government wants to reach citizens through those avenues, simplicity is key. But as Kundra said, that's not as easy as it sounds:
What becomes really, really important all of a sudden is to figure out, how do you simplify the interaction? A lot of people confuse simplicity with a lack of engineering rigor. It's actually the opposite. The simpler interaction is, on certain platforms, more complex. The underlying architecture, the engineering. And part of what we're trying to do is drive toward that vision.
A little later, Johnson echoed Kundra's point. She said that when agencies build websites and other tools for customers, they should remember exactly what those customers need and not shoehorn in fancy new features when something simpler will do:
I have two children, and when they were younger, I had to think twice about whether it was a toy that they wanted, or it was something that they needed. I think we get quite enamored with our technology toys, but we really need to pay attention to what our customers need. What we need more is a back-and-forth conversation, not a lot of really sophisticated toys that really swamp the user.

I want GSA to lead by example in all this. I want us to have the best website. I want a really, truly, GSA for Dummies website, where people can find what they need, without having to tackle a lot of complicated paths.
What do you think? Have federal websites gotten too complicated and taken with whiz-bang bells and whistles? Are those wonderful toys hampering your ability to reach all corners of the public?
Tags: govwebcon, GSA, Martha Johnson, Vivek Kundra
April 26th, 2010 | Congress Information Technology | Posted by Tom Spoth
closeAuthor: Tom Spoth Name: Tom Spoth
Email: spoth56@gmail.com
Site:
About: See Authors Posts (36)
The Congressional Management Foundation has released a new analysis of Congressional websites.
The group gave its "Platinum Mouse" awards, for the best site in each of four categories, to:
*Sen. Lisa Murkowski, R-Alaska
*Rep. Steve Israel, D-N.Y.
*The House Committee on Science and Technology (makes sense)
*The House Republican Conference
For a full list of award winners, go here.
One might think that the Democrats, who generally attract younger, more tech-savvy voters, would have better websites, but that's not the case, according to CMF.
April 26th, 2010 | Uncategorized | Posted by Stephen Losey
closeAuthor: Stephen Losey Name: Stephen Losey
Email: slosey@atpco.com
Site:
About: See Authors Posts (684)
Ouch. And just in time for Public Service Recognition Week. If Sen. Tom Coburn is still wondering why OPM Director John Berry feels the need to polish the image of federal employees, this sketch from the April 24 episode of SNL helps illustrate why.
The crowd over on GovLoop mostly seems to be taking the sketch with good humor, but recognizes it as a sign of how bad civil servants' image has become. Some posters appear thankful that while the sketch first appeared ready to slam federal employees alongside DMV workers, none of the "awardees" ended up being feds.
One thing jumped out at me, however. Contrary to Kenan Thompson's opening speech, most federal employees don't actually get deductible-free and copayment-free health care. (Yes, this is the kind of geek I have become — fact-checking Saturday Night Live.)
Tags: fun, John Berry, Public Service Recognition Week, Saturday Night Live, Tom Coburn
April 23rd, 2010 | Regulation SEC | Posted by Tom Spoth
closeAuthor: Tom Spoth Name: Tom Spoth
Email: spoth56@gmail.com
Site:
About: See Authors Posts (36)
Nero fiddled as Rome burned; SEC staffers watched porn as the economy crashed.
A new report from the agency's inspector general revealed a startling proclivity for sexually graphic materials among certain SEC staffers.
The SEC's inspector general conducted 33 "probes" — yes, that's the word the Associated Press chose to use, and yes, I am twelve years old — of SEC officials, including 17 "at a senior level."
One senior attorney spent up to eight hours a day viewing and downloading pornography on the job, burning files to CDs and DVDs that he kept around his office. An accountant was blocked more than 16,000 times in a month from visiting illicit websites, yet still built a collection of "very graphic" material by using Google Images to get around the SEC's internal filter.
AP quotes Darrell Issa, the top Republican on the House Committee on Oversight and Government Reform, as saying it is "disturbing that high-ranking officials within the SEC were spending more time looking at porn than taking action to help stave off the events that put our nation's economy on the brink of collapse."
OK, but if they were spending their time watching reruns of "Jersey Shore" or something, is this such a big story? And which is more unhealthy? Discuss in the comments.
Oh, by the way, Nero committed suicide in A.D. 68, under siege by critics of his tax policies. Just saying.
Tags: Jersey Shore, pornography, SEC
April 23rd, 2010 | Office of Special Counsel | Posted by Tim Kauffman
closeAuthor: Tim Kauffman Name: Tim Kauffman
Email: tkauffman@atpco.com
Site:
About: See Authors Posts (104)
Scott Bloch, who led the Office of Special Counsel during the Bush administration, was charged with criminal contempt of Congress on Thursday, Reuters reports.
Bloch was forced out of office  in October 2008 after a tumultuous term that culminated in FBI agents raiding his office and home. They were searching for evidence that he obstructed justice during a federal investigation into whether he retaliated against employees who disagreed with how he managed the agency, which is charged with protecting federal whistleblowers and other employees from retaliation.
Bloch was widely suspected of having his computer wiped clean of files that may have supported the claims of retaliation leveled against him. Bloch insisted he had his computer scrubbed because it was infected with a virus.
Bloch "unlawfully and willfully withheld pertinent information from the committee" about the erasure during an interview with federal investigators in March 2008, according to a criminal information filing by prosecutors in U.S. District Court, Reuters said. Prosecutors charged Bloch with criminal contempt of Congress.
Such criminal information filings are typically used when a defendant plans a plea agreement with prosecutors, resulting in a guilty plea, Reuters reported. Bloch's lawyer, William Sullivan, declined to say whether his client would plead guilty but said he was glad the five-year investigation was over for his client.
Tags: OSC, Scott Bloch, whistleblowers
April 21st, 2010 | Federal Reserve Treasury Uncategorized | Posted by Tom Spoth
closeAuthor: Tom Spoth Name: Tom Spoth
Email: spoth56@gmail.com
Site:
About: See Authors Posts (36)
Gordon Gekko would probably shed a tear at this promotional video released by the government today.  For just over a minute, the video lavishes attention on a new $100 bill rolled out today, as Ben Franklin's famous visage soars and gyrates around the screen and inspirational music plays in the background.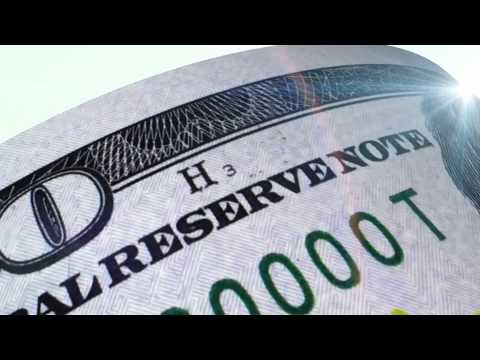 The video highlights in big blue letters the bill's new security features: a 3-D security ribbon, a portrait watermark, a security thread, color-shifting numerals and a "bell in the inkwell," whatever that means.
Tags: Benjamin Franklin, currency, Goldman Sachs, Michael Douglas
April 19th, 2010 | CIA IRS Uncategorized | Posted by Tom Spoth
closeAuthor: Tom Spoth Name: Tom Spoth
Email: spoth56@gmail.com
Site:
About: See Authors Posts (36)
Everyone hates the IRS, right?
Bunch of pencil-pushing money-grubbers whose goal in life is to squeeze every last dime from the poor taxpayer.
That's the old stereotype, anyway.
But a new poll from the Pew Research Center shows that over the last decade or so, the tax-collecting agency has improved in public perception more than any of the other 12 agencies included in the survey.
The ratings bump could be a result of new, user-friendly online tax software.
Or it could just reflect the fact that the IRS was starting from such a low point — its favorable ratings were a dismal 38 percent in the late '90s. Its current 47 percent rating is better, but still the second lowest in the survey. (Come on down, Education Department!)
The full results are after the jump.
Tags: CIA, IRS, Matt Damon, trust in government