Federal Times Blogs
February 26th, 2010 | Defense | Posted by Stephen Losey
closeAuthor: Stephen Losey Name: Stephen Losey
Email: slosey@atpco.com
Site:
About: See Authors Posts (684)
A hat tip to Ed O'Keefe over at the Washington Post for following up on this Missile Defense Agency logo foofarah. Conservative bloggers got all worked up because a new MDA logo's color scheme and apparent "O" shape resembled the Obama campaign logo. Some of the loonier commenters online thought it was patterned after the Islamic star and crescent, echoing the "Obama is a Muslim" smear from 2008.
One blogger, Frank Gaffney, made the especially silly claim that the logo proves Obama's decision to kill the highly flawed and, according to the Air Force chief of staff, "not … operationally viable" airborne laser program was actually a step towards Muslim Sharia law.
But there's just one problem with that theory. MDA spokesman Rick Lehner told O'Keefe the logo was actually created in 2007:
This was a logo that was developed three years ago for our recruiting materials and our public Web site. It did not replace our official MDA logo, and of course it has no ties to any political campaign. It was done one year before the 2008 elections. So the whole thing is pretty ridiculous.
Lehner also told the Post that printing the the new insignia is cheaper for MDA — "it's three colors as opposed to the five colors on the official logo."
Tags: logos, Missile Defense Agency
February 26th, 2010 | White House | Posted by Rebecca Neal
closeAuthor: Rebecca Neal Name: Rebecca Neal
Email: rneal@atpco.com
Site:
About: See Authors Posts (181)
White House Social Secretary Desiree Rogers is leaving her job a few months after her office allowed uninvited guests to attend a state dinner, the White House announced today.
Rogers will be returning to the private sector in Chicago, where she first met President Obama, reports The Washington Post. Rogers faced blistering criticism from Congress and the media after employees of her office, which clears guests for White House events, failed to catch three uninvited guests who walked into a state dinner for the prime minister of India.
In a statement, the president and Michelle Obama thanked Rogers, a longtime family friend, for her service.
We are enormously grateful to Desiree Rogers for the terrific job she's done as the White House Social Secretary.  When she took this position, we asked Desiree to help make sure that the White House truly is the People's House, and she did that by welcoming scores of everyday Americans through its doors, from wounded warriors to local schoolchildren to NASCAR drivers.  She organized hundreds of fun and creative events during her time here, and we will miss her.
February 25th, 2010 | Defense | Posted by Stephen Losey
closeAuthor: Stephen Losey Name: Stephen Losey
Email: slosey@atpco.com
Site:
About: See Authors Posts (684)
Slate.com is running a remarkable series this week on the hunt for Saddam Hussein, and how enterprising soldiers used their passion for social networking theory to track down the fugitive Iraqi dictator. According to Slate, the US Army didn't start making progress on the mission until they stopped looking for the high-ranking Ba'ath party bureaucrats on the infamous deck of cards and started hunting for cousins, in-laws, and fishing buddies of the people who were hiding Hussein:
The reason social network diagrams are essential to counterinsurgency, [Army interrogator Staff Sgt. Eric] Maddox says, is that they help you predict what will happen when someone like [insurgent leader and former Hussein bodyguard] Rudman Ibrahim Omar al-Musslit gets killed or captured. By studying the relationships between potential targets, it's possible to make an educated guess about how the network will shift — most importantly, who will move up in the ranks—when someone is eliminated. "If you know all the relationships," Maddox said — marriages, family ties, who drinks together — "then the network does not behave irrationally."
February 25th, 2010 | Agencies General Services Administration Workplace | Posted by Tim Kauffman
closeAuthor: Tim Kauffman Name: Tim Kauffman
Email: tkauffman@atpco.com
Site:
About: See Authors Posts (104)
How many times have you visited the government's online information portal, www.usa.gov, and thought: If only I could express my love for this site through video?
Well now's your chance.
The General Services Administration, which manages the site, has launched a contest for the most entertaining and creative 30- to 90-second video demonstrating how your life has improved by using the information available on the site. The winner will receive $2,500 and the chance to become a YouTube sensation.
There's a lot on the site to choose from: everything from applying for student loans and finding a good childcare provider to reporting dishonest companies and getting tips on traveling abroad.
Entries must be received by April 2, so channel your inner Martin Scorsese and get ready for your close-up.
February 25th, 2010 | Homeland Security | Posted by Stephen Losey
closeAuthor: Stephen Losey Name: Stephen Losey
Email: slosey@atpco.com
Site:
About: See Authors Posts (684)
I was listening to Sirius XM's alt-country station last night and heard what is surely the only banjo-driven love song ever written about a Transportation Security Administration screener: "TSA" by Texas musician Danny Barnes.
In the live clip below, Barnes says that his banjo brings him a lot of scrutiny from TSA because, apparently, its body is about the right size to hide a Claymore mine. And all the quality time he spent with airport screeners inspired lyrics like "her hair in a bun/her hand on her gun/we made love with the radio on."
Being both a federal government reporter and a pretty amateurish banjo player, I got a kick out of this song. But the line about his TSA sweetheart's "good paycheck [helping] to seal the deal" is a dead giveaway that Mr. Barnes has never heard federal unions talk about the PASS system.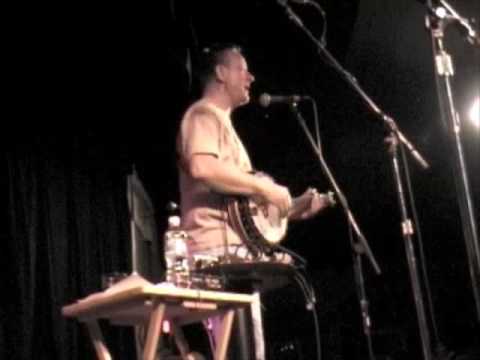 February 25th, 2010 | Agencies Homeland Security Procurement | Posted by Gregg Carlstrom
closeAuthor: Gregg Carlstrom Name: Gregg Carlstrom
Email: gcarlstrom@atpco.com
Site:
About: See Authors Posts (195)
We've explored this question before on the blog: At a December Senate hearing, Elaine Duke, the department's undersecretary for management, admitted DHS doesn't really know how many contractors it has.
The question came up again this week: In a letter to the Senate Homeland Security and Governmental Affairs committee, DHS secretary Janet Napolitano said the department had roughly 200,000 contractors — more than the 188,000 civilian employees who work for the department. That number prompted an outraged reaction from senators on the committee; as I mentioned in my story yesterday, they questioned whether contractors or federal employees are "actually making critical decisions" at DHS.
Tags: Elaine Duke, Senate Homeland Security and Governmental Affairs committee
February 25th, 2010 | Facilities General Services Administration HHS Uncategorized | Posted by Tim Kauffman
closeAuthor: Tim Kauffman Name: Tim Kauffman
Email: tkauffman@atpco.com
Site:
About: See Authors Posts (104)
Employees at the National Institutes of Health's National Cancer Institute will be moving into new digs in 2013.
The General Services Administration announced Wednesday that it's awarded a build-to-suit lease for 575,000 square feet of office space for the agency, whose employees now are scattered among five buildings.
The JBG Companies of Washington will develop two facilities, connected by a central atrium, at the Shady Grove Life Sciences Center in Montgomery County, Md., for the agency. JBG is leasing land for the project from Johns Hopkins University.
The facilities will be built to achieve the second-highest rating from the U.S. Green Building Council's Leadership in Energy and Environmental Design program, GSA said.
The architectural firm HOK will design the facility, and James G. Davis Construction will be the general contractor.
Tags: National Cancer Institute, National Institutes of Health
February 24th, 2010 | Agencies Defense Information Technology | Posted by Rebecca Neal
closeAuthor: Rebecca Neal Name: Rebecca Neal
Email: rneal@atpco.com
Site:
About: See Authors Posts (181)
The Army is at the forefront of social networking, offering Facebook, Twitter and YouTube pages to connect the public with soldiers in uniform. And while the military enjoys broad support online — the Army's Facebook page has 173,000 fans — that doesn't mean it's immune from inappropriate posts from those who take issue with the military or politics.
Policing racist, sexist or harassing comments is important to maintaining the military's integrity, but deleting too many comments may make users suspicious of censorship, said Staff Sgt. Josh Salmons, emerging media coordinator at Fort Meade's Defense Information School during a Feb. 24 panel at the Armed Forces Communications and Electronics Association conference in Washington, D.C.
Salmons posts notices on social networking pages alerting users that offensive comments may be deleted. By making clear what language is tolerated and the sites' editorial policies, agencies can keep social networking sites polite and civil, Salmons said.
And the Army's Facebook page issues a straightforward warning to those who may want to "troll" on the page's wall and post incendiary comments:
We do not allow graphic, obscene, explicit or racial comments or submissions nor do we allow comments that are abusive, hateful or intended to defame anyone or any organization.
Col. Kevin Arata, director of the Army's online and social media division, said he requires Facebook posts to be suitable for his 12- and 14-year-old kids to read.  And the posted policy works, he said, because he now rarely removes comments from the nearly year-old Army Facebook page.
In fact, fellow Facebook users often police the page and call out those who may have stepped over the line of polite conversation, Arata said.
You get a couple nutjobs who want to litter the page, and it's a guy or gal who has a agenda. The fans came back and said, 'Hey this is a page for people who like the Army. If you don't like the Army, go somewhere else.'"
Tags: Army, IT, social networking
February 24th, 2010 | Defense | Posted by Stephen Losey
closeAuthor: Stephen Losey Name: Stephen Losey
Email: slosey@atpco.com
Site:
About: See Authors Posts (684)
Washington Times blogger Kerry Picket yesterday noted the Missile Defense Agency's new logo and sees a resemblance to the Obama campaign logo. Despite the similar red-and-blue color scheme, Picket is probably reading a little too much into it. But that didn't stop Matt Drudge from taking the silliness to new heights today:
No, Matt Drudge. I don't think the Missile Defense Agency has been taken over by Muslim hordes. But thanks for asking.
Tags: Drudge Report, logos, Missile Defense Agency
February 23rd, 2010 | Agencies Information Technology Veterans Affairs | Posted by Rebecca Neal
closeAuthor: Rebecca Neal Name: Rebecca Neal
Email: rneal@atpco.com
Site:
About: See Authors Posts (181)
The Veterans Affairs Department has expanded its information technology oversight program designed to weed out underperforming IT projects to include all of the agency's 282 projects.
The program management and accountability system – PMAS – will be used to evaluate and restart or terminate all VA IT projects. The change was effective Feb. 15 but announced by VA's Assistant Secretary for Information and Technology Roger Baker at a House Veterans Affairs Committee subcommittee on oversight and investigations hearing Feb. 23.
Using the system to evaluate all of VA's IT projects will give officials greater insight into how the projects are meeting their goals, Baker said.
Projects that are not meeting milestones will be stopped and either restarted or terminated."
VA officials introduced the system in June 2009, which sets milestones for projects and assesses the future of late or over-budget projects. The VA temporarily halted 45 of its most troublesome IT projects, 32 of which have been restarted, 12 of which have been stopped and one which is still under review. The pauses and cancelations saved $54 million, Baker said.
Baker and U.S. Chief Information Officer Vivek Kundra will discuss the oversight program's expansion during a 9:30 a.m. call with reporters Feb. 24.